How to make gnocchi without egg
Learn how to make gnocchi without egg and they will become your best dinner go-to! Not intimidating to make and very versatile. The perfect pasta to make for someone who is just getting started with Italian cooking.
The below contains affiliate links. For more info see my privacy policy & disclosure.
How to make gnocchi without egg
I first learnt how to make potato gnocchi from my Italian Mother-in-Law. She's a great cook even though she rarely admits it! She showed me how simple Italian gnocchi can be and from then on, I wanted to try for myself.
Before this post, I'd made it a handful of times but using egg like I'd been shown. This recipe however, doesn't contain egg yolk. I've made mine the Piedmont way unlike the Veneto way, which has egg added. Apparently adding egg is not the traditional way but if my Italian Mother-in-Law adds it, who am I to argue?
Gnocchi without egg (essentially is vegan gnocchi) is really, very simple. Let's get started…
Why should I make vegan gnocchi?
Learning a new skill
Gnocchi is a versatile dish which will eventually transform your mid-week meals
Simple ingredients
Potato gnocchi are super soft and tasty
Naturally vegan and meat-free!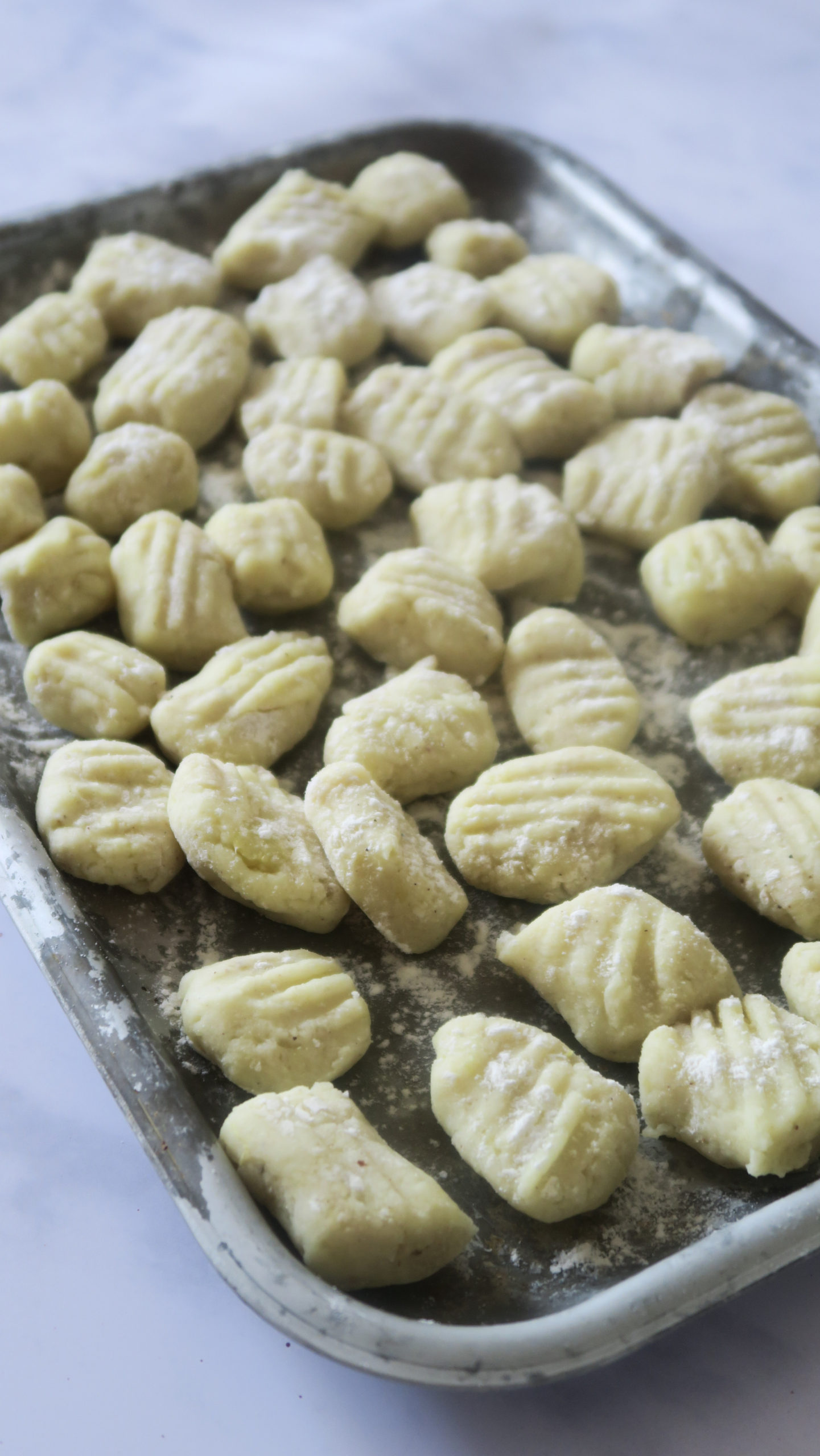 GNOCCHI INGREDIENTS
Potatoes – Look for a potato with a floury texture like the Russet variety
Plain flour – helps bind the mixture
Ground nutmeg – for flavour!
WHAT EQUIPMENT WILL I NEED?
Potato ricer – so handy for mashing quickly and easily, not just for gnocchi but for mashed potato too!
Peeler – if you intend to peel your potatoes
Small knife
Saucepan
Slotted spoon – great for scooping out the gnocchi without catching the water too
INGREDIENT ALTERNATIVES
Can I make gnocchi without potato?
Yes, it's quite normal in Italy to use vegetables like pumpkin and squash as these easily mould into gnocchi. You could also use polenta and ricotta cheese – anything that will easily mould. The Guardian have a great post on how to make the perfect gnocchi (it's where I found this fact too).
Can I use a different flour for gnocchi?
I can't see why not. Dancing through Sunday has a recipe for gnocchi using wholemeal flour. I don't think I'd recommend self-raising though as it seems after doing some research, they all fall apart. Gluten-free flour is fine (see below) as is other whole flours such as spelt, like in Naturally Ella's recipe for Spelt Gnocchi with Fava Beans and Walnut Sauce. Yum!
The best thing to so is try it and see what happens!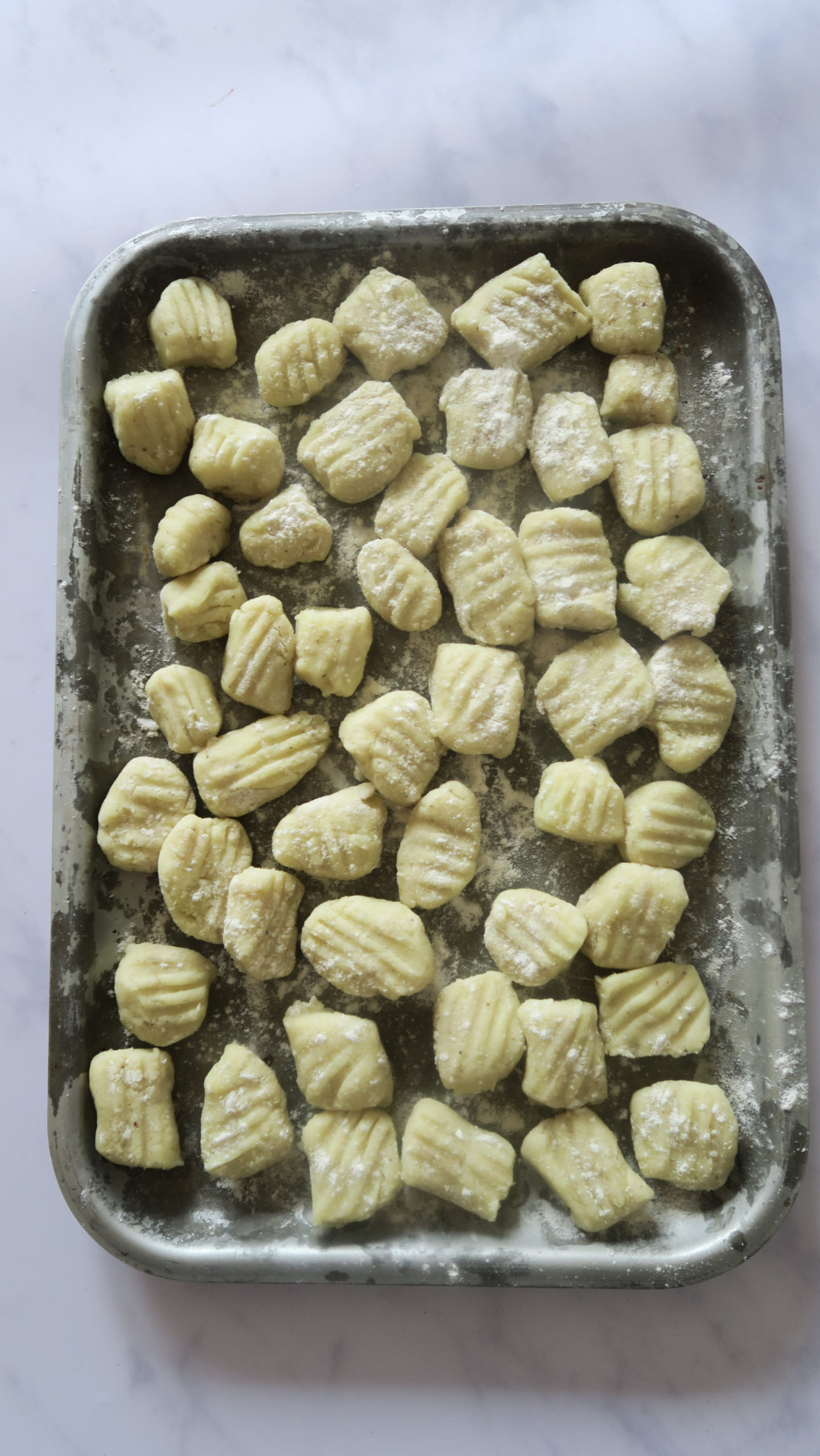 Are gnocchi suitable for vegetarians?
Gnocchi are naturally meat-free, so yes!
Are gnocchi suitable for vegans?
Yes, no meat here.
Are gnocchi gluten free?
This recipe is not gluten-free but you can follow the recipe and use gluten-free flour instead. Or try Gluten-Free Baking's recipe for gluten-free gnocchi.
Can I reheat gnocchi?
It's safe to reheat gnocchi. You can reheat by frying in a little oil or oven-baking with some grated cheese for a quick, tasty meal. I wouldn't recommend using the microwave as the other two options will create much more flavourful results!
Can I freeze gnocchi?
Yes – on a floured tray in a single layer – once frozen, tip into a ziplock freezer bag.
How do you pronounce Gnocchi?
Gnocchi is pronounced NYOK-E
It uses the Italian silent 'g' and 'ch' is always pronounced like a 'k'.
Do I have to peel my potatoes?
No, it's actually better not too. I only peeled mine as they were fresh from the ground and were super dirty. Instead of washing them, I peeled and washed after! I would recommend not peeling them. The peel will end up staying inside the potato ricer anyway, and you'll get so much more flavour from the peel.
SERVING SUGGESTIONS
My favourite way to serve gnocchi is by frying in brown butter and sage. It's the most authentic way and SO good (recipe coming soon!)
You could also bake your potato gnocchi in a tomato sauce with mozzarella. There are so many different ways to serve gnocci. See below for my collection from fellow food bloggers!
GNOCCHI WITH BROCCOLI AND VEGGIE SAUSAGES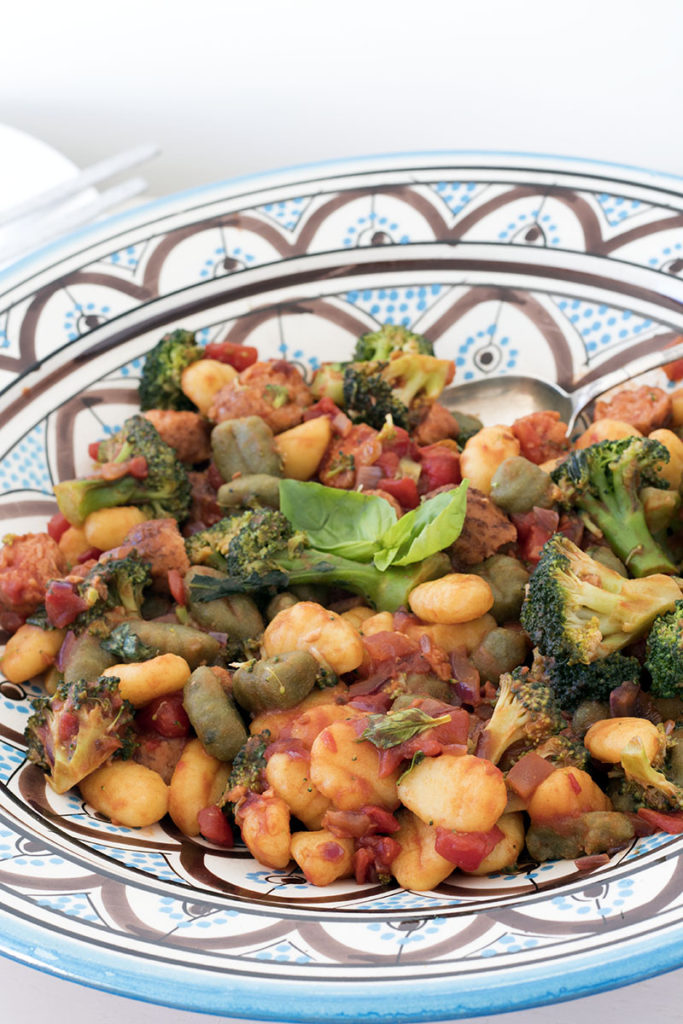 TOMATO SOUP WITH GNOCCHI AND AUBERGINE CROUTONS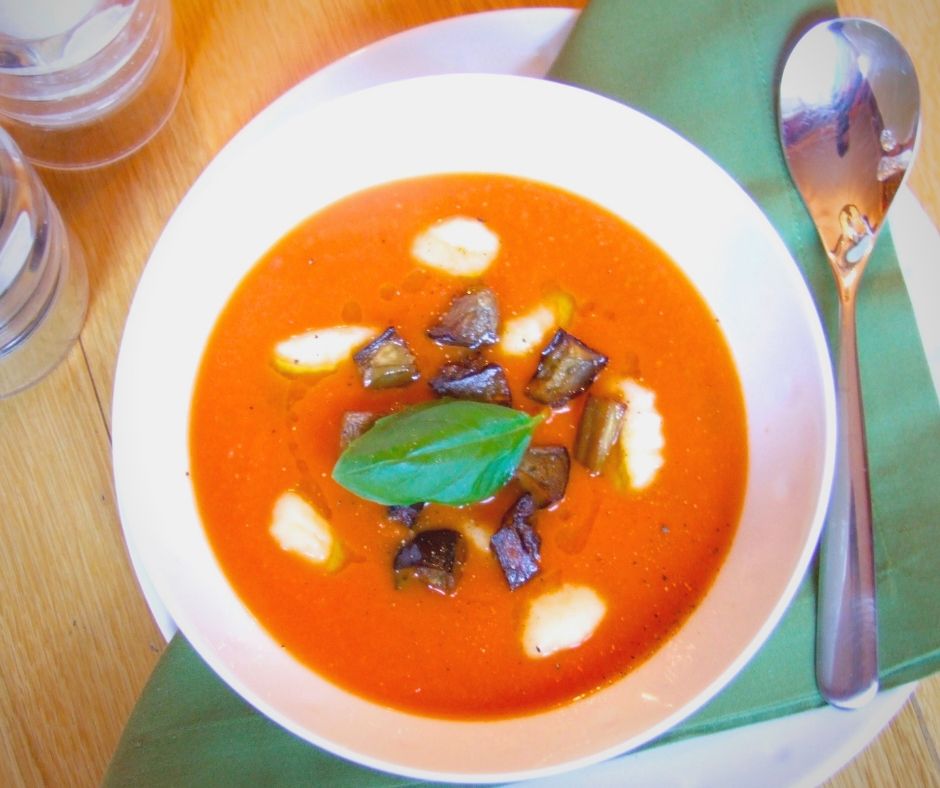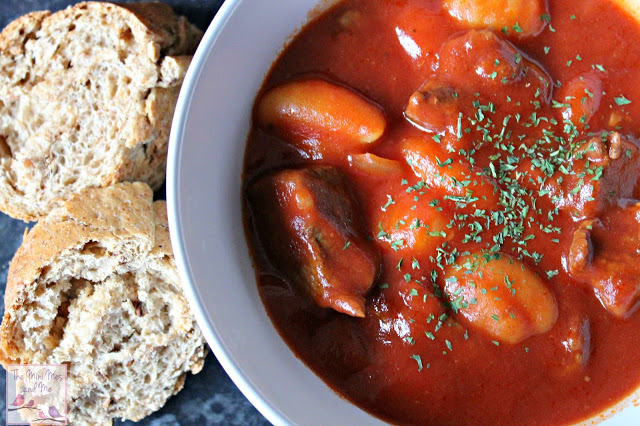 EASY BUTTERNUT SQUASH AND CHORIZO GNOCCHI
A TIP FOR MAKING GNOCCHI
Do not overwork the dough or else your gnocchi will become tough

Don't worry if they are not all even when you cut and roll. I like my gnocchi to look a little rustic!
The Recipe
How to make gnocchi without egg
Serves: 2
Difficulty: Medium
Learn how to make these soft, pillowy nuggets of potato goodness and they will become your best dinner go-to!
What you will need
2 large potatoes - peeled
150g plain flour
1 tsp ground nutmeg
Method
1

1. Peel potatoes, cut in half and boil until soft.

2

2. Tip the flour and nutmeg onto a surface and mash potato with the ricer, directly on top.

3

3. Shape into a square and slice lengthways into 6 long strips. Cut each strip in half lengthways and roll into a sausage. Cut each sausage into little 1 inch pieces (more or less).

4

4. Press a fork on top of each piece and place on a floured plate/board. Sprinkle with more flour after they are all on the plate.

5

5. Boil water. Add and take out as they float to the top. About 1-2 mins. Serve as you wish –

6

I recommend brown butter and Parmesan in the oven.
MORE COOKERY SCHOOL RECIPES
Step up your cooking and learn a few more skills…
How to make a freeze white chicken stock
20 thrifty dinner ideas and larder essentials
Let's Get Cooking!
Don't forget to tag me in all your creations over on instagram and twitter. And why not pin this on Pinterest to save for later?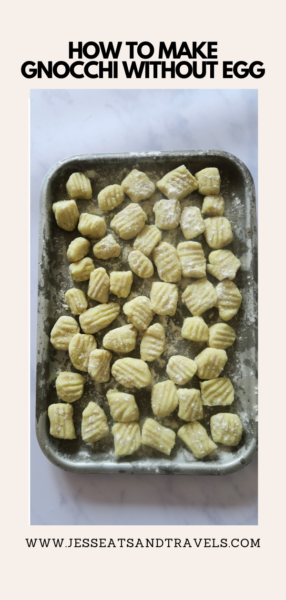 Want IN on a massive FREEBIE?
Join the Jess Eats mailing list and receive a FREE 7 Day Meal-Plan PLUS SEVEN RECIPES and a Shopping List!
Don't miss out!
By joining, you'll also receive my weekly newsletter with tips and tricks, world food extras + freebies in the future!