20 Thrifty Dinner Ideas and Larder Essentials
20 easy ideas for quick dinners if you're losing inspiration. Plus a list of recommended items to keep your cupboards stocked up!
Thrifty Dinner Ideas and Larder Essentials
After my long blogging hiatus (apart from that one chocolate salami post at Christmas time) I'm back – hopefully (let's see when the baby arrives!)
It was highly requested on instagram that I do a post on thrifty dinner ideas. If you don't follow me over on insta then let me explain. Call it a New Year's resolution, if you will, but my husband and I have decided to be a bit more careful (or 'thrifty') with our meals this year. As you will know, I like to experiment and cook from a recipe…everyday! Despite a lot of these recipes being thrifty in their own right, I ended up buying ingredients when I already have meal options in the cupboard – there was no need to do a recipe! The only upside is I now have a larder jam-packed with spices and other essentials.
You know I love a challenge!
Naturally this turned into a challenge for me. I love a good challenge and so I decided that we would see how long we could last each month by doing as little shopping as possible (i'll explain the process of setting it up below). We've allowed ourselves the option to buy veg and meat each week but the aim is to spend as little as possible. Our normal weekly shop would come to £60ish, so anything under this is our aim.
I should also note that I'm trying to be plastic-free as much as I can this year, so I've had to factor this in too.
The challenge set-up
The first thing you'll want to do is stock up! On the weekend we travelled around to various places to gather our goods. We went to –
A greengrocer on Bath Road in Cheltenham (Roots & Fruits) to buy our seasonal (very important) veg for the week. Buying seasonally often means cheaper prices. Market-style shops often sell fruit and veg loose too.
Morrisons (our local supermarket) for our tinned goods. See the larder essentials list below for what to buy. Buying tinned means easily recyclable too. Always go for the cheapest option as 9 times out of 10 they were all produced in the same factory anyway!
A plastic-free shop (Food Loose) in Cheltenham. A new idea has come to town where you can take your tupperware/glass jars and stock up on dried goods such as rice, pasta, flour, granola etc. The great thing is that there's no packaging involved and you can buy as much or as little as you like, cutting down on wastage. Why not check if there's something similar near you.
Our local farm shop for meat: Buying local, free-range meat is now important to me. Yes they do put the meat in plastic bags (next time I'm going to take tupperware and see what they say) but I see this sort of plastic being better than the plastic tubs that meat comes in in the supermarkets. It's important to me this year to buy less but better quality. Try to buy meat that you can divide up into several portions to make it go further. We went for chicken breasts, mince and sausages.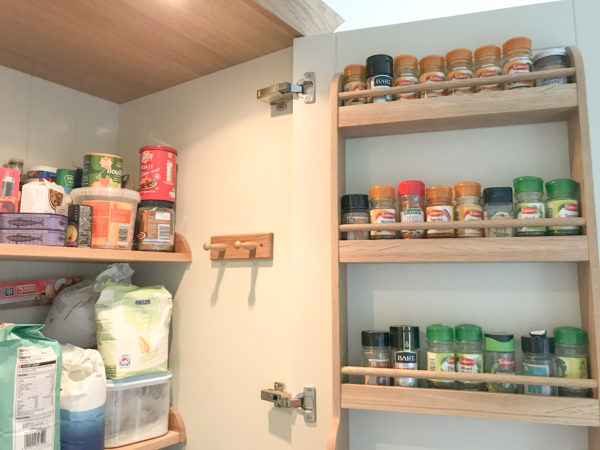 Larder essentials
You'll want to make sure that your cupboards/larder/pantry is fully stocked with the following (if not, aim to buy these in your initial stock up):
A range of spices – super important for jazzing up dishes that could be considered 'bland' without. My faves are: cumin, Chinese five spice, paprika (sweet, spicy and smoked), mustard seeds, any curry powder, baharat, chilli powder or flakes, and turmeric.
Dried herbs – a selection (basil, thyme, oregano, rosemary and mint are good ones to start with).
Lentils & grains such as couscous, quinoa, bulgar wheat, green and red lentils. These are amazing for salads, curries or an alternative to rice.
Dried & tinned beans – kidney beans, black pinto, borlotti and baked beans. Add them to casseroles, stews and chilli for a bit of bulk, or use them as a replacement for meat.
Rice – basmati and arborio are the main two. The latter the used for a risotto.
Pasta – long and short. Any shape is ok. It's nice to have the two for a bit of variety.
Stock cubes – chicken, beef, fish and veg. I'd prioritise veg over any of the others as it goes with any dish. Look for those low in salt and containing sustainable palm oil (bouillon is a good example).
Dried noodles – egg and vermicelli would be my go-to's. My husband enjoys udon so we sometimes get this in although it's a bit pricier.
Flours – plain (for batters), self-raising (baking) and strong white bread flour (bread) are the essentials.
Eggs – good to have in for making omelettes, quiches and tortillas in order to use up leftover veg, as well as being a common baking ingredient.
Peanut butter – a bit random but it's ideal for making an impromptu chicken satay curry. Great also on toast…
Granola – considered a breakfast item but could also make a good coating for fried chicken.
Tinned tomatoes – the number essential of them all. Add to any veg or meat and you could create a curry, chilli, casserole, stew, pasta dish.. the list is endless.
Coconut milk – For making thai or indian curries.
Dijon/wholegrain mustard – always jazzes up a pasta dish or mash potato/new potatoes!
Soy sauce – for any Chinese dish.
Olive oil – for frying and making dressings.
Dairy (I know these don't live in the larder but thought i'd add them on the end here as they're also number one essentials!) – Cheese, butter and milk.
Once you've stocked your larder up with the majority of these (initial cost will be high but beneficial in the long-run. Trust me!) you'll be able to start cooking any of the dishes below!
Our stock-up shop on the weekend came to (including the veg and meat) £72. Next week I'm hoping that i'll only need to buy seasonal veg and some meat if needed. My larder will supply the rest!
Thrifty Dinner Ideas
Curries: you could use any of your spices + a meat/and/or veg + any leftover cream/yoghurt, coconut milk or a tin of tomatoes for a fruitier experience. It depends what you have in and what sort of curry you like! My Quick Caribbean Beef Curry could be an option.
Pasta bakes: bake your pre-cooked pasta in a tomato or cheese based sauce (flour, butter, milk and cheese) sauce (jazz up with herbs and even veg if you like). Bake in the oven topped with more cheese and you've got a hearty meal!
Mac n Cheese: Pasta + flour + butter + milk + cheese. I like to add a smoked sausage to mine but obviously this makes it more extravagant. Vegetables are also nice – my mum used to add frozen veg to hers!
Bolognese: Mince (only a small amount is needed really – about 150g for 2) + tinned toms + stock + spaghetti + oregano. Bulk up with veg such as carrots, onion and celery. You don't even need the meat if you don't fancy it. A drop of Worcestershire sauce is a nice touch too.
Slow-cooker casseroles: the holy grail of equipment for thrifty dinners. Add anything to them (meat, veg, beans) + a liquid (tomatoes, any milk, cream etc) and you've got yourself a meal! Add spices and herbs to vary the flavours. A couple of casseroles I've made in the past for my a-z cooking challenge are: Antiguan Slow-Cook Casserole with Grilled Pineapple and Afghan-inspired Vegan Kidney Bean Slow-Cooker Casserole.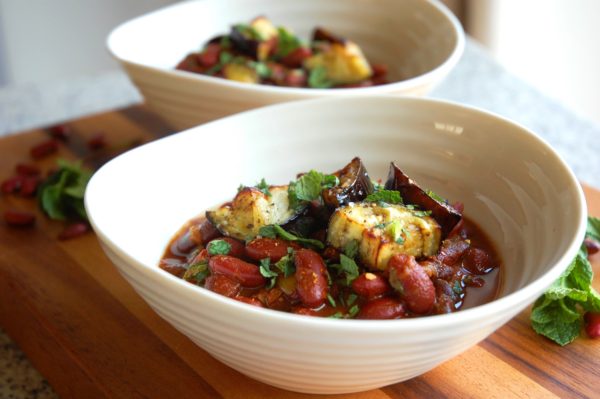 Ramen: such a simple but satisfying dish. Noodles + stock or miso + meat such as chicken (optional) + ginger + spring onions + sprinkling of sesame seeds (optional).
Roast vegetables: yes, this can be a dish on its own! Roast any leftover veg in oil mixed with spices and bobs your uncle!
Soups: boil, steam or roast any veg, add to a liquid and you've got yourself a homemade soup! Bulk-cook and freeze for back-up meals to use down the line.
Pies: often a daunting prospect to make (even for me, i'll admit) but a great one to learn. Top your pie with mash (potato, carrot, swede.. you choose), sliced potatoes or make a basic shortcrust pastry. A basic pie filling consists of veg/meat + stock or cream.
Traybakes: throw anything leftover in your fridge in a tray and bake!
Fried rice: cooked rice + veg + soy sauce + egg.
Risotto: arborio rice + butter/oil + veg/meat + stock.
Pizza: another one which isn't the easiest to make but again, once you learn it's a skill under your belt for tons of potential meal ideas. A basic pizza recipe consists of yeast and pasta flour (00). Top yours with anything. You don't even need to have tomato sauce – make a pizza 'bianca' instead..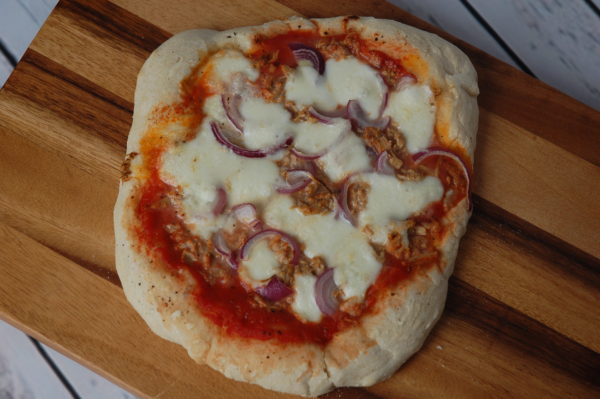 Chilli: similar to the bolognese, you don't need meat to make it. Add veg to beans, a tin of tomatoes and some spices – it's just as nice. Serve with basmati rice, couscous or whatever grain you have in the larder.
Hummus: another random one but hummus makes a great accompaniment to roast veg or raw salad items. It's easy to make in a blender: chickpeas + garlic + olive oil + salt.
Crepes: add anything to one and you've got a filling meal! You just need flour + egg + milk.
Quiche: a fantastic way to use up leftover veg. Make a basic shortcrust for the base and make the filling from whatever you like + milk/cream + egg.
Daal: not just a side in Indian. Easy to make with lentils + water/tinned tomatoes + spices. You'll only need time on your side for this one!
Stew: a hearty winter dish: meat/veg + stock + flour. Jazz up with homemade dumplings (flour, butter and water).
Fish cakes: I haven't yet mentioned fish but it sometimes can be a cheaper alternative to meat. Add any fish to mash potato + flour + egg and coat with breadcrumbs. Why not add some veg such as spring onion/leek to add some extra flavour?
Tag me in your thrifty dinners & use the hashtag #thrifyfoodchallenge – what will you be cooking tonight?
PIN ME!