Fruity Coronation Chicken
Give your sandwiches the Royal touch with my fruity coronation chicken sandwich, filled with juicy apricots, raisins, mango chutney and toasted almonds to give it a bit of a crunch. A great one for using leftovers from a Sunday roast chicken. 
Coronation Chicken Sandwich
I don't know about you, but for me, Coronation chicken brings back memories of childhood. My mum used to make it quite lot as a sandwich filler for me to take to school. She may not have added fancier ingredients such as apricots or almonds but it still tasted just as good!
What better time to share this with you than this week! In celebration of the Harry and Meghan's Royal wedding this weekend, I've created a recipe which is of course flavoured with curry powder but slightly fruitier than normal with the added apricots, raisins and mango chutney. Mine is also made with mayo and natural yoghurt to give it a slight tang.
Coronation chicken serving ideas –
Sandwiched between two slices of thick, crusty bread
On top of a jacket potato
In a leafy green salad
Wrapped up in a tortilla
In between two burger buns
Things to consider before cooking –
You'll need to have roasted a chicken either on the day or the day before to make this recipe. Please allow extra time for this.
The Recipe
Fruity Coronation Chicken
This fruity coronation chicken recipe makes for a great sandwich filler, as well as a topping for jacket potato.
What you will need
220g cold leftover chicken
100g mayonnaise
150g Natural Greek yoghurt
1.5 tbsp mild curry powder
Handful flaked almonds
40g Mango chutney
60g raisins
1/2 lemon, juiced
45g dried apricots, chopped
Salt and pepper
Method
1

Shred your cold leftover chicken into a medium bowl. In a separate bowl, add the mayonnaise, natural yoghurt and curry powder and mix together until smooth.

2

In a dry pan, add the almonds and toast for 5 minutes until slightly brown. Keep an eye on these and move often to ensure they don't burn.

3

To the mayo mix, add the mango chutney, raisins, lemon juice, dried apricots and seasoning. Mix together and add the chicken. Mix until thoroughly coated.

4

To finish, top with the toasted almonds and serve the way you prefer.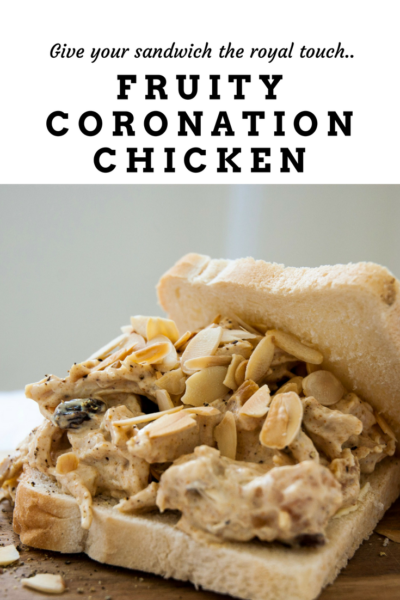 LET'S CARRY ON THE CONVERSATION!
Let's catch up over on my social media accounts (in the top, left of this post). Go over and follow me and we can chat about cake. Why not subscribe to this blog to never miss a post? It would make me a very happy bunny!