Belgian Chicken Waterzooi
A comforting, creamy soup, perfect for those cold days when all you need is a hug in a bowl. Makes for a lovely, quick lunch or a yummy starter for two. Based on the traditional Belgian recipe, Chicken Waterzooi.
Belgian Chicken Waterzooi Soup
Welcome to the month of March where you're going to be spoilt with TWO posts this month! I only went and had a baby last month (Feb)! So of course, I was a little busy (still am to be honest!) and wasn't able to get this post up. I actually only managed to make this recipe a week after having the baby! I was saying on my instagram today that I don't cook to be seen as a 'super mum'. It gives me some sort of 'normal' and keeps me sane. It's something I thoroughly enjoy, so I'll continue doing it as much as I can whilst looking after my wonderful baby boy, Joseph.
The below may contain affiliate links.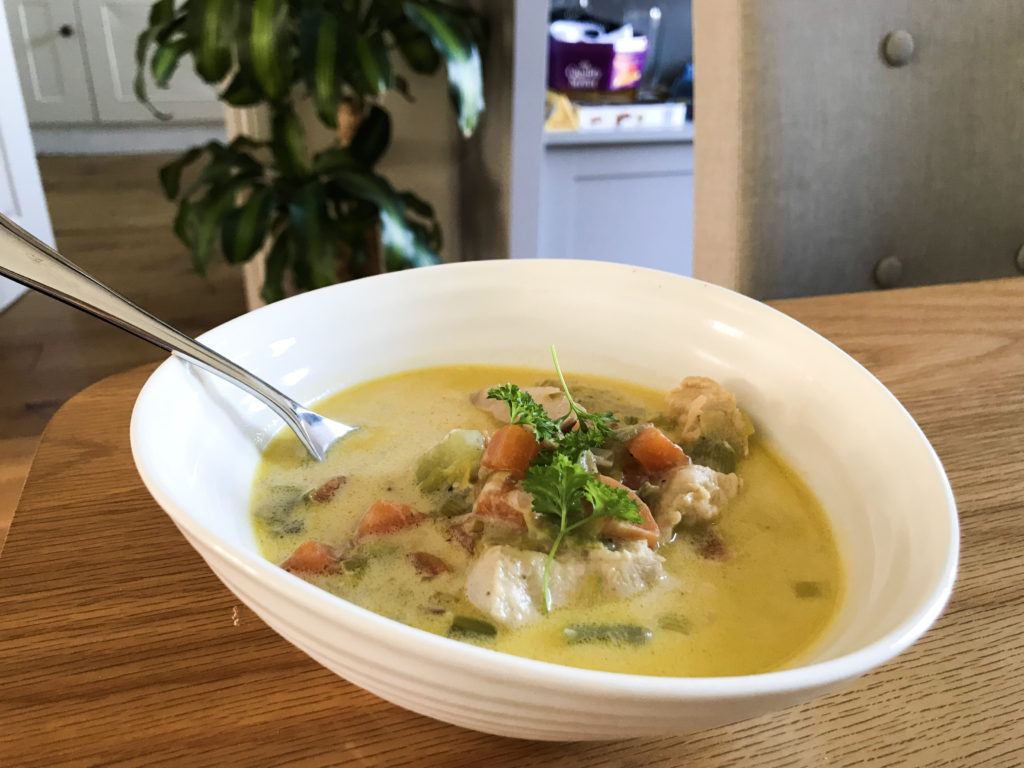 About Belgian Cooking
I've always wanted to go to Belgium, especially around Christmas time to visit the Christmas markets. It looks so pretty around that time of year. I guess it also reminds me of our trip to Amsterdam (totally understand this is in a different country!), which I really enjoyed and would LOVE to go back, but Belgium I must visit first as it's giving me all the similar vibes.
Belgium isn't just all about waffles, fries with mayonnaise and never-ending beers (of course it plays a huge part). Belgium has a hidden side to its cuisine that I'm sure most people visiting don't give a chance to try or even seek out. To be fair, I wouldn't have even known about it before researching for this post.
Of course, a lot of the food has been influenced by its neighbouring countries; France, Germany and the Netherlands, with a lot of the locals cooking up food from these on the daily. Belgian food, however, sort of reminds me of British cuisine – lots of potatoes, leeks and asparagus, and of course: BEER! You can enjoy dishes such as 'boudin' – similar to the English black pudding but is eaten with potatoes, apple sauce and can be eaten raw or BBQ'd; Carbonade Flamande: a traditional Belgian beef stew (considered to be the national dish) and Boulets liegeois – two meatballs topped with a sweet and sour sauce – not what you expected, eh!
You can see straight away that a lot of Belgian food is hearty and comforting; plenty of stews, soups and casseroles. Of course we mustn't forget the best thing that Belgium is famous for.. something I really wanted to try and experiment with… Chocolate! Another reason Belgium is top of my list of places I'd like to visit! I'll definitely be coming back a stone heavier!
Belgian Chicken Waterzooi
The Belgian recipe I decided to recreate is a chicken 'waterzooi'. Also made with fish, waterzooi is a traditional creamy soup heralding from the town of Ghent in Belgium. According to wiki, waterzooi stands for a dish that is boiled. Traditionally being made with freshwater fish, legend has it that the dish was created because the rivers around Ghent became too polluted and the dish disappeared, which is why today it's made also with chicken.
My version is a slightly quicker and less traditional version, as cooking with a sleeping baby now puts me on a time limit! The original dish is usually thickened with egg yolk and cornstarch, however I've omitted both. I've simply added a touch of heavy cream to give it that silky, smooth texture. I hope by doing this, i've managed to let the original dish shine through.
Also if you have a baby too, don't worry about peeling the carrots – just chop and go!
The Recipe
Belgian Chicken Waterzooi
Serves: 2
Difficulty: Easy
A quick and easy creamy soup, based on a traditional Belgian recipe. Perfect for a quick lunch or as a starter for two.
What you will need
1 leek, chopped
1 carrot, diced
1 celery stick, diced
1 chicken breast, sliced in strips
1 small chunk of butter
200ml chicken stock
50ml extra thick double cream
2 sprigs of parsley
Seasoning
Method
1

Melt butter in a medium pan and heat until brown and nutty. Chop veg (don't worry about peeling) and sauté in butter for 5 mins.

2

Add the chicken stock and bring to a boil.

3

Add the sliced chicken, season and poach for 15 mins until cooked through.

4

Off the heat, add the double cream and stir. Put back on a low heat and simmer for 2 mins. Serve with a sprig of parsley.
MORE LUNCH RECIPES
Belizean garnaches
Fruity coronation chicken