Leftover Mashed Potato Mozzarella Cakes
These leftover mashed potato mozzarella cakes served with sour cream make for a great breakfast alternative to the English hash brown, or even as a light lunch served with a side salad. Their fluffy, cheesy centres would cheer me up any day of the week!
Mozzarella potato cakes
Leftover potato cakes with mozzarella are literally the easiest thing to make. No cooking skills required!
These mozzarella cakes are no faff to make either. I really dislike peeling potatoes, I don't know about you? That's why I made this recipe a peel-free one! You can boil and mash the potatoes with skins on and what you'll get is a lovely earthy flavour (don't be put off by that though as the cheese really is the main flavour in these cakes!)
Why should I make these potato cakes?
Perfect for using up leftover mash potato
No faff as potatoes are cooked with skins-on
Make for a really easy lunch served with salad
Customise with different cheeses!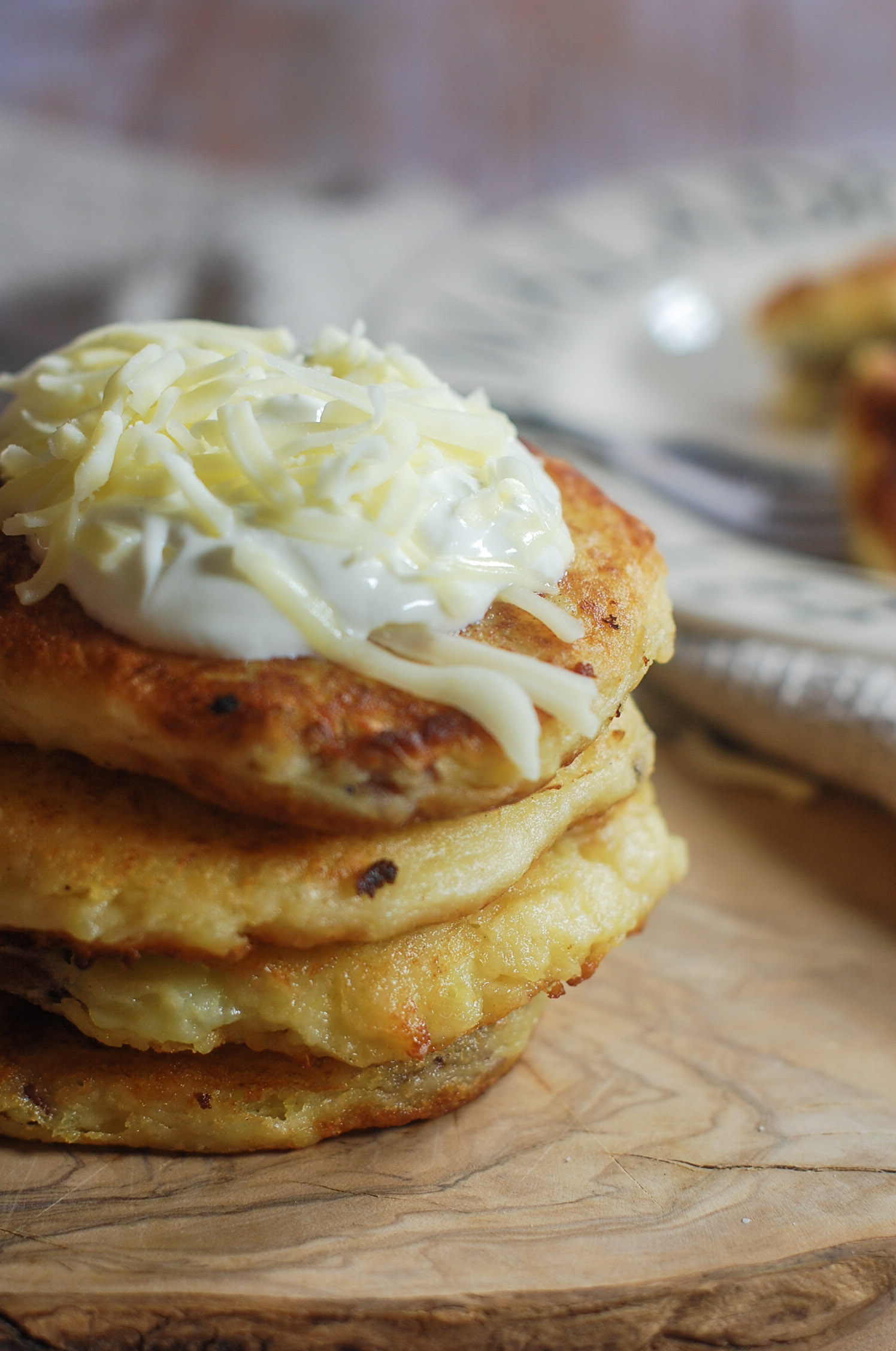 Based on a Belarusian recipe
This recipe was originally based on the Belarusian recipe called draniki, which consisted of potato and onions and are a bit like the English hash brown. Since updating the recipe, I omitted the onion and added the cheese. I really love cheese so it seemed only right. I also did this in a bid to make them more family-friendly.
What ingredients do I need?
2 large potatoes (if not using leftover mash)
15g unsalted butter (if not using leftover mash)
A splash of whole milk (if not using leftover mash)
OR around 2 potatoes worth of mash (it can be roughly this as it's easily adaptable)
55g grated mozzarella
30g plain flour + extra for dusting
1 egg
3 tbsp olive oil
Sour cream for serving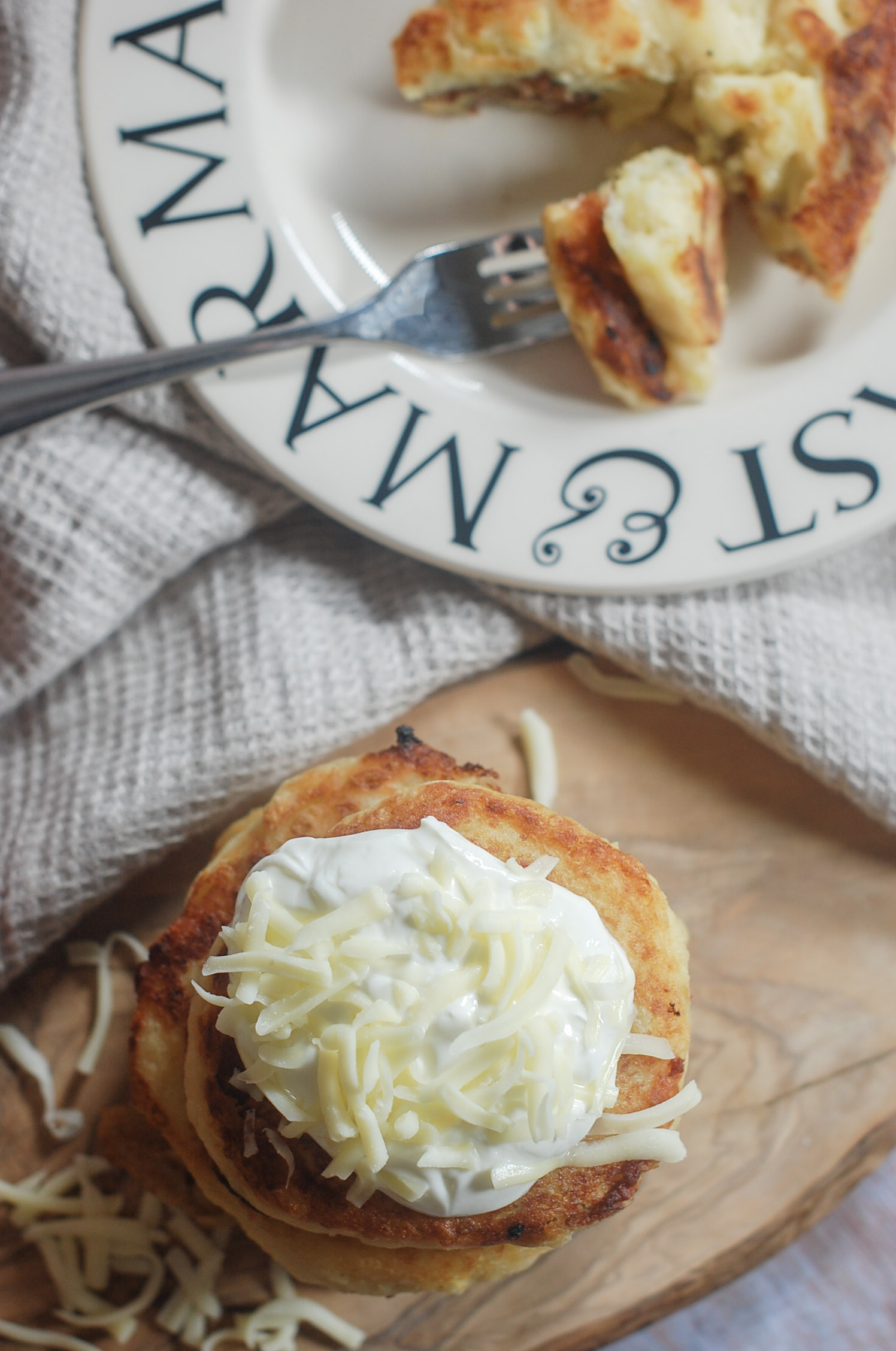 Sour cream love
I know this recipe is no longer typically Belarusian but I thought I'd add that Belarusians like to eat a lot of sour cream, as well as curd cheese and milk (in soups and porridges). We served these cakes with a dollop as a nod to this but also because it tastes oh so good!
Equipment Needed
Your favourite potato masher
Pan for boiling the potatoes if not using leftover mash
A spoon
Weighing scales
Frying pan – I used a cast-iron one
A large plate
Spatula
Leftover mash or not?
So I know this recipe is named 'leftover mashed potato mozzarella cakes' but you don't have to use leftover mash to make them. Boiling potatoes with skins on takes no time at all.
However if you are using leftover mash, I'd recommend about 2 potatoes worth. If you can't remember or are not sure how many potatoes-worth of mash you have, you can just wing it. Unless you have a huge amount or really little, this recipe can't go wrong. So you have a little less mash and your cakes become extra cheesy… that can't be a bad thing!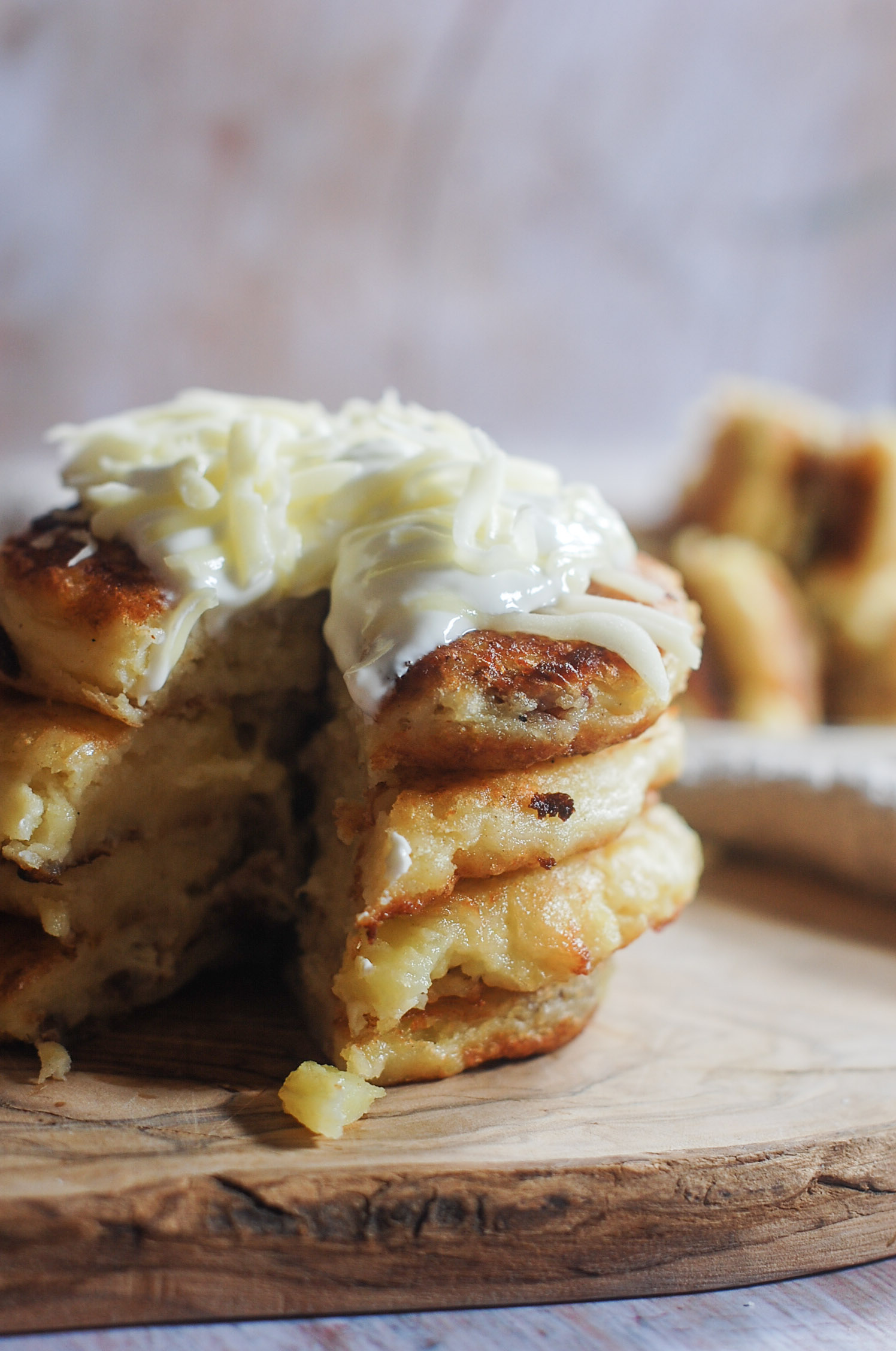 Frequently Asked Questions
Can I use sweet potato?
Sweet potato is a lot softer so you may need more flour to compensate. I've not tested this recipe with sweet potato but it's worth a try. 
Can I peel my potatoes?
If you can be bothered, then yes!
What about using fresh mozzarella?
Fresh mozzarella is a lot more wet than the pre-grated kind and so will give the recipe a different outcome. It's also difficult to grate! You could tear some in if you'd prefer to use it. It won't affect the recipe too much!
Can this recipe be made vegan?
To make these vegan, make your mash as you would normally, perhaps using oat or coconut milk. Add in grated vegan cheese. If you find that it's not binding as well, add a bit more flour. About 1 tbsp. They may be a bit more delicate but just as delicious.
Step-by-step method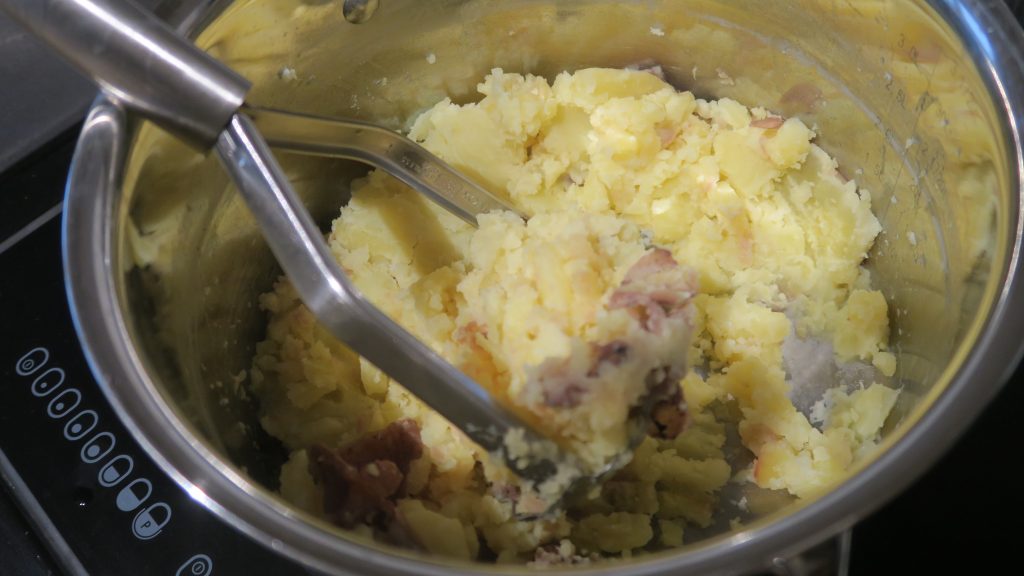 Tips
Avoid sticky hands whilst shaping the cakes by pouring a layer of flour on a plate. Each time you pick up some potato mash, cover both hands with flour first and then shape!
Leftover Mashed Potato Mozzarella Cakes
These leftover mashed potato mozzarella cakes served with sour cream make for a yummy breakfast or lunch.
Ingredients
The mash potato (if not using leftover mash)
2

potatoes

Large, skins on & quartered

15

g

unsalted butter

a splash

whole milk
The potato cakes
55

g

grated mozzarella

30

g

plain flour

plus extra for hands

1

egg

3

tbsp

olive oil

sour cream

for serving
Instructions
Mash potato (if not using leftovers)
Place your potatoes, quartered with skins on, in a pan of boiling water. Boil for 25-30 mins until completely soft. Drain and pour back into pan.

Add the butter and a splash of milk and mash until there are no more lumps.
The potato cakes
Place your mash into a bowl, add the cheese, flour and egg and mix until combined.

Pour a layer of flour over a large plate. Grab a second plate, ready for the cakes (or place them straight in the pan). Heat the oil in a frying pan. Layer two pieces of kitchen towel on another plate for when the cakes come out of the pan.

Using a spoon to scoop, spoon out large amounts of potato, dip your hands into the flour and shape into balls, flattening with your hands. Fry, two at a time, in the pan. 2-3 mins each side or until golden brown. Place on the paper towels to soak up the oil. Continue until you have 6 cakes.

Serve hot with sour cream!
Notes
Potatoes – I used red skinned potatoes for these but I'm sure any variety good for mashing (Yukon gold, Maris Piper, Desiree, King Edward) would be delicious.
Grated mozzarella – here's the grated mozzarella I used. I would recommend this very much so over fresh. It melted more consistently and a lot more quickly.
Frying-pan – I used a cast-iron frying pan as it heats up very quickly and I believe gives a better taste than any other pan. Also good if you want to finish them off in the oven for extra crispiness.
Aga cooking – all my recipes are tested and made on an Aga however I always adapt the method for a conventional oven. If you're an Aga owner too, you can do the recipe on top of the boiling plate.
Reheating – to re-heat, re-fry in a frying pan until warm. You could also oven them for 5-10 minutes. I wouldn't recommend microwaving. 
Storage – you can store leftovers in a well-sealed container in a fridge for 3 days. 
Freezing – I'd recommend making these fresh but you could freeze for 2 months. I have not tested this though so I'm not sure if they defrost well. Ensure the container is well-sealed so you don't risk freezer burn on the food.
More quick leftover recipes
Leftover tortillas: Belizean garnaches
Leftover Brussel sprouts: Battered bubble and squeak balls
Leftover yoghurt/spinach: Spinach and yoghurt flatbreads
Leftover potatoes: Gnocchi (no egg)
Leftover roast chicken: Coronation chicken sandwich
Leftover tins toms soup: easy beef chilli
Leftover tomatoes: spicy tomato chutney