Sweetcorn and Potato Breakfast Hash
A healthy, easy-to-prepare breakfast hash full of sweet, smoky flavours. Ready to eat in 30 minutes! Makes for a lovely brunch.
Breakfast Hash
This sweetcorn and potato breakfast hash has become my new favourite thing to make on the weekend! Who knew having spiced paprika potatoes with fried onions, peppers and garlic, wilted spinach and sweetcorn would feel SO right in the morning! I'm a total convert.
This recipe all started out when researching Australian recipes to make for the blog. I came across what is known as 'potato hash' but that's basically like the British hash brown. I struggled to find Australian recipes actually, so I decided to go off on a tangent and create this breakfast hash, which I'm sure Aussie's would love!
Why should I make Sweetcorn Breakfast Hash?
Serve up something different on the weekend! Perfect for brunch.
You'll LOVE the smoky flavours from the roasted paprika potatoes.
Easy to prepare and make!
Very nutritious and very tasty!
Ingredients for sweetcorn hash
Bell peppers – bell peppers are lovely and sweet, perfect for this dish!
Red onion – I'm a huge fan of red onion so it had to be chosen over white!
Spinach – Spinach is always welcome in a breakfast hash to add some nutrition but also as it cooks down really well. You can use frozen if you'd prefer. Obviously it would need a bit longer cooking.
Frozen sweetcorn – As a toddler mum, I've always got a bag in the freezer!
Potato – I used 3 large potatoes but I'll leave it up to you to decide how many you'd like to use. It doesn't really matter.
Garlic cloves – I just love the stuff. It had to go in!
Sweet smoked paprika – Paprika is one of my favourite spices. I love the way potatoes taste when roasted with it. The sweet, smoky flavours are so delicious!
Vegetable oil – Of course you can use olive oil too.
What's the best frying pan to use for a breakfast hash??
The best frying pan for a breakfast hash would be something deep and wide. I use a 24cm Le Creuset saute pan for mine. I found that this pan best kept in all the ingredients and was ample space for it all! They are also oven-safe, in case you need to keep your sweetcorn hash warm in the oven before serving.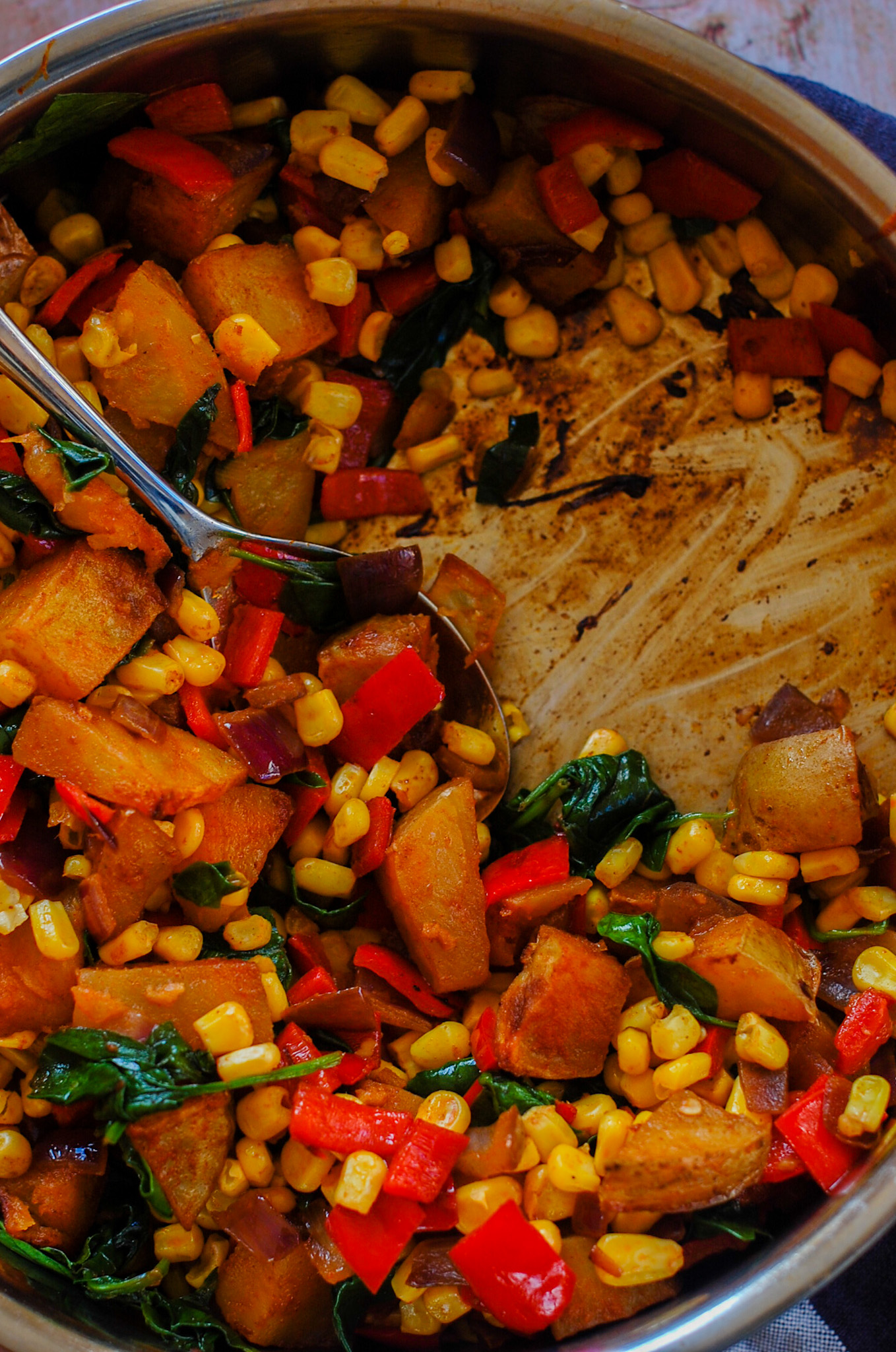 Equipment Needed
Chopping board
Chef's knife
Baking tray
Deep, wide frying pan (or saute-pan)
Measuring spoons
Medium bowl
What can I put in a hash (apart from the above)?
The world is your oyster when it comes to making a breakfast hash! You can add most ingredients and pretty much all spices/chillies etc! Here's a list of suggestive ingredients to LEVEL UP your breakfast game:
Roasted broccoli (drizzle of oil, salt and pepper)
Sweet potato
Roasted carrots
Bacon lardons (or any bacon really!)
Roasted, shredded chicken
Chorizo sausage
A fried egg on top
Crispy mince beef
Avocado
Cherry tomatoes
Balsamic vinegar
Pickles
Sweetcorn breakfast hash recipe step-by-step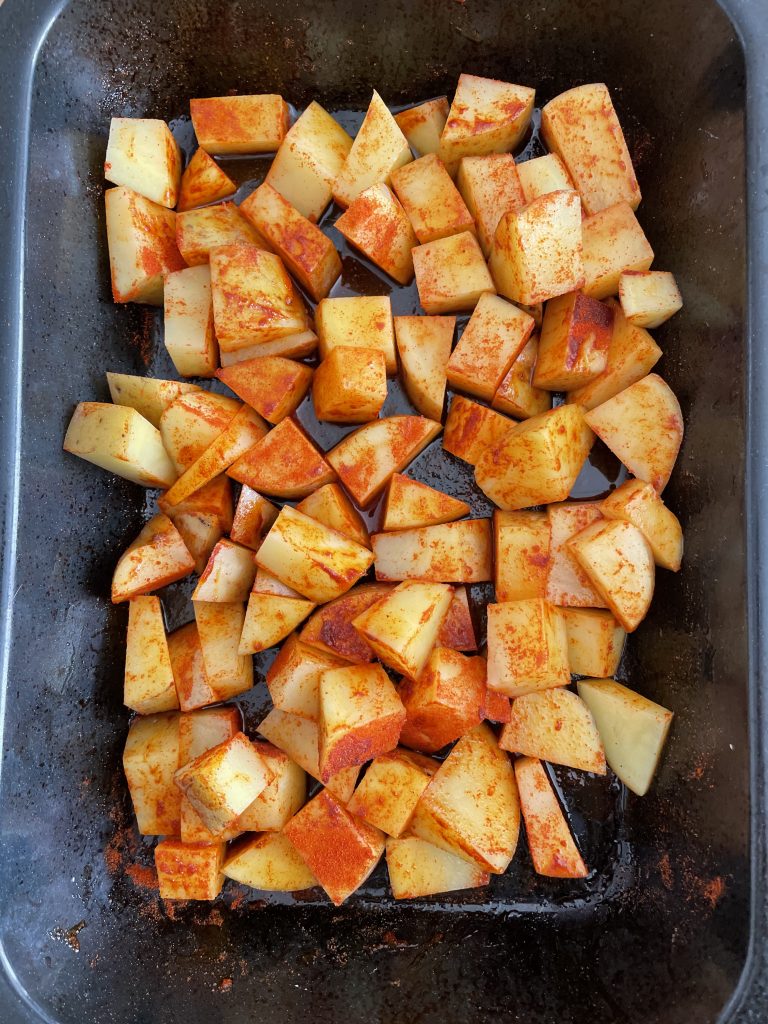 Tips
Love eggs? Crack one (one per person) on top of the hash and place in the oven for 2 minutes to fry! It's seriously yummy!
Sweetcorn and Potato Breakfast Hash
A healthy, easy-to-prepare breakfast hash full of sweet, smoky flavours. Ready to eat in 30 minutes! Makes for a lovely brunch.
Ingredients
2

bell peppers

1

large red onion

3

handfuls

spinach

300

g

frozen sweetcorn

2

large potatoes

3

garlic cloves

crushed

2

tbsp

sweet smoked paprika

Drizzle

vegetable oil

or olive oikl
Instructions
Dice the onion, pepper and potato.

Place the potato in a baking tray and drizzle over the oil. Add paprika and mix. Bake at 200°c for 30 minutes or until golden and crispy.

Fry the onions, peppers and garlic in a little oil. Add the spinach and mix until wilted. Boil the sweetcorn according to packet instructions.

Pour everything into a bowl, mix in potatoes and season well. Serve warm.
Notes
Storage – All leftovers will need to be stored in a sealed Tupperware container and in the fridge. Breakfast hash will keep for 3 days.. 4 days at a push!
Re-heating – You can easily re-heat breakfast hash by giving it a quick fry in a frying pan or a couple of minutes in the microwave. It'll be crispier and a lot nicer if done in a frying pan though!
Freezing – Breakfast hash can definitely be frozen (in a sealed Tupperware) and will last a couple of months, however, it's much better served fresh! I doubt you'll have leftover anyway…
Nutrition
Calories:
202
kcal
Carbohydrates:
44
g
Protein:
7
g
Fat:
2
g
Saturated Fat:
1
g
Sodium:
31
mg
Potassium:
992
mg
Fiber:
8
g
Sugar:
8
g
Vitamin A:
5897
IU
Vitamin C:
110
mg
Calcium:
60
mg
Iron:
3
mg
More brunch recipes:
Mashed potato mozzarella cakes
Easy Caribbean Johnny cakes
Easter Spanish French-style toasts