Roasted Peri-Peri Sweet Potato Wedges
Sweet potato wedges roasted in the oven with African-style peri-peri spices. Not for the faint-hearted when it comes to heat!
Roasted Peri-Peri Sweet Potato Wedges
I love a good wedge. Much prefer them to chips on some occasions. I like the way they hold their own in a dish and sometimes steal the limelight, like these Spicy peri-peri wedges. These wedges bring a taste of Africa to any dish (especially BBQ & Grilled Meats). They are very simple to make too: all you need to do is coat them in the spices, pop them in the oven, kick back and leave them to roast away.
Why should I make peri-peri wedges?
A delicious alternative to plain potato wedges
African peri-peri spices are simply divine on sweet potato!
The perfect side dish to add to your summer BBQ feasts!
Get those vits in with a good source of vitamin B and C from the sweet potato!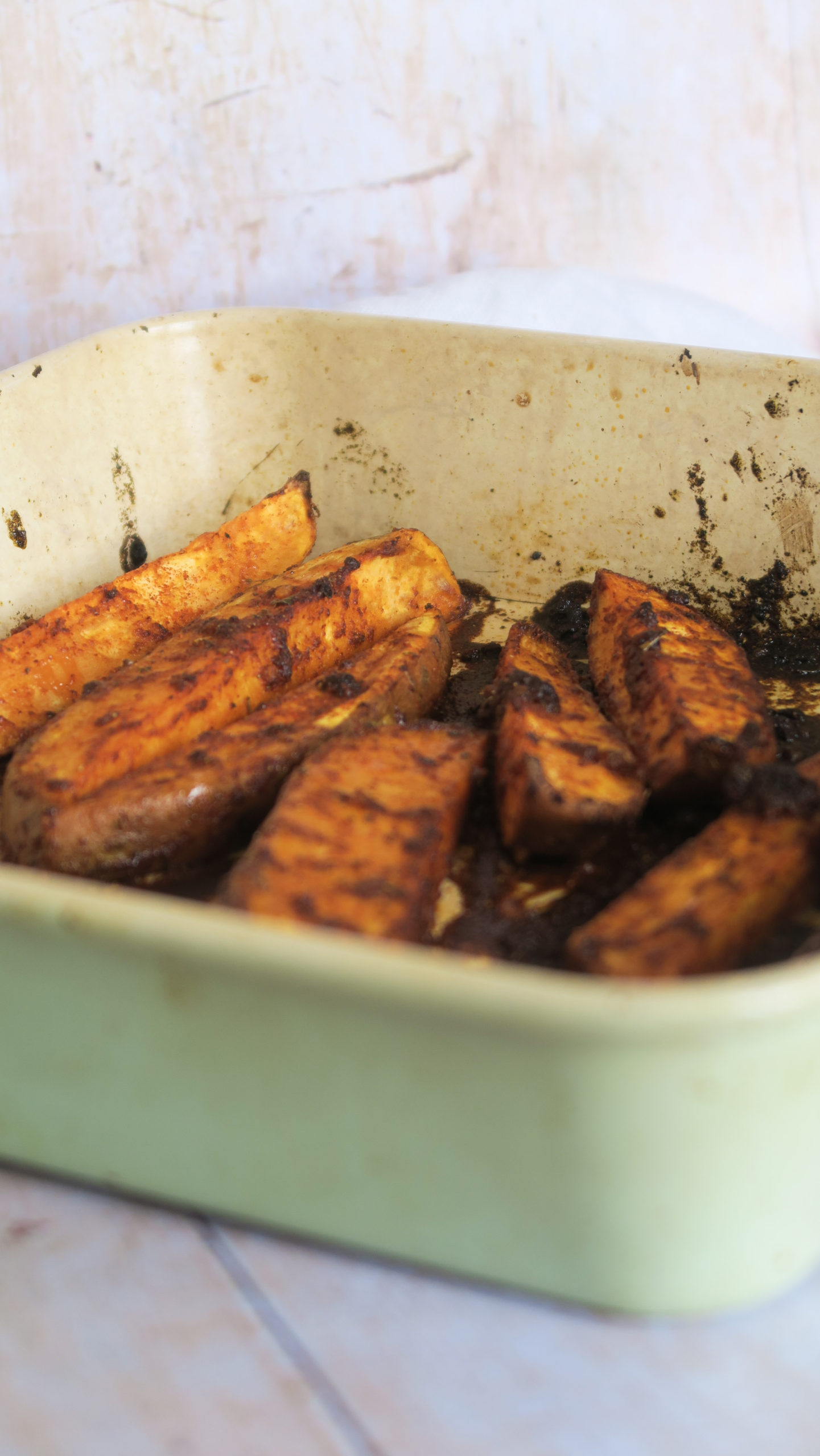 The Peri-Peri Spice Craze!
Peri-peri is a very common spice in Angola due to the Portuguese influence. It's originally made from the malagueta pepper, which I'm assuming is very spicy as peri-peri is known for being a spicy, peppery rub. Of course, for us Westerners, it came to fame from the Portuguese restaurant chain, Nando's. As a nation, we are now obsessed and like to put it on everything.
Ingredients
2 medium sweet potatoes
1 tsp smoked paprika
1/2 tsp dried oregano
1/4 tsp ground cardamom
1 tsp cayenne chilli powder
pinch of salt and pepper
1 tsp crushed garlic clove (or lazy garlic as I like to use)
Drizzle of olive oil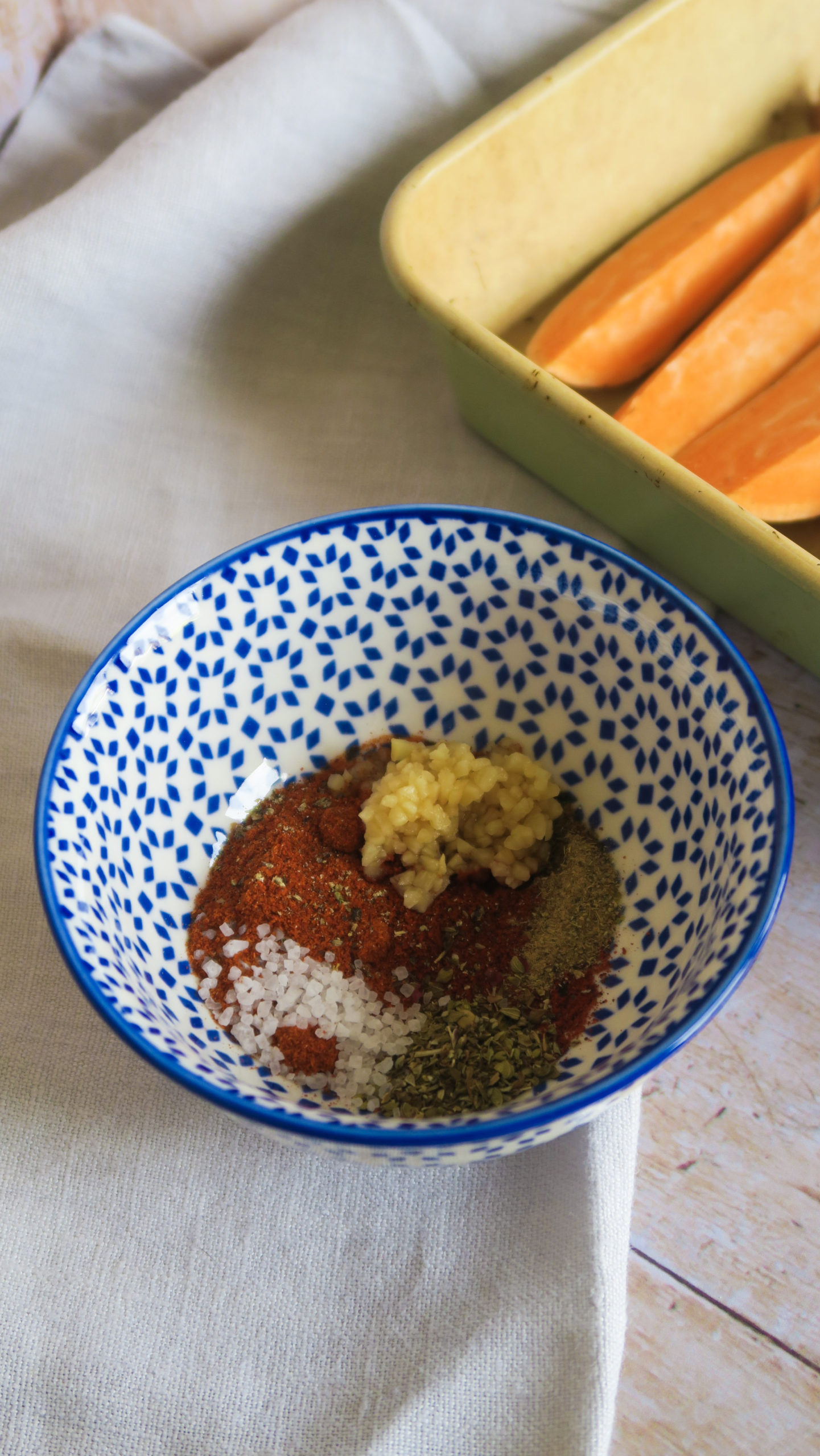 Equipment Needed
Roasting tin
Small bowl to mix the rub in
Knife for chopping the potatoes
Spoon
Spatula
Here's my take on peri-peri
My take on the peri-peri spice mix is a little bit different. The original peri-peri spice mix contains citrus however I've got the acidity from the white wine vinegar in my lazy garlic mix. Reality: didn't have any lemons and we are in the middle of pandemic (avoiding supermarket as much as possible!)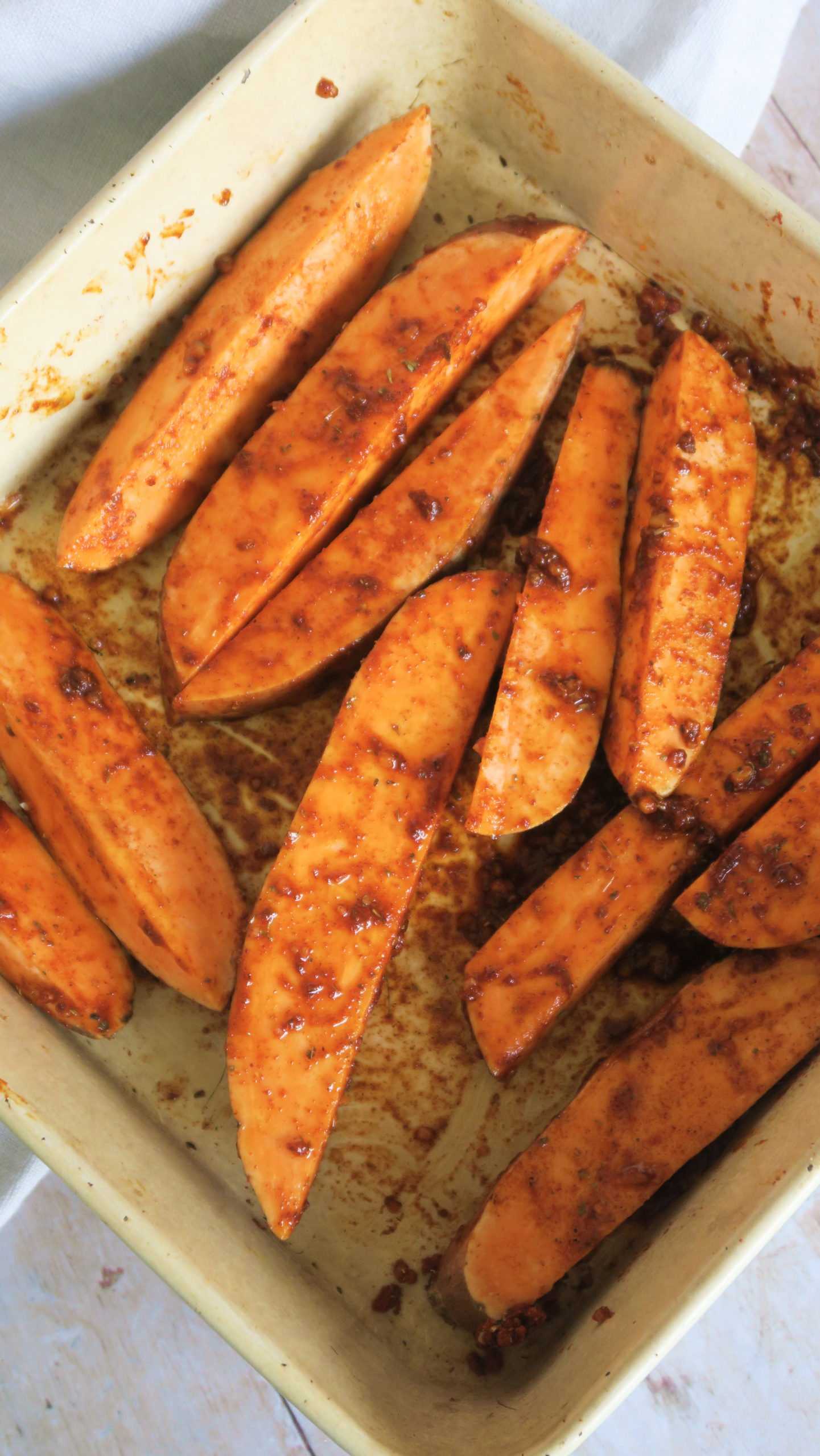 The wedge pre-bake, soaking in all their spicy peri-peri glory
Recipe Variations
Do I have to use sweet potato?
No of course not! A plain potato would go really well with this rub. You could even try parsnip or carrots!
Would this rub work well on chicken?
Yes! I haven't tried it but I just know it would go really well. Just think of all the peri-peri juices soaking into the chicken and the crispy, spicy skin… delicious!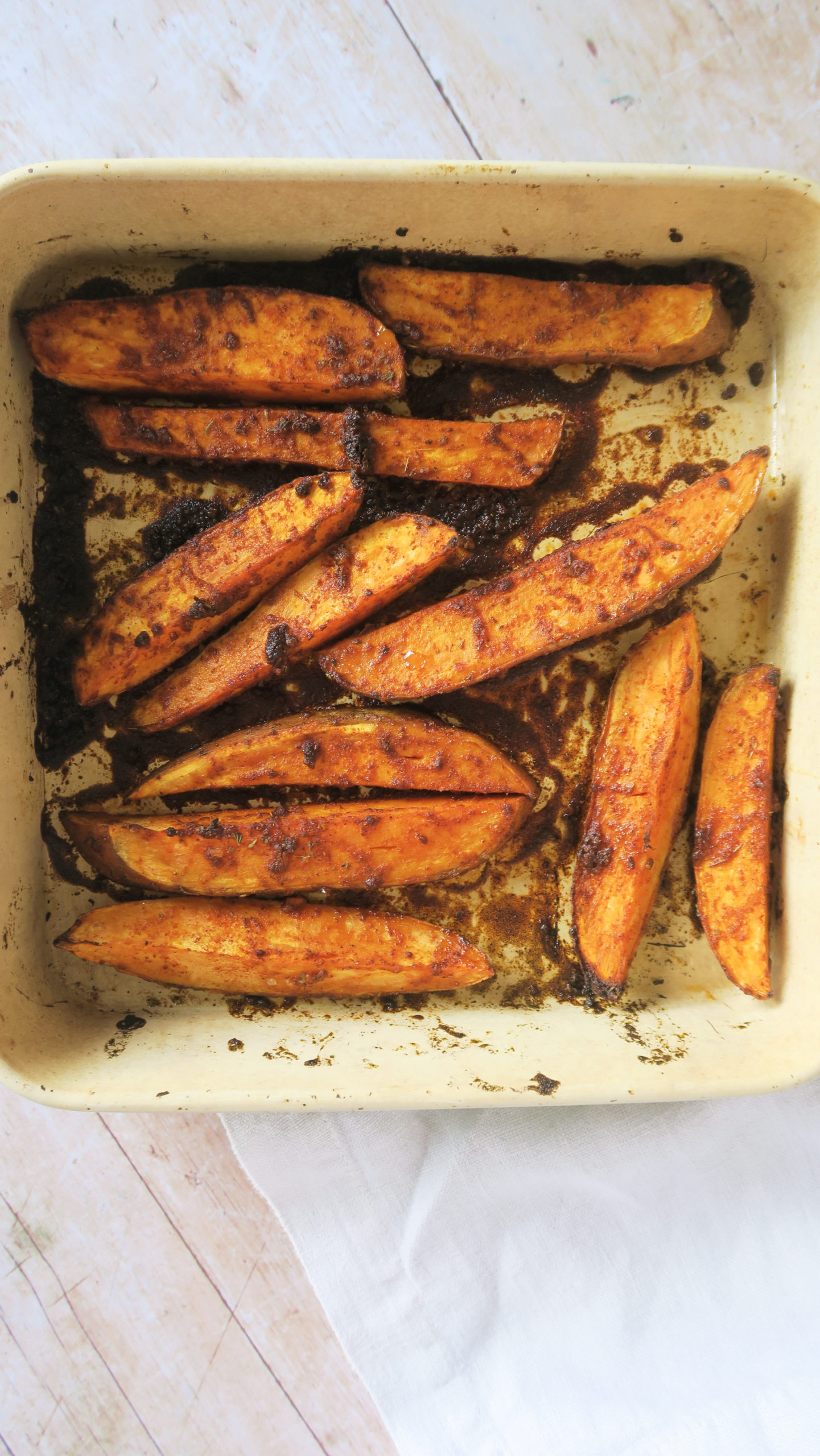 Frequently asked Questions
Are peri-peri wedges gluten-free?
They are gluten-free as there's no wheat in a potato or any of the spices listed.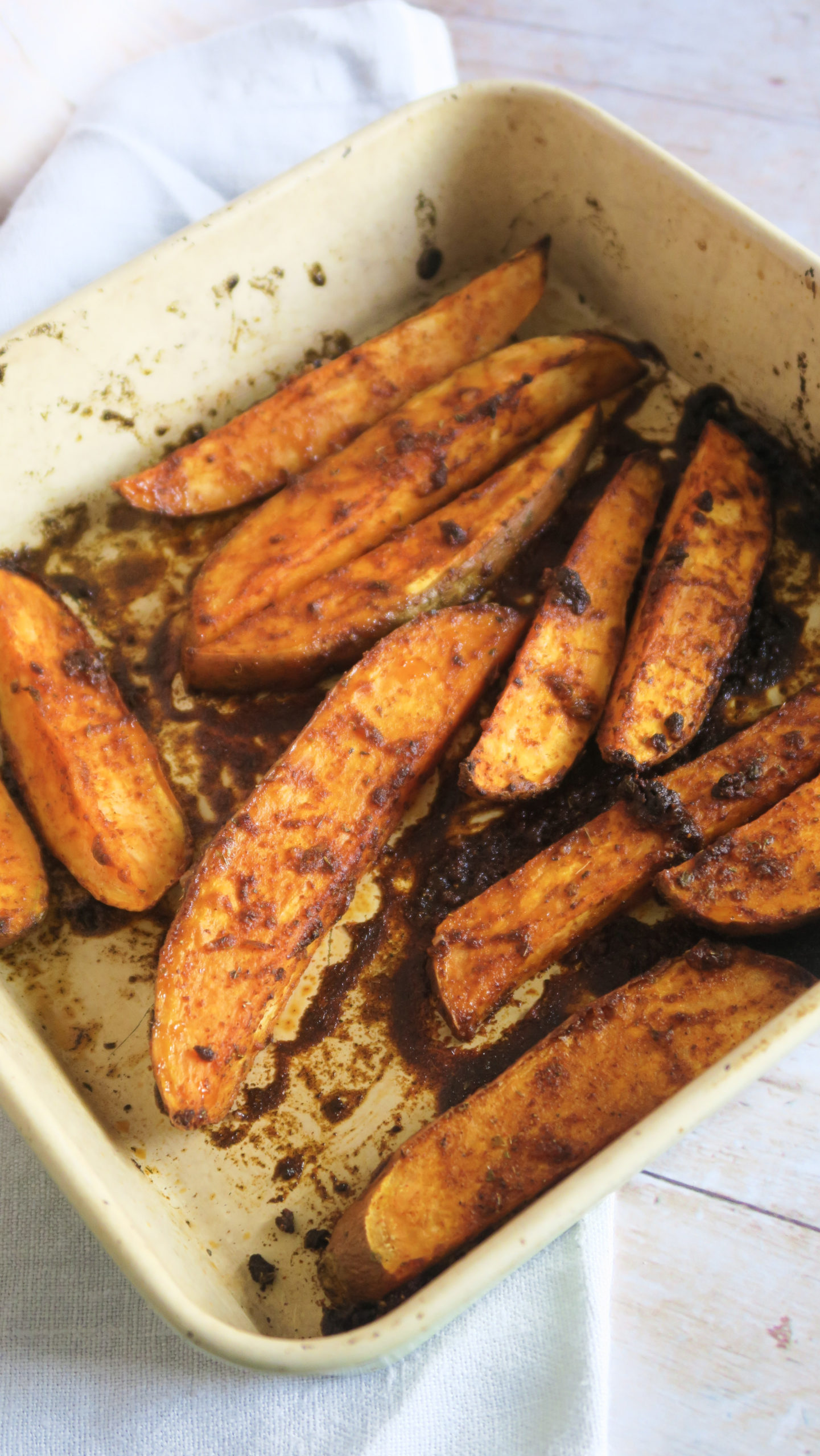 Roasted peri-peri sweet potato wedges
Sweet potato roasted in the oven with African-style peri-peri spices. The perfect BBQ accompaniment.
Ingredients
Peri-peri spice mix
1

tsp

smoked paprika

1/2

tsp

dried oregano

1/4

tsp

ground cardamon

1

tsp

cayenne chilli powder

Pinch

salt and pepper

1

tsp

lazy garlic

or crushed garlic clove

Drizzle

olive oil
Instructions
Slice your sweet potato into wedge-sized pieces and place in your roasting dish.

Mix together the ingredients for the peri-peri spice mix and rub over the wedges. Drizzle with oil and mix together with your hands (it's easier!)

Roast in the oven for 25 minutes.
Notes
Aga cooking – All my recipes are tested and made on an Aga but then adapted for a conventional oven. If you're an Aga user like myself then you can follow the recipe as above and use the roasting oven, middle shelf to cook these. 
Storing – I wouldn't recommend making these and storing them once cooked. Fresh is best! You can make the peri peri mix and store it in the fridge for quite a few weeks. The reason I say fridge is due to the crushed garlic. You can make without the garlic and store in the cupboard for years, then just add the garlic after!
Re-heating – Like I said, I wouldn't recommend making these and re-heating. They taste just as nice cold. 
Freezing – You could make some of these and freeze them pre-cook. You would just need to freeze on a tray and then pour into a lockable freezer bag. Defrost thoroughly and cook as normal, or cook from frozen and add an extra 10 minutes on your cooking time.
Serving suggestion!
I would suggest serving these wedges with my BBQ grilled chicken Anguillan-style – such a good combo!
Tips
Prep a batch of peri-peri spice beforehand (minus the garlic) and keep in your cupboard for years (if it lasts that long!)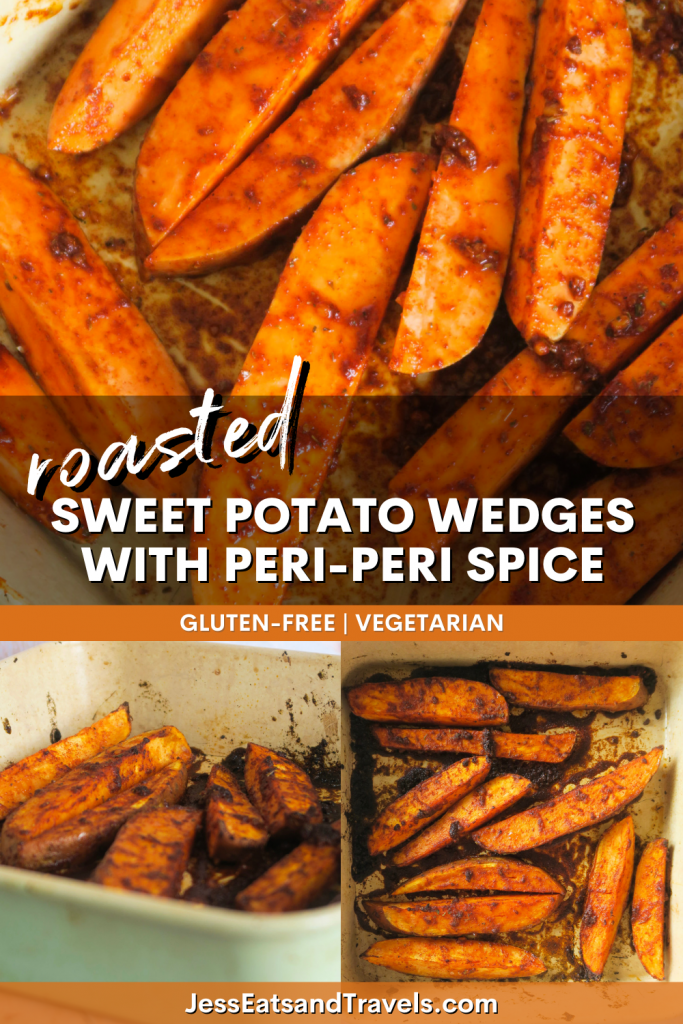 More African recipes
Breakfast: A refreshing glass of my pineapple, mango and banana smoothie.
Lunch/dinner: African Chicken Peanut Stew
Dessert: We all need a slice of my peanut cake with caramel buttercream right now!
See my post on how to eat like an Angolan for more information on what you would eat over there!