Pique Macho (A Bolivian sharing dish)
A layered Bolivian dish perfect for meat-lovers. Pan-fried steak, pigs in blankets join with crispy fries and crisp onions, plus chillies, to form a layered dish. Are you 'macho' enough to eat it?!
Pique a lo Macho
In Bolivia, pique macho is a dish to really show people what you are made of! Apparently you were once considered 'macho' if you could eat the whole dish yourself.
I don't know if they've seen the amount the British can stuff their faces with (I'm British so I feel I can say this!) after a night out and a trip to the kebab shop! I reckon this dish would be a good contender after an eve dancing the night away! Nowadays in Bolivia, the dish is often shared between family and friends.
You could always create a version for one person by simply halving the ingredients and plating in a smaller oven dish.
So what does pique macho consist of? Well it's a dish of layers, starting with crispy fries (I baked mine in the oven), crispy onions, sausages (we went for a British twist of pigs in blankets – that's mini sausages wrapped in bacon), pan-fried steak, fresh tomatoes, boiled egg and chillies. It really is a mix but an oh so tasty mix.
Take a look at my recipe for Bolivian Cocadas (coconut biscuits) to read what I'm doing to learn more about Bolivia and it's culture.
Why should I make Pique Macho?
I'm planning on when I'll be making this again, so I know you will be too! It's super moorish!
You'll be exploring another culture's cuisine, adding to your repertoire of dishes.
Pigs in blankets gives a British twist, paired with a juicy steak, can you resist?
Chips, steak, onions.. it makes the perfect Saturday night steak and chips alternative.
It's all about the layering – super simple to make.
What ingredients do I need to make Pique Macho?
White potatoes – for creating the fries. I used ordinary white potatoes. You could also use sweet potato if you prefer.
Olive oil – for drizzling over the potatoes to create crispy fries!
Pigs in blankets (sausages wrapped in bacon) – essentially a mini sausage which is wrapped in bacon. You could use plain mini sausages if you can find them, or chipolatas.
Boiled eggs – hard boiled is best for the recipe.
Onion – sliced and fried.
Tomato – quartered and served fresh on top of the dish. The freshness offsets the heaviness of the meat and fries.
Red chilli – adding a kick of spice because of course this is a Bolivian recipe! Pimenton is traditionally used but I couldn't find any.
Ground cumin – the steak is rubbed in this to create a tasty crust.
Salt and pepper – seasoning for the steak.
Equipment list
Knife for slicing potatoes
Large baking tray
Small baking tray
Small pan
Medium baking dish (oval Le Creuset baking dish or even a pyrex)
Small bowl full of cold water for cooling the eggs
Medium bowl for marinating steak in
Cast-iron frying pan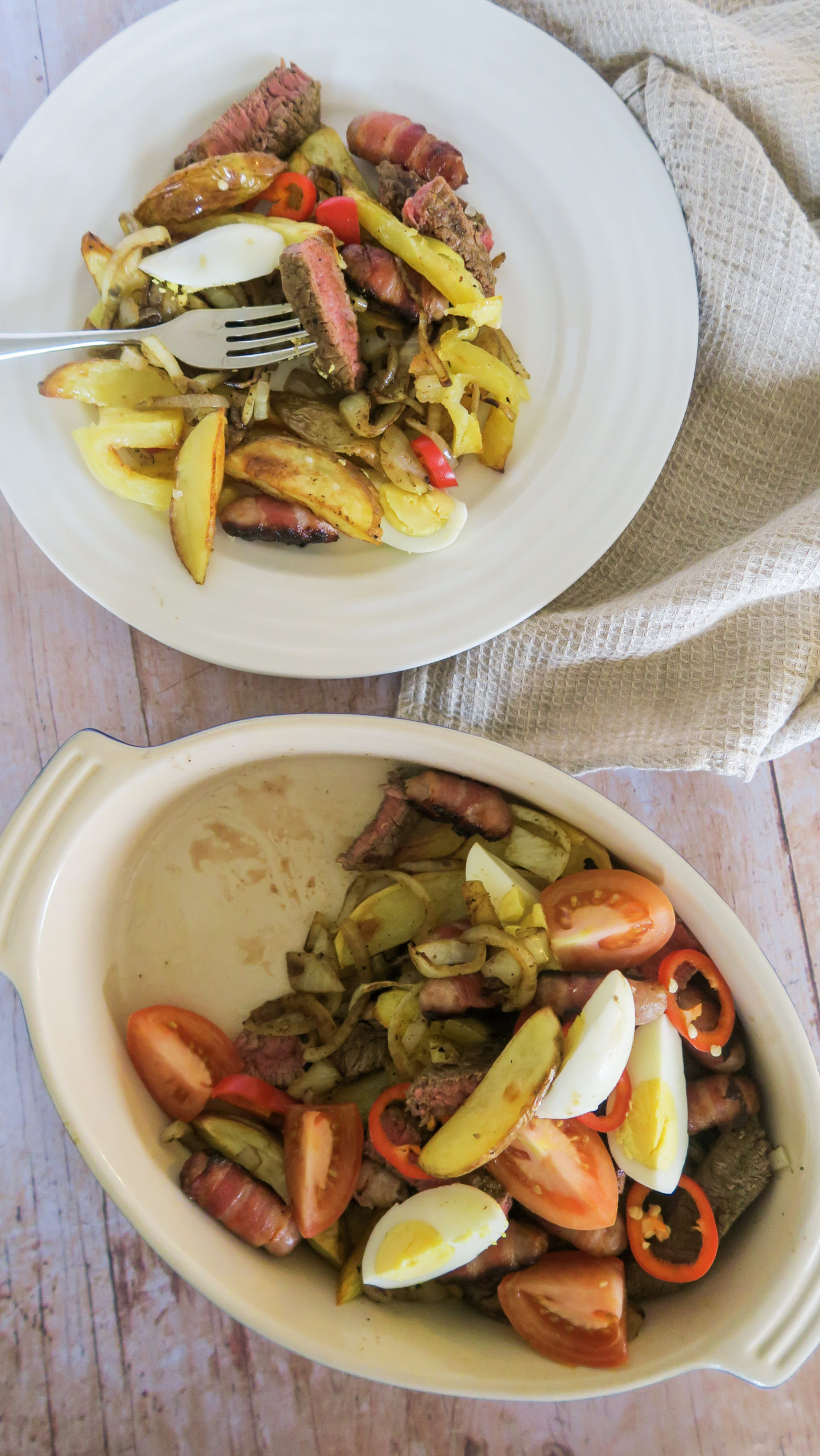 Frequently Asked Questions
Is pique macho suitable for vegans and vegetarians?
No, this recipe for pique macho is not however you easily make it vegan/veggie by omitting the egg and using veggie sausages instead. Of course you'd leave out the steak. I don't think a substitute would do it justice.
Is pique macho gluten-free?
Yes it is but make sure you choose gluten-free sausages as you would normally.
Do I have to be macho to eat this?
Aha, certainly not. No-one is going to be judged for their level of macho-ness.
Can I substitute the steak for chicken in pique macho?
You could use chicken breast and marinate it in cumin as per the recipe. It would be tasty but not as authentic.
I can't find pigs in blankets here. How can I make them myself?
You can easily make pigs in blankets by wrapping chipolata sausages in bacon and baking them in the oven. Feast Glorious Feast has a great recipe for pigs in blankets.
Can I use frozen chips instead?
Of course, using frozen chips would be a great time-saver. I don't think it matters if you use fries or chunky chips, as long as the chip taste is there, and of course some crispiness!
Can I use sweet potato?
Yes, you can use sweet potato. It won't give the same savoury taste as white potato, but if it's all you have or you prefer it, go for it!
Tip –
To avoid your egg from cracking, start the egg off in cold water and bring to the boil. Simmer for 5 minutes and you should get a perfectly hard boiled egg.
The Recipe
A tasty Bolivian sharing dish, perfect for meat-lovers!
What you will need
3 medium potatoes
Olive oil for drizzling
12 pigs in blankets
3 eggs
1 onion
1 red chilli
2 tomatoes, quartered
1 rump steak at room temp
1 tsp ground cumin
Method
1

1.Pre-heat oven to 200 degrees fan/220 degrees. Slice 3 medium potatoes into chip-sized pieces, about 2cm wide. Lay them on a baking tray and drizzle with olive oil. Season and bake in the oven for 30 mins until crisp.

2

2. Lay your sausages on a small baking tray and bake in the oven as per the packet instructions. Mine took 20 mins.

3

3. Place 3 eggs in a pan of cold water, bring to the boil and simmer for 5 mins. Scoop out with a slotted spoon and place in a bowl of cold water, ready to peel.

4

4. Meanwhile, slice your onion and chilli thinly. Quarter your tomato. Peel your eggs and cut into quarters.

5

5. Marinate your steak: place in a bowl and add a drizzle of olive oil, the cumin and seasoning. Rub all over.

6

6. Heat your frying pan until hot and fry for 3 mins each side (medium rare). Chuck in the onions too and fry until brown. Adjust the timings to cook the steak how you prefer. Leave the steak to rest for 5 mins before slicing into 2cm pieces.

7

7. Once the chips are done, it'

8

s time to layer up: chips, onions, sausages, steak, tomatoes, eggs and chilli.
More Latin American recipes –
Cocadas (Bolivian coconut biscuits)
LINKING TO