Damper Bread (Australian Soda Bread)
A really simple soda bread which bakes in less than 30 minutes. Damper bread is perfect served with lashings of butter!
Australian Soda Bread
Australian damper bread has got to be one of my favourite recipes that I've made on this blog (a long with this deliciously soft Italian Easter bread and THESE brown butter chocolate chip cookies!!) The reason I love it is the little time it takes to prepare and bake, and the crisp crust that forms with the soft middle that is made for LOADS OF BUTTER (salted obvs).
If you like scones, you'll love this bread as that's what it sort of resembles. The preparation is just like a scone too with the rubbing in of the butter to the flour and then adding the milk/water to form the dough. This bread only takes 5 minutes to prepare. Just what you need when you're in the mood for fresh bread, but have no time.
Damper bread can also be made into little rolls known as 'bush scones' (a bit like Johnny cakes) or a larger loaf, like this recipe.
Why should I make Australian Damper Bread?
SUPER easy to make and takes no time at all (30 minutes!)
Amazing served warm with butter. A bit like a scone!
A great one to make when you have no time but fancy some fresh bread
Only FIVE ingredients!
Ingredients for damper bread
Self-raising flour – Damper bread contains no yeast so it needs the rise self-raising flour will give. Self-raising contains plain flour, baking powder and salt.
Unsalted butter – Just like a scone, you create breadcrumbs when you rub in the butter. Butter will give the bread its soft texture and flavour.
Salt – For a bit more flavour!
Whole milk – To help combine the dough.
Water – To also help combine the dough! I've used half milk and half water as I didn't want the bread to become too rich.
Why is it called Damper Bread?
Damper bread was traditionally cooked on a stick over ashes that were dampened, which is thought to be why it gets the name.
According to the Australian National Dictionary, Damper bread means 'something that suppresses appetite'. This makes sense since the the Australian Aborigines would often make this bread before heading off on a long journey. Due to its already dense texture, it does keep well!
Also known as Bush Bread or Seed Cake due to the Australian Aborigines (those who created this bread) crushing seeds and nuts to make a flour for the dough. This is no longer the case since we can easily buy plain flour in shops. The dough was originally baked in a coal fire but of course we now all use ovens! You could of course cook this soda bread on the BBQ (I imagine it would be glorious!)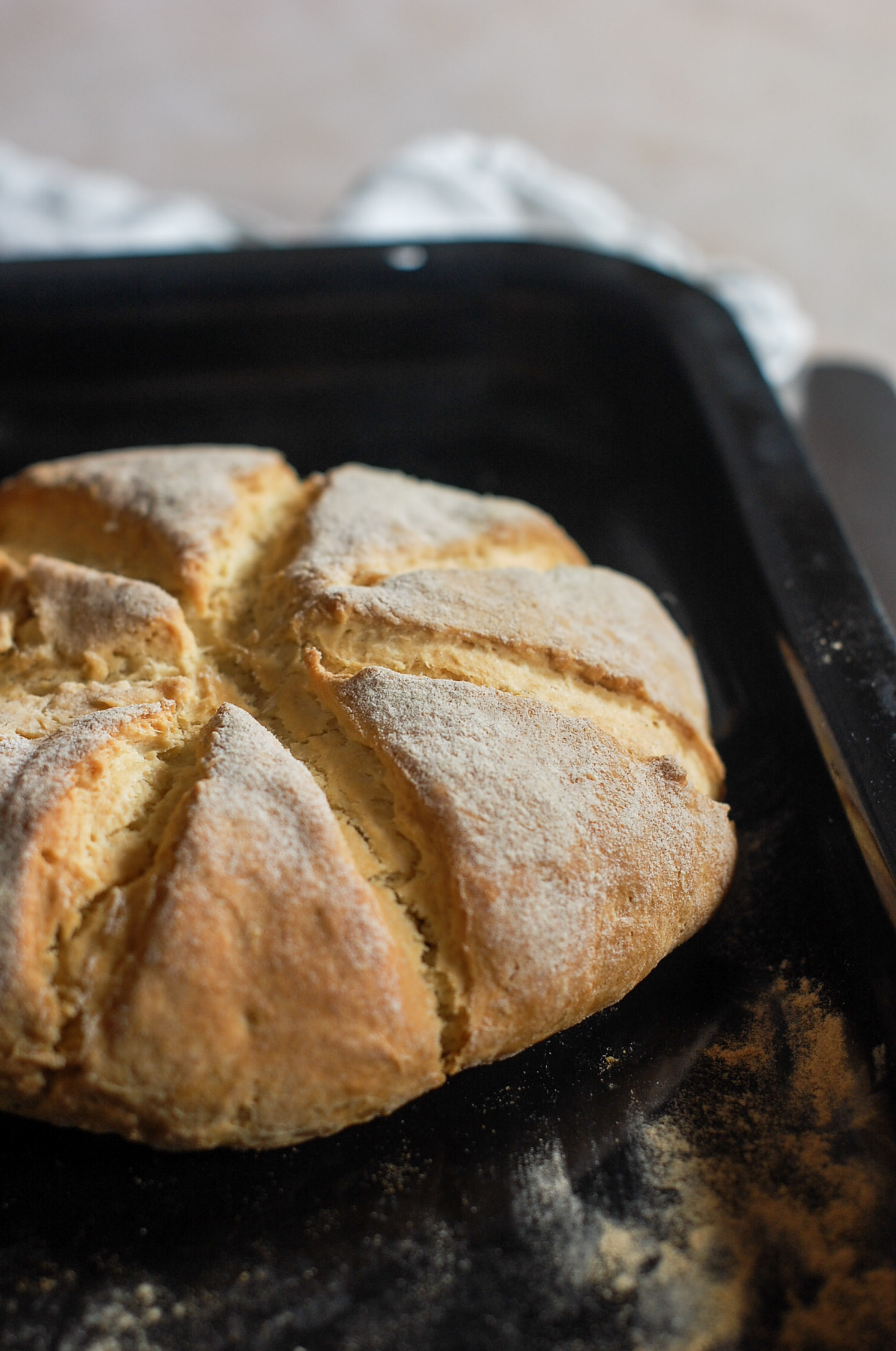 Equipment Needed
Medium bowl
Measuring spoons
D-scraper
Wooden spoon
Baking tray
What's the history of Australian damper bread?
Australian damper bread was thought to be first prepared by Australian travellers known as stockmen. These stockmen would be travelling on long journey with only a little flour and sugar on them. Damper bread would have been a simple, filling food to make. They would use baking soda or beer to leaven (rise) the bread. It was then cooked on ashes that were dampened and baked until hollow.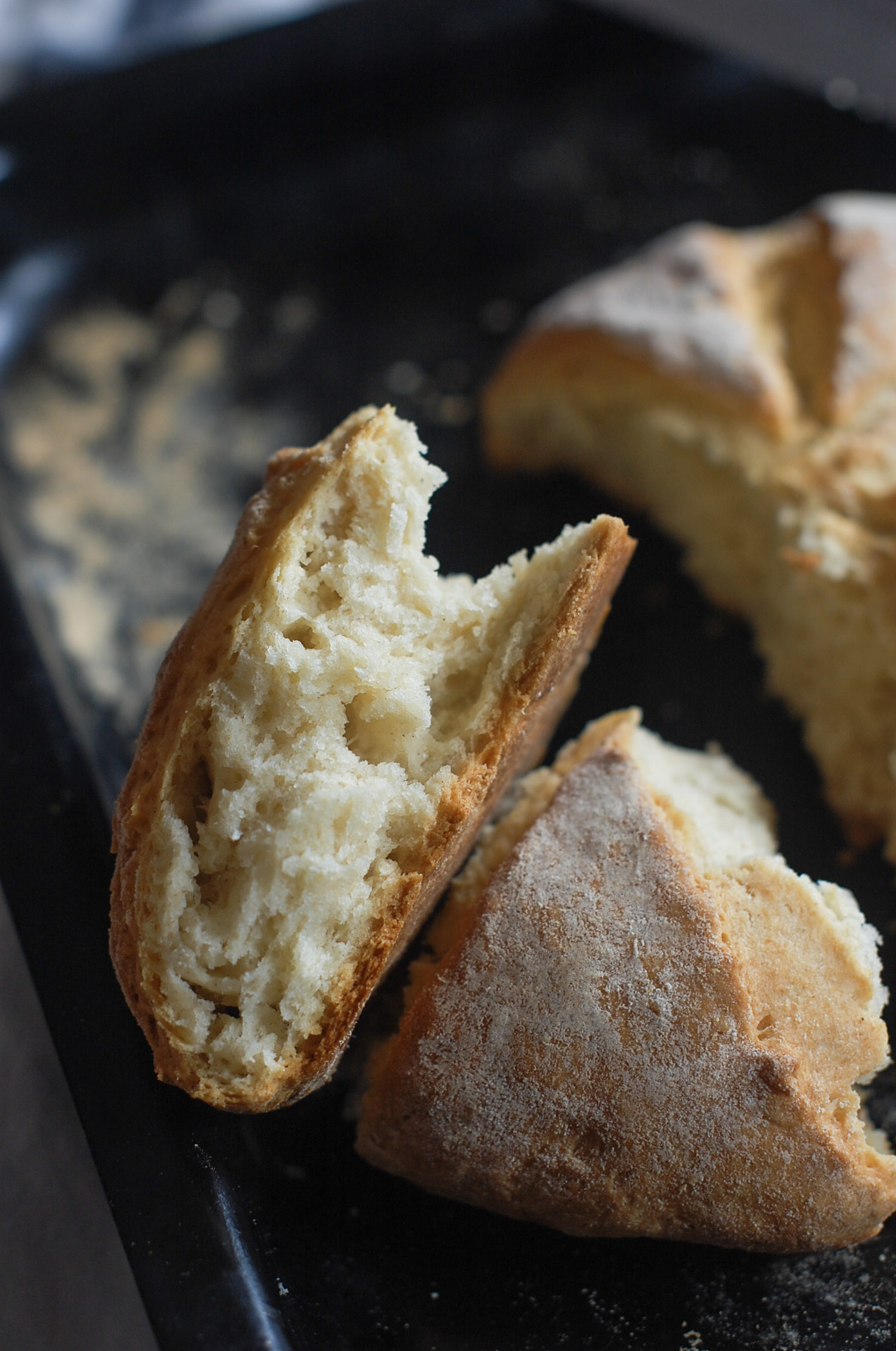 Serving suggestions for damper bread
Damper bread was traditionally served with meat or golden syrup (I guess like a dessert version?!) You could give these options ago, or how about serving it alongside a delicious veggie casserole, with all those juices to mop up? This light and creamy Belgian chicken soup is also a winner with damper bread at its side!
Damper Bread (Australian Soda Bread)
A really simple soda bread which bakes in 10 minutes. Damper bread is perfect served with lashings of butter!
Ingredients
250

g

self-raising flour

plus extra for dusting surface

50

g

unsalted butter

cubed

1/2

tsp

salt

100

ml

whole milk

50

ml

water
Instructions
1. Mix the flour and salt together in a bowl. Cut the butter into cubes, add to the bowl and rub in with your fingertips until breadcrumbs are formed.

2. Add the milk and water and combine using a d-scraper until the dough has come together. Tip onto a floured surface and knead very lightly to smooth out the dough.

3. Form the dough into a round loaf. Mark out a cross with the back of a knife. Bake in a hot oven (200°c) for 25 minutes or until the bread is golden and sounds hollow when tapping the bottom. Serve warm!
Notes
Storage – Damper bread will last you well for a good few days (say 3-4 max) however you'll need to keep the loaf wrapped well. I suggest an old tea towel in a bread bin (that's what I do!) Re-heating – This bread really does serve well when warm. If you've still got some left over on the 4th day, pop it in a hot oven on a baking tray for 5 mins. Plenty of butter is mandatory!  Freezing – I'd recommend freezing only the dough since it's best served fresh and takes little time to bake! Wrap the dough in cling film and place in an airtight container. Freeze for 2 months max. Defrost thoroughly and bake as per the recipe.
Nutrition
Calories:
331
kcal
Carbohydrates:
47
g
Protein:
8
g
Fat:
12
g
Saturated Fat:
7
g
Trans Fat:
1
g
Cholesterol:
29
mg
Sodium:
305
mg
Potassium:
99
mg
Fiber:
2
g
Sugar:
1
g
Vitamin A:
354
IU
Calcium:
41
mg
Iron:
1
mg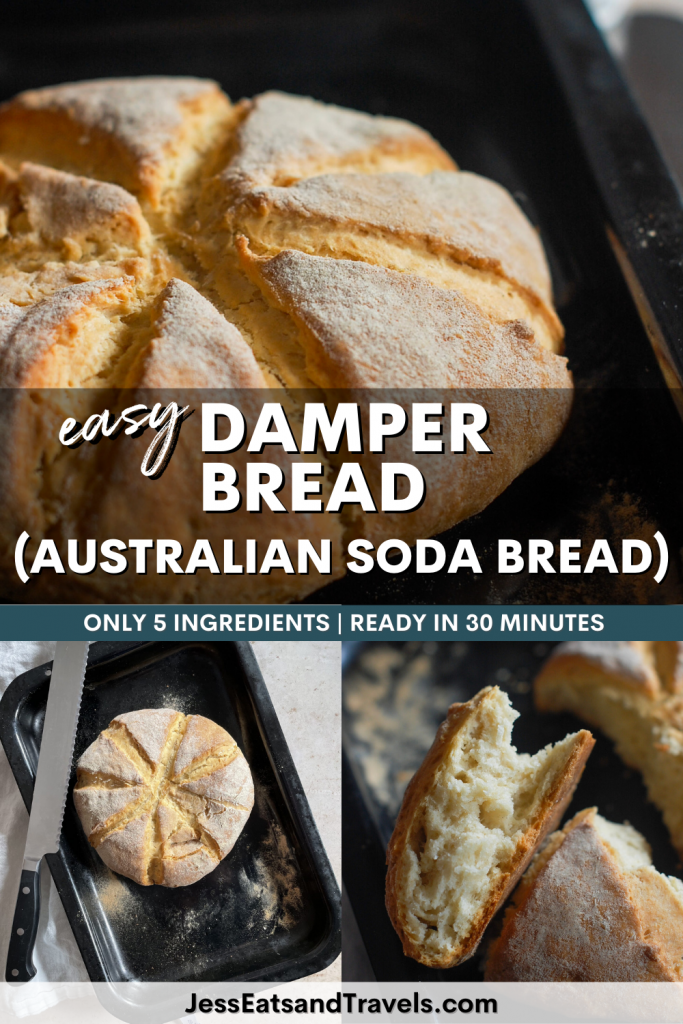 More world bread recipes –
Naan Bread without Yeast
Indian Chapati
Algerian Semolina Bread
Butter Bread from Antigua