Italian Easter Bread (Pane di Pasqua)
Italian Easter bread is a great centrepiece for your Easter table. It's perfect for pulling apart and sharing with guests. The sprinkles and mini eggs will bring joy to kids and adults alike!
Timings
Cooktime
15 mins plus 45 mins proving time
Italian Easter Bread (Pane di Pasqua)
Italian Easter bread may look daunting and difficult to make but my gosh, it's not as hard as it looks! I'm wondering why I've never delved into more breads like this. From making the brioche-like dough to braiding, proving and baking, if all steps are followed correctly, you'll end up with a yummy wreathe for your Easter table!
My husband's Italian family and heritage got my excited for this bake as it felt like I was bringing a little bit of Italy to our home here in the UK (even though he's never had it before haha). Now his Mum wants the recipe and that makes me even happier!
Like I said, if all steps are followed closely, this bread is simple to make. All you need is a warm place to prove (I put mine by our Aga as it's on all the time, but you could try somewhere like a laundry airing cupboard, an oven with the door open that's been turned on and left to cool or even next to a radiator! The next part is the braiding and as it's only two pieces to braid, that's easy too. A child could do it!
Buon appetito! E buona pasqua (Happy Easter!)
Why should I bake Italian Easter bread?
A fun bread which kids will love!
A whole loads of mini eggs fill the middle… what's not to love?!
The bread only needs one prove – so not too long to wait for deliciousness!
Only 15 minutes in the oven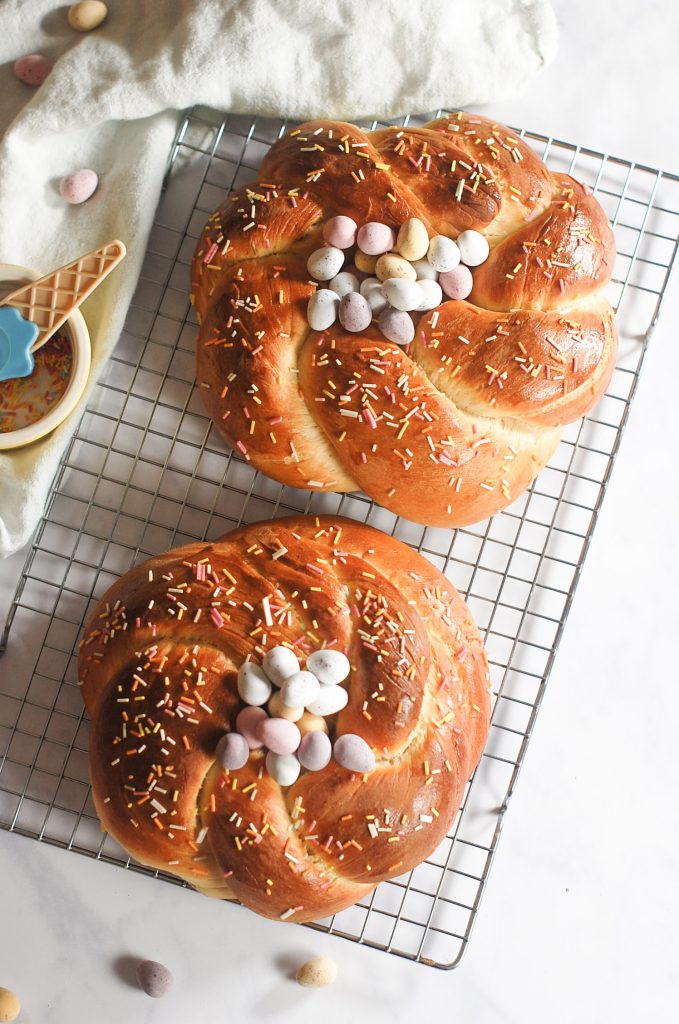 Ingredients
Strong white bread flour – flour is the building blocks to breadmaking. It helps provide the protein and gluten to give the loaf structure to rise.
Eggs – eggs help bind the dough together and also gives the bread colour. Egg yolk also helps tenderise the crumb of the bread.
Caster sugar – this bread is a sweet one so of course caster sugar gives this flavour! Sugar also helps activate the yeast.
Salt – along with sugar, salt helps with the yeast activation. Salt helps regulate the rise, ensuring it doesn't happen too fast! Of course it also balances out the sweetness.
Yeast – the yeast is the key ingredient. Without it, the bread would be flat!
Unsalted butter – provides flavour and gives the bread a soft texture.
Milk – helps bind the dough together but also along with butter, gives the bread a soft texture. It also helps keep the crust soft too!
Sprinkles & mini eggs – to decorate.
The symbol of Italian Easter Bread / Pane Di Pasqua
Italian Easter Bread is rich in symbolism as the shape (a wreathe) represents the crown of thorns Jesus wore on his day of crucifixion. The braiding of the dough is meant to represent the Holy Trinity, however I've only used two strands of dough in mine. Not all recipes use three, it seems!
Italians love to eat bread on Easter Sunday but like most Western culture, eggs also make an appearance. Eggs are a symbol of birth and being re-born, just like Jesus on Easter Sunday. The traditional Italian Easter bread contains real eggs which are baked sitting within the bread. I decided to change it up and decorate the middle with a huge pile of mini eggs because they are just so tempting and seasonally appropriate! Chocolate + Italian Easter bread = much happiness!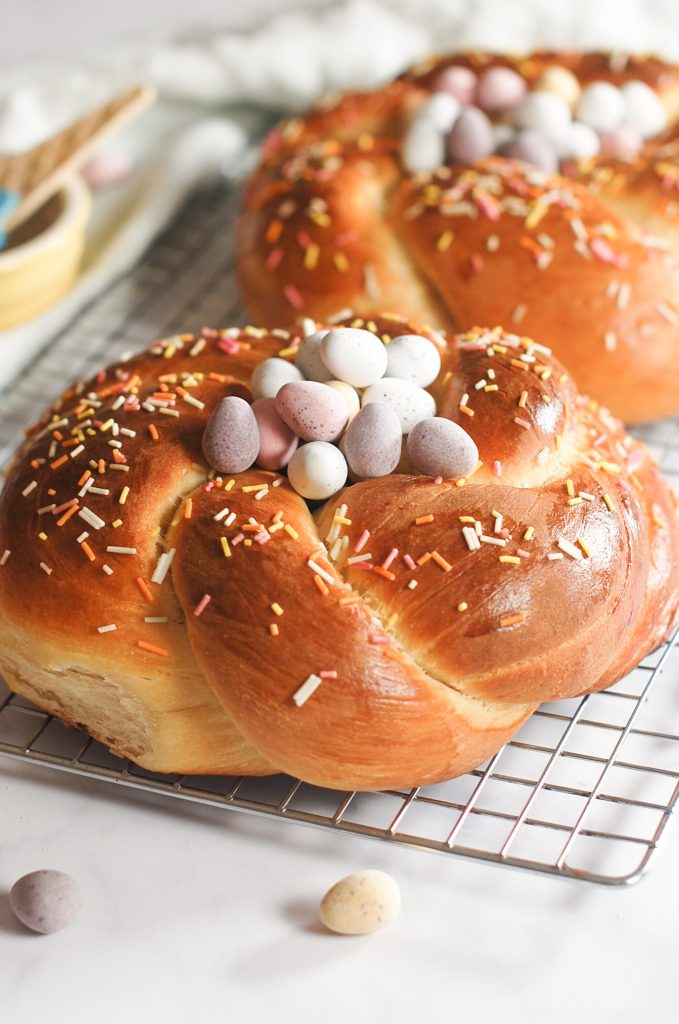 Equipment Needed
Small pan for melting butter/heating milk
Medium bowl
Whisk
Stand mixer with dough hook attachment
Baking tray + baking paper
Tea towel for covering dough
Pastry brush
Small bowl
Cooling rack
What does yeast do in bread-making?
Without yeast, bread would be flat and what is known as 'unleavened'. Examples of unleavened bread are things like flatbread (like my yeast-free naan bread) or chapati. Both of these breads are flat and therefore not 'leavened', containing no yeast.
So, how does yeast work?
When yeast works, it ferments. This process happens when the yeast feeds off of the sugar and breaks itself down. The yeast breaks down into carbon dioxide which helps the bread rise; alcohol which also helps the bread rise from all the gas bubbles it produces when evaporating in the oven and gluten to help trap those gas bubbles, creating a stronger 'network' to create a bread that rises. Reference: the kitchn.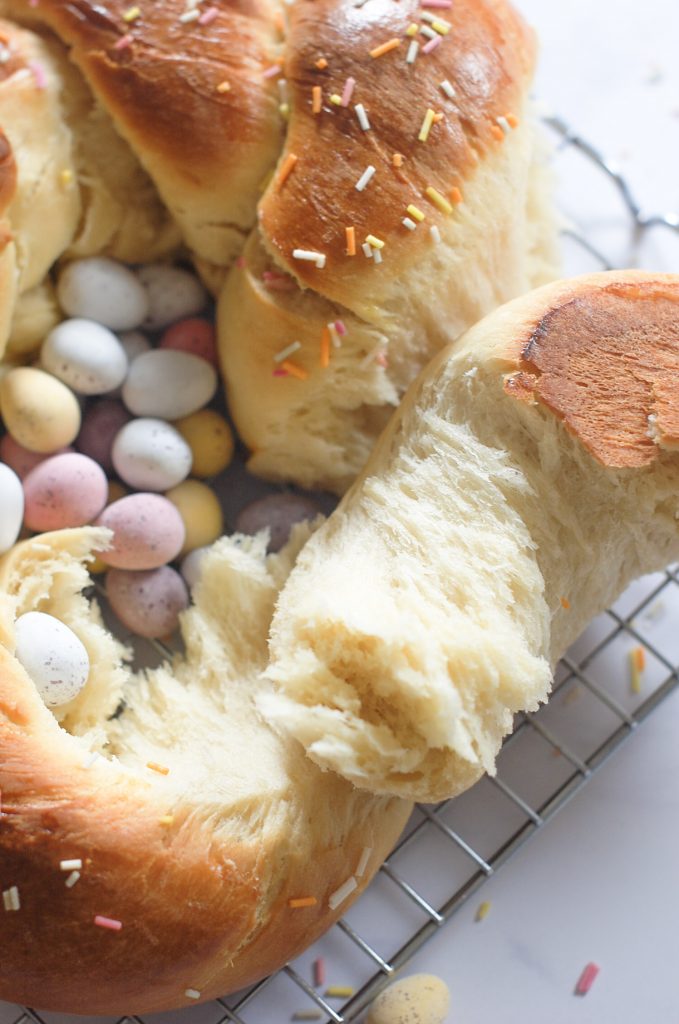 Italian Easter bread recipe step-by-step
Recipe Variations
Can I use 00 flour instead of strong white bread flour?
You can however the texture will turn out slightly different to that of strong white bread flour. 00 is a finer flour and doesn't contain as much gluten as bread flour. The texture will be soft but still equally as nice! Mixing the two flours would be the best option as you'll gain a bit of extra protein from the stronger white bread flour. If you're 00 flour is specifically for pasta, I wouldn't recommend it. If you're desperate though, try it. I'm sure you'll still get something bread-like!
Italian Easter Bread
Italian Easter bread is a great centrepiece for your Easter table. It's perfect for pulling apart and sharing with guests.
Ingredients
600

g

Strong white bread flour

4

eggs

100

g

caster sugar

100

g

unsalted butter

300

ml

whole milk

plus a tiny splash extra for egg wash

Sprinkles

to decorate

100

g

Mini eggs
Instructions
In a small pan, melt the butter in the milk.

Mix the yeast, salt and sugar together in a mixing bowl. Add the 3 eggs and whisk to combine.

Add the milk/butter and half of the flour. Mix with a dough hook using a stand mixer until slightly combined and then add the rest of the flour. Mix until combined but slightly sticky.

Knead on a floured surface until smooth (about 5 mins). Shape into a ball, cover and leave to rest for 10 mins.

Divide the dough into 4 pieces and roll each into a sausage about 30cm long. Get two of the sausages and braid them together, wrapping them over and under until you get to the end. Pinch the ends together and bring together to form a wreathe. Pinch the two ends together to join. Place on a lined baking tray. Do the same with the other two sausages off dough.

Pre-heat oven to 180° degrees C. Cover the dough with a tea towel and place in a warm place to prove until doubled in size (about 45 mins).

Make an egg wash by mixing together the last egg and a splash of milk. Using as pastry brush, brush the egg wash all over the bread dough. Decorate all over the sprinkles. Bake until brown (about 15 mins). Cool on a rack. Add mini eggs to the middle once cool.
Notes
Storage – After baking and once cool, store in either a baking tin, large Tupperware, bread bin or cake stand (like I did). It'll keep for 2 days as long as it's covered. 
Re-freshing– If you wish to refresh the bread, pop it in a hot oven for a few mins until warm and crisp. 
Freezing – you can freeze the bread for a couple of months and defrost when needed. I'd recommend refreshing the bread as above once defrosted. 
Aga cooking – all my recipes are tested and baked using an Aga and then adapted for conventional ovens too. If you're an Aga user, use the roasting oven to bake this bread. You can use the cold plain shelf if you notice it getting too brown. It's only in for 15 minutes though, so this should not happen. 
Nutrition
Calories:
2074
kcal
Carbohydrates:
275
g
Protein:
52
g
Fat:
59
g
Saturated Fat:
32
g
Trans Fat:
2
g
Cholesterol:
450
mg
Sodium:
201
mg
Potassium:
632
mg
Fiber:
7
g
Sugar:
59
g
Vitamin A:
1974
IU
Calcium:
276
mg
Iron:
4
mg
More world bread recipes
Indian chapati
Yeast-free naan bread
Algerian semolina bread
Caribbean butter bread