Cevapi (Grilled Sausage from Balkans)
Grilled sausages traditional of the Balkans, full of flavour and simple to make! Cevapi sausages will be ready in under 15 minutes!
Cevapi – Delicious Grilled Sausages from the Balkans
Never did I think I would be adding sparkling water to a grilled sausage mix but apparently, according to Jamie Oliver's recipe, it's needed. And I'm sure it does as these sausages taste fantastic. It's got something different about them in the texture.. more air… a lightness? It's got to the bubble in sparkling water paired with the bicarb!
Cevapi are grilled sausages traditionally made in the Balkans, particularly Bosnia and Herzegovina. They are usually served in some lepinja bread and topped with ajvar sauce (made from peppers and aubergines). It's like the kebab of the Balkans, and boy it's good.
They are traditionally grilled on a BBQ but I cooked mine in the oven. Some countries like Croatia, Serbia and Bulgaria, will mix their meats in the sausage. This recipe only contains beef, like in Bosnia.
Cevapi (also known as cevapcici) sort of remind me of these lamb shish kebabs from Armenia, one of the earlier countries I cooked from in this a-z journey. I expect this is due to the Turkish influence on them as they are often compared to shish and kofta/qofte.
READ: My guide on Bosnian Food, Background and Culture – ALL you need to know!
Why should I make cevapi sausages?
Cevapi make the most delicious kebab sausages.
Really, REALLY quick to make!
Some of the tastiest sausages I've ever tried!
Try something from a different culture: the Balkans.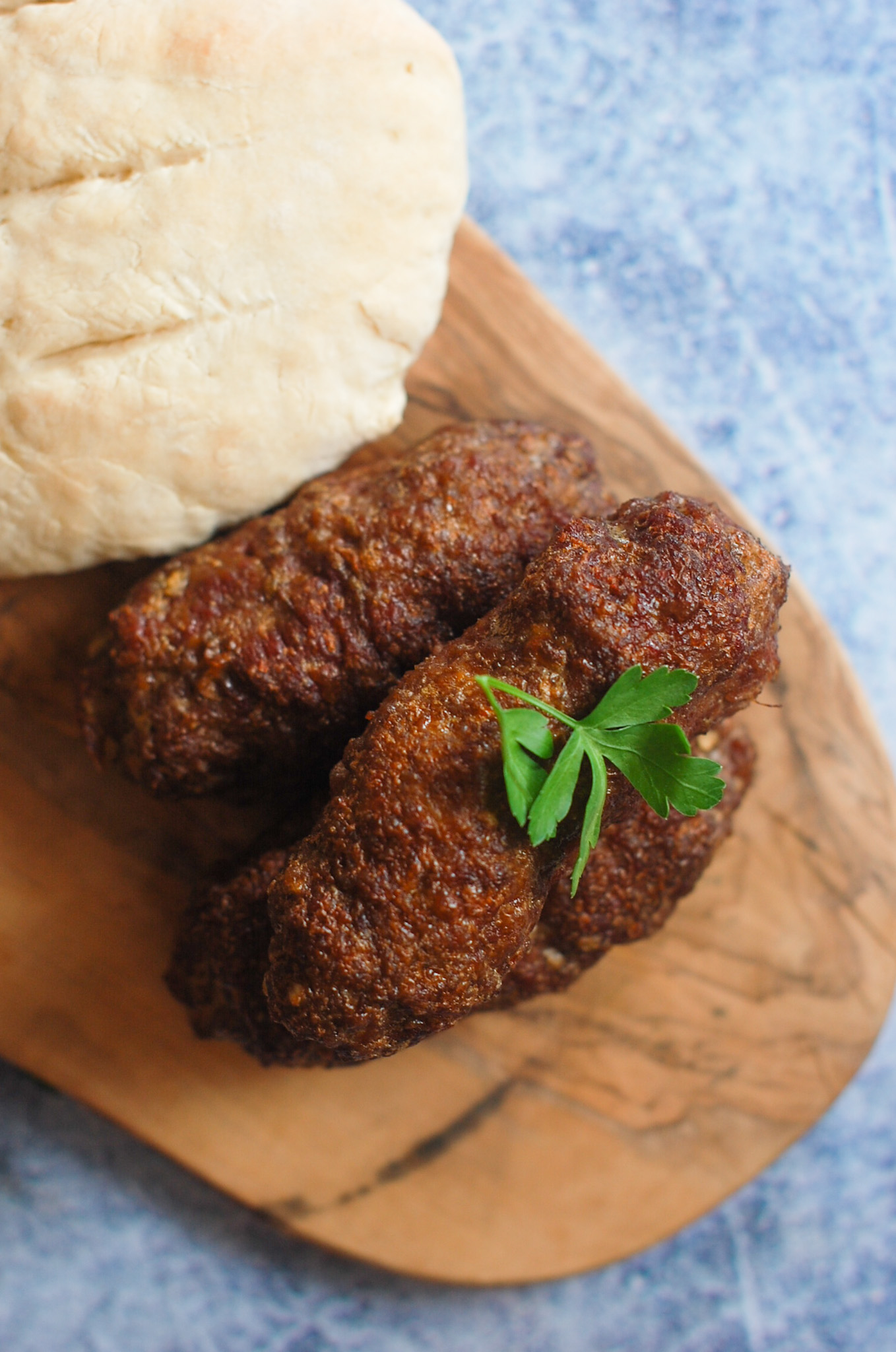 Ingredients for Cevapi Sausages
Minced beef – it's traditional of Bosnia to only have beef. You can mix with pork mince though if you wish.
Garlic – obviously to add flavour!
Bicarbonate of soda – paired with the sparkling water, the bicarb creates a lovely, light texture in these grilled sausages from the Balkans.
Sweet smoked paprika – the nicest flavour is given from this spice. Needs nothing else!
Egg – helps bind the sausage mix together.
Sparkling water – Helps bind the sausages but also helps keep them soft and tender. Creates the most amazing texture too.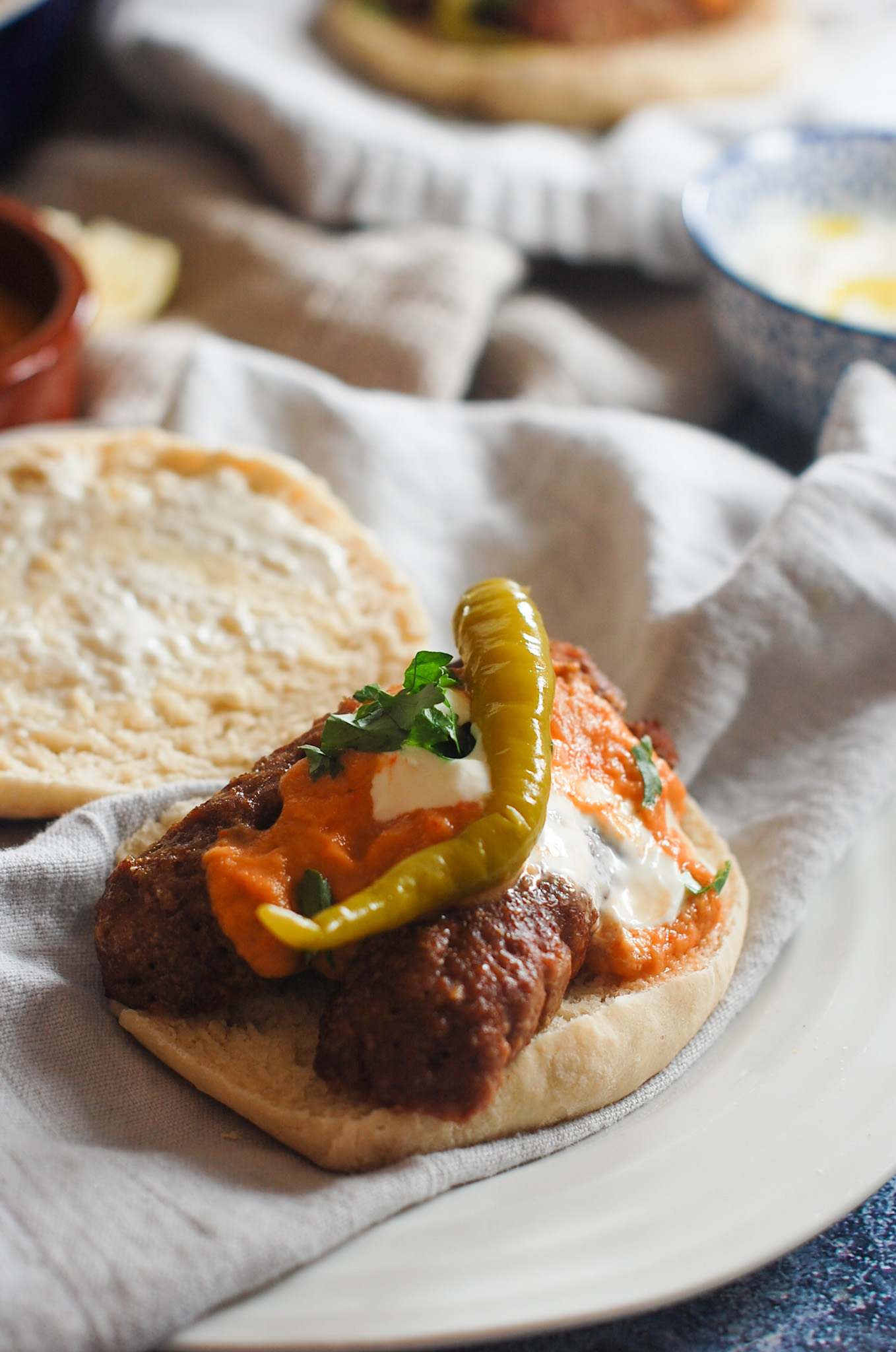 Equipment Needed
Medium bowl for mixing
Measuring spoons
Weighing scales
Deep oven tray with a grid so the fat can drip through
Where do cevapi sausages come from?
Cevapi sausages have strong links to the days of the Ottoman Empire. It's why you'll notice similarities between cevapi and other kebabs like the kofta and shish kebab. Both very common foods in Turkey.
In Ottoman times, the outlaws would make these long meatballs out of any pieces of meat they had and cook them on the fire. It was know as Leskovac Cevap. This idea very quickly spread to become a favourite in the City of Belgrade in Serbia, in 1860. The locals discovered they were a great thing to eat after a night drinking.
In 1928 (approx) cevapi became a popular thing to eat for breakfast with people ordering them from the local takeaway shops. Cevapi soon spread across the Balkans and is now very common not only in Bosnia and Serbia (it's the National dish!) but also Croatia, Macedonia, Albania, Moldova, Bulgaria, Montenegro and Kosovo, as well as none Balkan countries like Italy and Austria!
Cevapi grilled sausages recipe step-by-step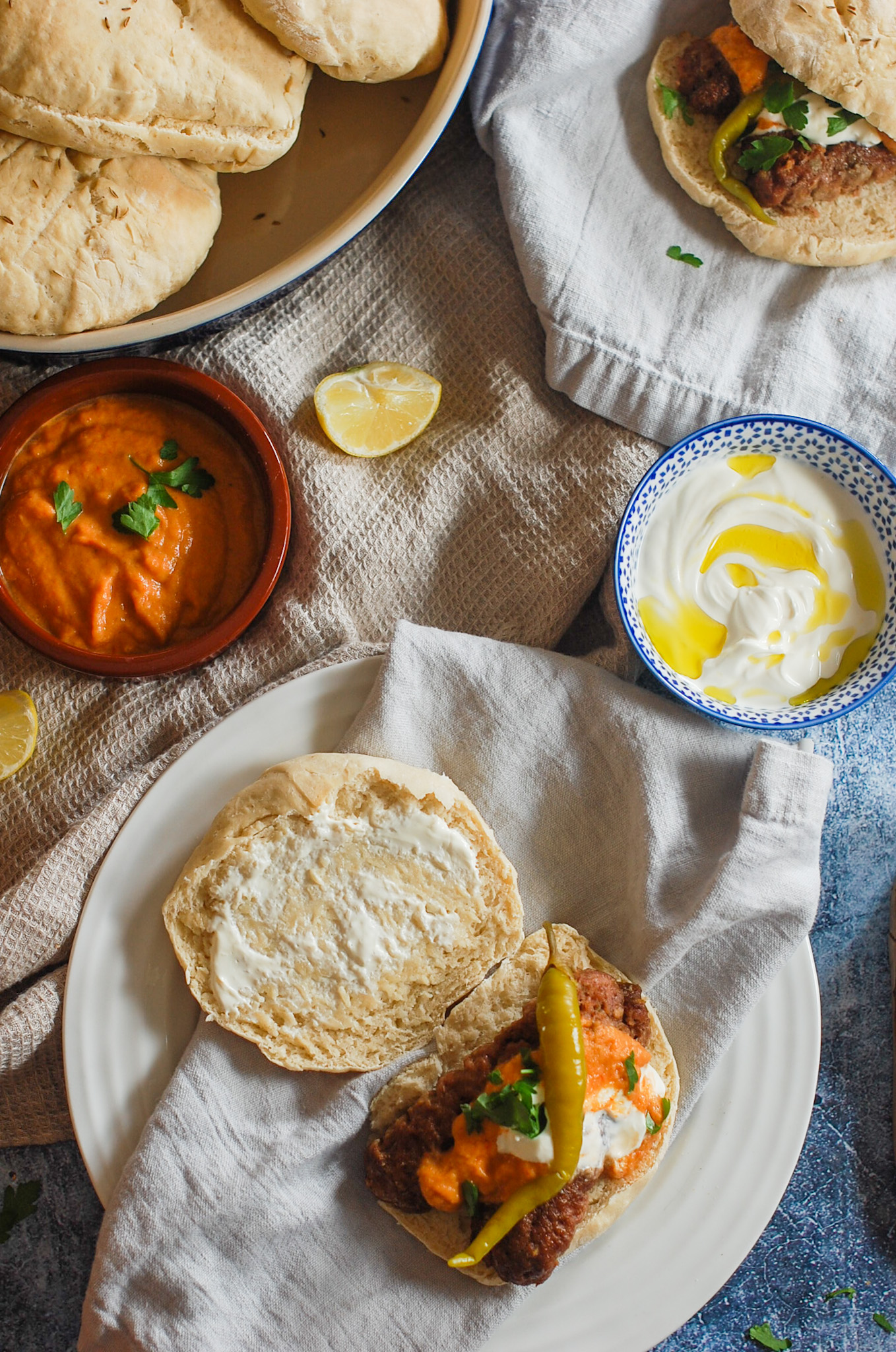 Serving suggestions
Cevapi sausages are made for serving like they would in Bosnia and Herzegovina. Bake a batch of lepinja bread rolls, add in the sausages and top with the avjar sauce. A little bit of sour cream and a guandilla chilli will top it all off nicely!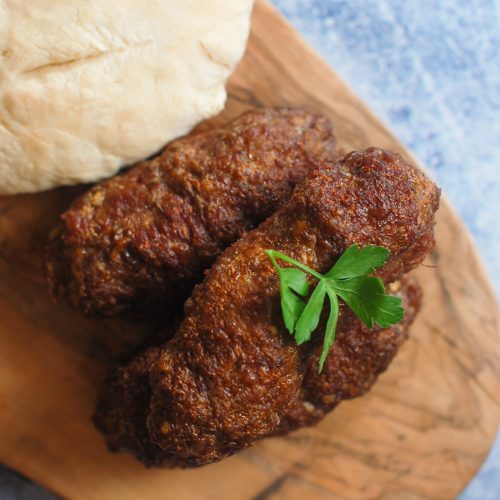 Cevapi (Grill Sausages from the Balkans)
Grilled sausages traditional of the Balkans, full of flavour and simple to make! Cevapi sausages will be ready in under 15 minutes!
Ingredients
500

g

minced beef

1

garlic clove

crushed

1

tsp

bicarbonate of soda

1

tsp

sweet smoked paprika

1

egg

50

ml

sparkling water
Instructions
Pre-heat your oven to 200° or your grill to high. In a mixing bowl, mix together the beef, crushed garlic clove, bicarb, egg and sparkling water. Scrunch altogether with your hands and season well.

Divide the meat mix into equal sized pieces (roughly 5/6 pieces). Shape them into sausges using your hand and place on an oiled grid sitting over a drip tray. Cook them in the hot oven (this is what I did) or under a hot grill for 10 minutues or until cooked through.
Notes
Grilling – I actually cooked our cevapi in a hot Aga roasting oven however if you wish to grill these, I would recommend putting them up high, as close to the heat as possible. You may need to turn them to ensure even cooking, as well as maybe adding on an extra 5 minutes to the cook time.
Storage – You can store these for a day or two in the fridge, in a well sealed contained. They'll be nice eaten cold or you can re-heat (see below).
Re-heating – Cevapi can be reheated either in a hot oven for about 15-20 minutes, in a microwave for about 5 minutes or you can fry them in some oil. Please make sure you reheat thoroughly until piping hot. 
Freezing – These grilled sausages can be frozen pre-cook or post-cook. Not matter if you are freezing the raw or cooked sausages, you may want to freeze them on a tray first (lay them all out separately on a tray and place delicately in the freezer so they are all upright) and then once frozen, put them all in a freezer bag. Doing this will ensure they don't stick together when freezing. 
The raw frozen sausages will keep for 1-2 months. The cooked frozen sausages will keep for 2-3 month before the quality is compromised. Defrost thoroughly before re-heating (see above).
Nutrition
Calories:
448
kcal
Carbohydrates:
1
g
Protein:
31
g
Fat:
35
g
Saturated Fat:
13
g
Polyunsaturated Fat:
1
g
Monounsaturated Fat:
15
g
Trans Fat:
2
g
Cholesterol:
173
mg
Sodium:
501
mg
Potassium:
490
mg
Fiber:
1
g
Sugar:
1
g
Vitamin A:
408
IU
Vitamin C:
1
mg
Calcium:
42
mg
Iron:
4
mg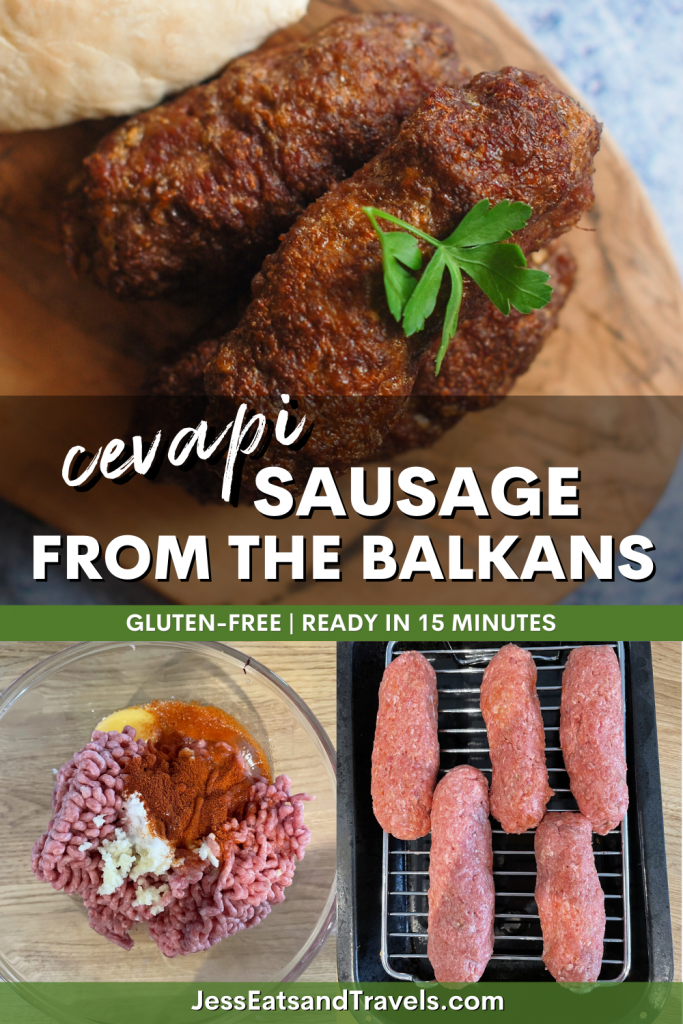 More BBQ & Grilled Meat Recipes –
Lamb shish kebabs with grilled vegetables and bulgur wheat
Crispy pork belly sandwiches with apple sauce
Bolivian Pique Macho
I have linked this recipe to #CookBlogShare which was hosted this week by Chloe at Feast Glorious Feast