Slow-cooker Catalan-style rigatoni stew
A silky rigatoni pasta with meat that falls away from the bone from hours of slow-cooking. This twist on Escudella I carn d'olla is well worth the wait.
Escudella I carn d'olla
This is my take on the national dish of Andorra – Escudella I carn d'olla – a meaty casserole, usually full of meat bones to make the rich stock; all different types of meat, on and off the bone, as well as sausages and meatballs. It is served with a side of cooked pasta. I've changed mine in a few ways as you'll see below!
Spain-recipes explains that It's a dish that is usually made at Christmas time and that every family usually has a different take on it – a bit like the English shepherd's pie!
A dish of many versions
My version is a bit different too. The usual escudella I carn d'olla contains bones for stock however I was unable to get some due to covid19! I've used beef stock cubes instead. Instead of serving the pasta on the side of the dish, I opted to stir mine through the casserole at the end, creating a ragu-like pasta dish. The meaty sauce envelopes around the the rigatoni – YUM!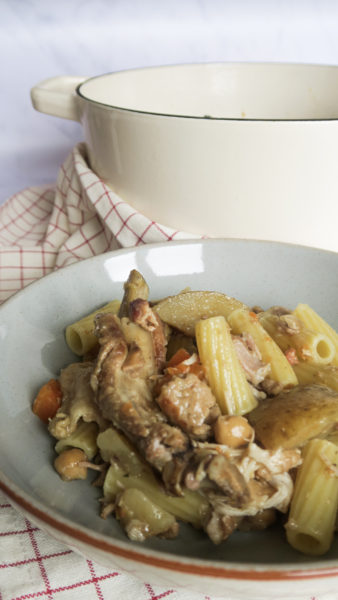 A few facts…
Did you know that the traditional name for this recipe – Escudella, means 'bowl'? It's certainly a bowl-full of comfort, that's for sure!
Yes, this is national dish of Andorra however Catalan cuisine is eaten in other areas in the Pyrenees, as well as Barcelona, Girona, Lleida and Tarragona – the four provinces of Catalonia.
Escudella is mostly eaten around Christmas-time.. I'm a little off-season then. Ha!
Things to consider before cooking –
You will need a slow-cooker in order to follow this recipe. I'd highly recommend the one I use, which is the Morphy Richards Sear and Stew*. I've become a bit obsessed with it since buying it! Definitely got my money's worth! The 6.5L is available for £34.99 at the moment on Amazon UK!
Consider visiting your local butcher shop (support local) or online veg box delivery sites such as Riverford, to ensure your meat is of high welfare. You will be able to find pork riblets a lot easier at these places too.
*The following link is an affiliate link. If you click and buy from it, i'll earn a very small commission which might buy me a coffee! Thanks for the continuous support!
Ready to don your apron and get slow-cooking?
The Recipe
Slow-cooker Catalan-style rigatoni stew
Serves: 6
Difficulty: Easy
A comforting, meaty pasta dish based on the traditional Catalan stew.
What you will need
1 tbsp olive oil
2 chicken thighs on the bone
100g bacon lardons
250g potatoes, quartered
2 carrots, peeled and diced
1 onion, diced
500g pork riblets
6 pork chipolatas
1 garlic clove, crushed
500ml beef stock
200g chickpeas
100g rigatoni pasta
Method
1

1. If using a sear and stew slow-cooker, heat the oil in the pot and fry off the chicken thighs until brown. Places aside on a paper towel-lined plate. Add the lardons and fry them until crispy –

2

put aside.

3

2. Brown riblets in batches –

4

place aside.

5

3. Fry off sausages and onions together, until brown. Add garlic and fry for 1 min.

6

4. Add the quartered potatoes (chop smaller if potatoes are huge) and carrots. Mix well. Season.

7

5. Add the meat back into the pot. Pour in stock. Add chickpeas. Heat on high for 5 hours.

8

6. Half hour before the time is up, pre-heat the oven to 170 fan/190 degrees and boil your pasta water. Cook pasta for 8 mins.

9

7. Once the stew is ready, de-bone all the meat (you can keep some meat on the ribs if you like) and pour into a large oven-proof casserole pot, and stir through pasta. Cook for 10 mins. Serve!
Fancy eating more Andorran food? Try these:
For breakfast nothing beats a homemade croissant just like they eat in Andorra!
For a delicious side, try my battered bubble and squeak balls.
Dessert: how about these crispy & creamy Easter Spanish toasts?
See my what to eat in Andorra post for more in-depth information on how you would eat in Andorra.