Slow-cooker Bhutanese Spicy Chicken Stew | Jasha Maroo
A hot and spicy chicken stew where the meat falls apart and the broth warms from within. Serve Jasha Maroo with red rice for a Bhutanese-style dinner.
Jasha Maroo – A Traditional Bhutanese Recipe
Jasha Maroo is a traditional Bhutanese chicken stew which usually is made from on-the-bone chicken, however I've gone against the grain and used chicken breast instead. You'll also find onions, leeks, tomato, ginger, garlic and chillis. The base is broth-like rather than thick and has a powerful kick to it!
Luckily I like a dish with a bit of heat as this one sure packs a punch. Obviously you could pair back the chillis or leave the seeds out. I opted for a birds eye chilli as that's the hottest my local supermarket stocks but feel free to use whichever you prefer (or can find). It does get cold in Bhutan, so I can see why this comforting dish is so popular!
Why should I make Jasha Maroo?
Perfect for warming up with in wintertime

Leave it in the slow-cooker and get on with your day

You'll be trying a dish from another culture

Not many ingredients needed
Good if you've got a leek glut and need to use them up!
Can be made and frozen (if defrosted and re-heated safely)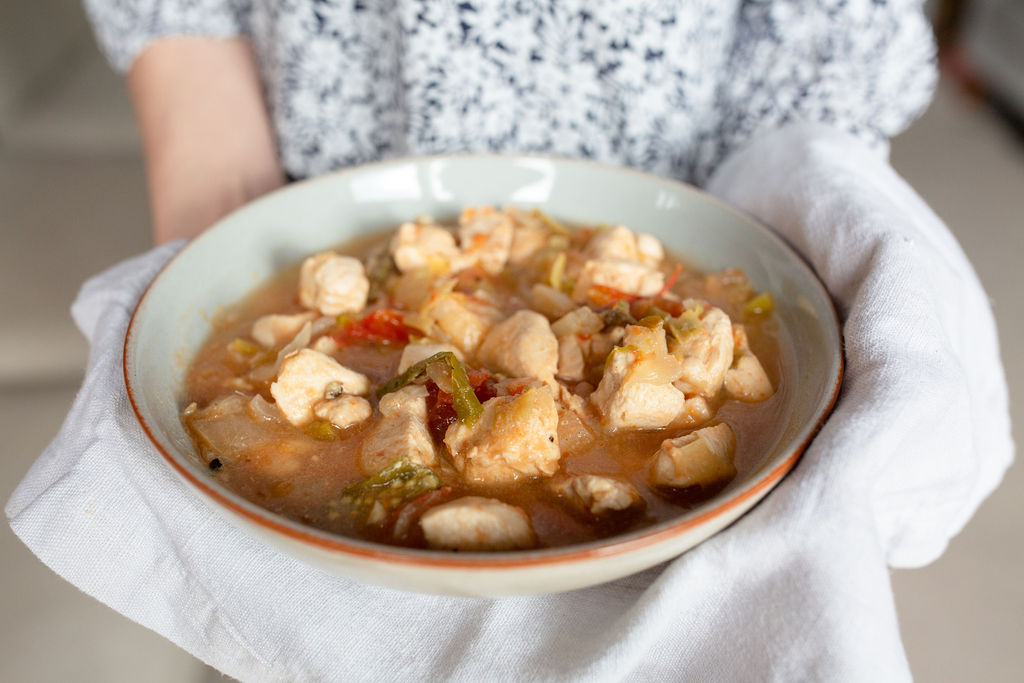 What do I know about Bhutan?
I'm ashamed to say that I don't know a lot. All I know is that it's a very happy country after being awarded the happiest country in all of Asia, and that the people are very friendly. I know it's home to the Himalayas and lots of monks live there. Shameful.
I'd like to educate myself more, so here's what I'll do:
Watch – Crossing Bhutan, a documentary about an adventure across Bhutan.
Read – Radio Shangri La seems like a good, light-hearted read about a woman who finds her calling in Bhutan.
Listen – this Bhutanese playlist on Spotify has a good mix of Bhutanese artists.
Ingredients needed
White onions – You could use red as an alternative.
Leeks – an essential ingredient!
Plum tomatoes – I recommend the fresh kind however use a can of toms as an alternative, if needed.
Ginger – Fresh is best however the ready-chopped stuff is always a good, quick option. The only downside is you'll end up with ginger lumps.
Green chilis – Any green chilli will work as long as it packs some heat.
Garlic – fresh or the ready-prepped stuff is fine.
Chicken breast – You could go more traditional and use chicken on the bone, such as thigh or leg.
Olive oil – for frying.
Chicken stock – To create the base of the stew.
Seasoning – Essential!
Equipment list
Frying pan
Grater
Knife for chopping vegetables
Garlic press
Slow-cooker
How to serve Jasha Maroo
Jasha Maroo is best served the traditional way, with red rice. Red rice is a massive staple in Bhutan and is grown in the Eastern Himalayas. You can choose to source the real thing but it's really hard to find, or opt for Camargue red rice, like this one I used from Waitrose.
Is Jasha Maroo suitable for vegans and vegetarians?
No, Jasha Maroo is not traditionally suitable for vegans and vegetarians, however you could take out the chicken and replace with a veggie alternative, like the Heura Plant Based Chicken Chunks.
Tip – Remove seeds from your chillis for a less intense heat!
The Recipe
Slow-cooker Bhutanese Spicy Chicken Stew | Jasha Maroo
Serves: 4
Difficulty: Easy
A spicy chicken stew traditional to the country of Bhutan. Perfect served with red rice.
What you will need
2 small onions, diced
1 leek, sliced in half lengthways and then diced widthways
2 plums tomatoes, chopped in quarters
Thumb-sized piece of ginger, grated
4 green birds-eye chillis, seeds and all
500g chicken breast, diced small
2 garlic cloves, crushed
Olive oil for frying
300ml chicken stock
Salt and pepper to season
Method
1

1. Drizzle olive oil in a frying pan (or slow-cooker pan if you have a special one to go on the hob) and fry leeks and onions until softened.

2

2. Add grated ginger, crushed garlic and chopped chillis. Stir in.

3

3. Add the chopped tomatoes and add to pan. Fry until they soften a little.

4

4. Add chicken and fry until almost cooked. Season well with salt and pepper.

5

5. Pour into your slow cooker and add 300ml chicken stock. Cook on high for 5 hours or low for 8 hours.

6

6. Serve with red rice (or a different rice if you prefer).
More Asian Recipes to try –
Bhutanese Vegetable Momo Dumplings
Bahraini Fish Ragout with Rice
Slow-cooker Afghani Spinach and Lamb Stew