Vegetable Momo Dumplings (Bhutanese)
These traditional Bhutanese steamed Momo dumplings are filled with a roasted butternut squash and sage filling. They are soft and pillowy, tasty and moorish. Perfect for serving as a sharing starter.
Vegetable Momo Dumplings from Bhutan
I never realised that Momo dumplings were so popular! After a little research into Bhutanese food, I discovered that these Momo dumplings had created quite a name for themselves. Google displayed a whole array of recipes waiting to be enjoyed. I was surprised as I was sure this was going to be one of those where I'd struggled to find a recipe to base mine on. Nope! I was glad.
Not only are Momo dumplings popular on the internet but more importantly, they are popular all over East and South Asia, being sold via street stalls and in restaurants. The little delights are traditional delicacies in Tibet, Bhutan and Nepal. The name is pretty cute too.
Traditionally these Asian dumplings are filled with meat such as goat, pork and even buffalo. Chicken is also an option. I opted for a seasonal roasted butternut squash and paired it with its usual partner: sage. They always go well together. I crumbled in chunks of feta to offset the sweetness with a bit of tang. All wrapped up in a pillowy dough. Delicious.
Why should I make Momo Dumplings?
You'll be trying a traditional recipe from Tibet, perhaps a culture you've never explored before

Momo dumplings do not require a lot of fancy equipment to make, apart from a stovetop steamer

Not as difficult as they look
Learn a new technique: shape the dumplings
Only take 5 minutes to steam
You can prepare them ahead and store in the fridge
Photography by Christy Blanch Photography
How to make a Momo Dumpling
A momo dumpling is a lot easier to make than you think. The dough only consists of four ingredients that you mix together in a bowl, knead until smooth and then leave to rest. You then go on to prep your filling.
Rolling and shaping your dough is next. The dough is rolled out thinly, circles are cut out, the filling is placed on centre and shaping commences. You shape the dough by overlapping the sides until the middle meets. Once shaped, they are ready to steam. 5 minutes and you're done!
The Momo filling –
As you know, I opted for a simple roasted butternut squash with sage and crumbled feta. This is easy to do: you just need to roast the squash drizzled with oil, for 30 minutes. Chop up your sage. Once cooked, mix in a bowl along with the sage and crumbled feta.
Other Momo fillings to try:
Finely chopped vegetables such as cabbage and carrot
Cheese such as paneer (common in India)
Photography by Christy Blanch Photography
Shaping your Momo
So the shaping part is probably the most challenging. If you're particularly good with your hands, you may find this a doddle. I however, didn't and found it quite challenging. This was overcome by thinking of it like crimping a pasty as that seemed to make sense in my Cornish brain!
You start off shaping by holding the dumpling dough in your hand, with the filling placed in the centre. Next you use your thumb and middle finger to sort of overlap the dough like you do with a crimp, until all the dough is crimped. Then seal the middle and do a little twist. You can also leave it open. Set them aside on greaseproof paper while you do the rest.
The Curious Chickpea has a brilliant tutorial video to follow if like me, you need something visual to help.
How do I cook my Momo dumplings?
There are two ways to cook your Momo Dumplings. You can either steam them like I did or pan-fry. To steam, you need to invest in either a bamboo steamer or use a vegetable steamer if you already have one. Both need to be use above a pan full of boiling water. Steaming takes around 5 minutes.
If wanting to pan-fry, I'd recommend a using a touch of olive oil to avoid sticking. Fry until you achieve the desired crispness. Pan-fried dumpling are usually shaped like crescent moons.
Photography by Christy Blanch Photography
Ingredients needed
The dough –
Flour – providing the structure and stretchiness to the dough.
Salt – A little bit of flavour to the dumpling dough.
Oil – Helps bind and creates a silkiness.
Water – Also helps to bind the dough.
Filling –
Butternut squash – you could use any type of squash (except spaghetti as it's too stringy) or pumpkin.
Fresh sage – Pairs so well with squash. Ensure you chop it finely to avoid strong, large lumps.
Feta – The saltiness really contrasts the sweet squash. Any salty cheese would work but feta is best for this recipe.
Equipment list
Rolling pin for rolling the dough
A mixing bowl
Damp tea towel for covering the dough when resting
A steamer
Baking tray for roasting squash
Tongs to pick up dumplings
Greaseproof paper to put dumplings on once shaped
Photography by Christy Blanch Photography
How to serve your Momo
We served our Momo with soy sauce as this is something we always enjoy with dumplings. However Momo are typically served with a chutney such as tomato. You could try making my Spicy Tomato Chutney. You can also serve them in a broth-like soup.
Are Momo dumplings suitable for vegans and vegetarians?
These Momo dumplings are definitely suitable for vegetarians and vegans too.
Momo Tip:
Resting the dumpling dough is a must as this allows the gluten to relax, creating a dough that is easier to shape. You can prep the dough a few hours ahead if needed however you must rest it for at least an hour.
The Recipe
Vegetable Momo Dumplings
Serves: 8 dumplings
Difficulty: Medium
A pillowy, soft dumpling filled with roasted squash, sage and feta. Perfect served as a sharing starter.
What you will need
For the dough -
280g plain flour
A pinch of salt
180ml water
1 tbsp olive oil
The filling -
1/4 butternut squash, diced into small chunks
Handful of sage leaves, chopped finely
40g feta, crumbled
Olive oil for drizzling
Method
1

1. In a bowl, mix together the flour and salt. Add the water and oil and combine with a d-scraper or wooden spoon to create a dough.

2

2. Knead until smooth. Add more flour if it seems too dry. It should be soft and pillowy, not sticky. Cover with a damp towel in a bowl and rest for a few hours.

3

3. Meanwhile pre-heat your oven to 190 fan/200 degrees.

4

4. Place your chopped squash in a baking tray and drizzle with olive oil. Once pre-heated, bake for 30 mins or until soft.

5

5. Pour the squash into a bowl and add the chopped sage and crumbled feta. Mash until combined.

6

6. Once your dough has rested, put it on a floured surface and divide in half.

7

7. Roll out into a big, thin square sheet. Using a glass or round cutter, cut out circles.

8

8. When ready to fill, roll out the circle if it doesn'

9

t seem big enough.

10

9. Place circle in hand whilst rest are covered with damp tea towel. Add 1 tbsp of filling to the centre and cup the dough around the filling, creating a little parcel. Using your other hand, overlap one piece of dough over the other, like a crimp. If struggling, see video linked in post.

11

10. Once the crimp is complete, join the dough together a the top or leave a small hole. Set aside on greaseproof paper.

12

11. Boil a pan of water for your steamer and lightly oil the base. Place the steamer of the pan once ready, pop in your dumplings and close the lid. Steam for 5 minutes or until translucent. Enjoy warm, dipped into soy or chutney!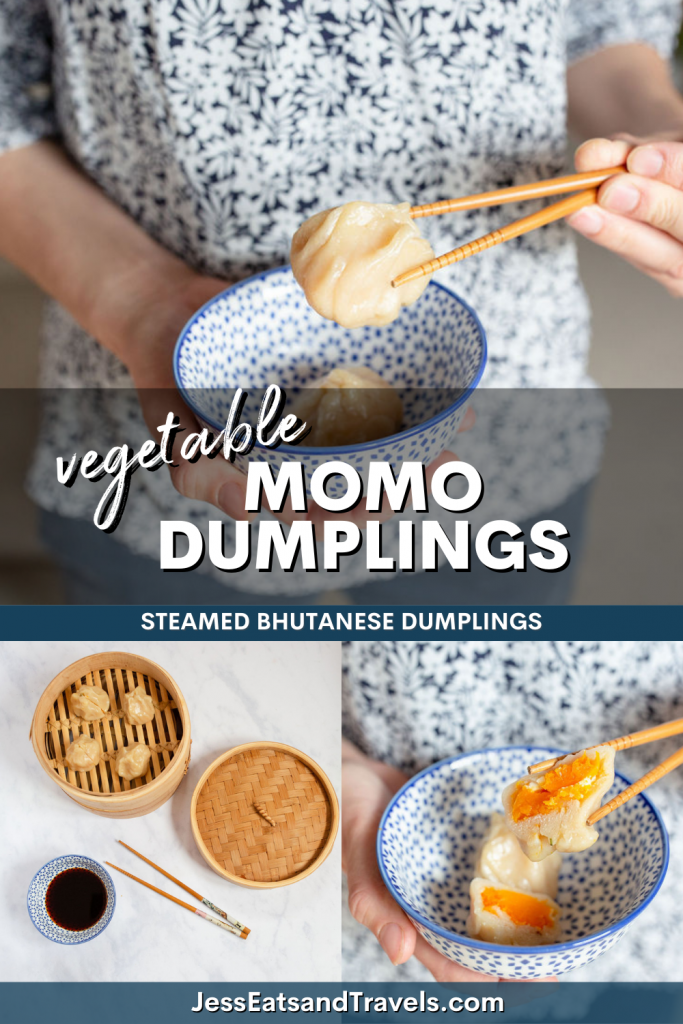 More Asian Recipes to try –
Bhutanese Slow-cooker Spicy Chicken Stew / Jasha Maroo
Slow-Cooker Afghan Lamb and Spinach Stew