How to cut butternut squash
All you need to know when you're wondering what to do with a butternut squash. From when squash is in season to how to cut a butternut squash and cook it. We've got you covered!
Plant species: squash
Plant name in latin: Cucurbita moschata
Vegetable spotlight: butternut squash
When is butternut squash season?
The correct time to harvest butternut squash would be September – to October, according to the RHS. If you were looking to grow some yourself, you'd need to sow between April and June.
To me, butternut squash signals the start of Autumn, my absolute favourite month. The tenderness of squash lends itself well to casseroles, stews, soups and curries. It's so versatile that you'll often find it in cakes too! Butternut squash is a great source of fibre, as well as vitamin C and A, magnesium and potassium.
It's always fascinating to read where a vegetable or fruit first began. I wasn't surprised to learn that the butternut squash originated in Stow, Massachusetts in the 1940s. It was bred from a winter squash species, by Charles Legget. America loves its pumpkins, and I do too! I've always got a few outside my door during Halloween season!
Is butternut squash a fruit or a vegetable?
Technically butternut squash is a fruit due to it having seeds, but we cook it as if it's a vegetable. I bet not many people know that!
How do I cut and prepare butternut squash?
Cutting a butternut squash needn't be scary. I know it's a big vegetable and it looks tough, however it's not as hard as it seems. Here's how to cut one yourself:
Gather up the required equipment. There's not much really: a good peeler (I like this one as I'm left-handed) and a large chef's knife.
2. Holding the butternut firmly with one hand (this is my husband's hand – he's also left-handed!) chop off the top with the other. You may need to wiggle the knife slightly if it's particularly tough, but it shouldn't be too hard.
3. Again, hold the squash firmly with your right hand and peel in a downwards motion with your left. Ensure you cover the whole squash. Discard the peelings.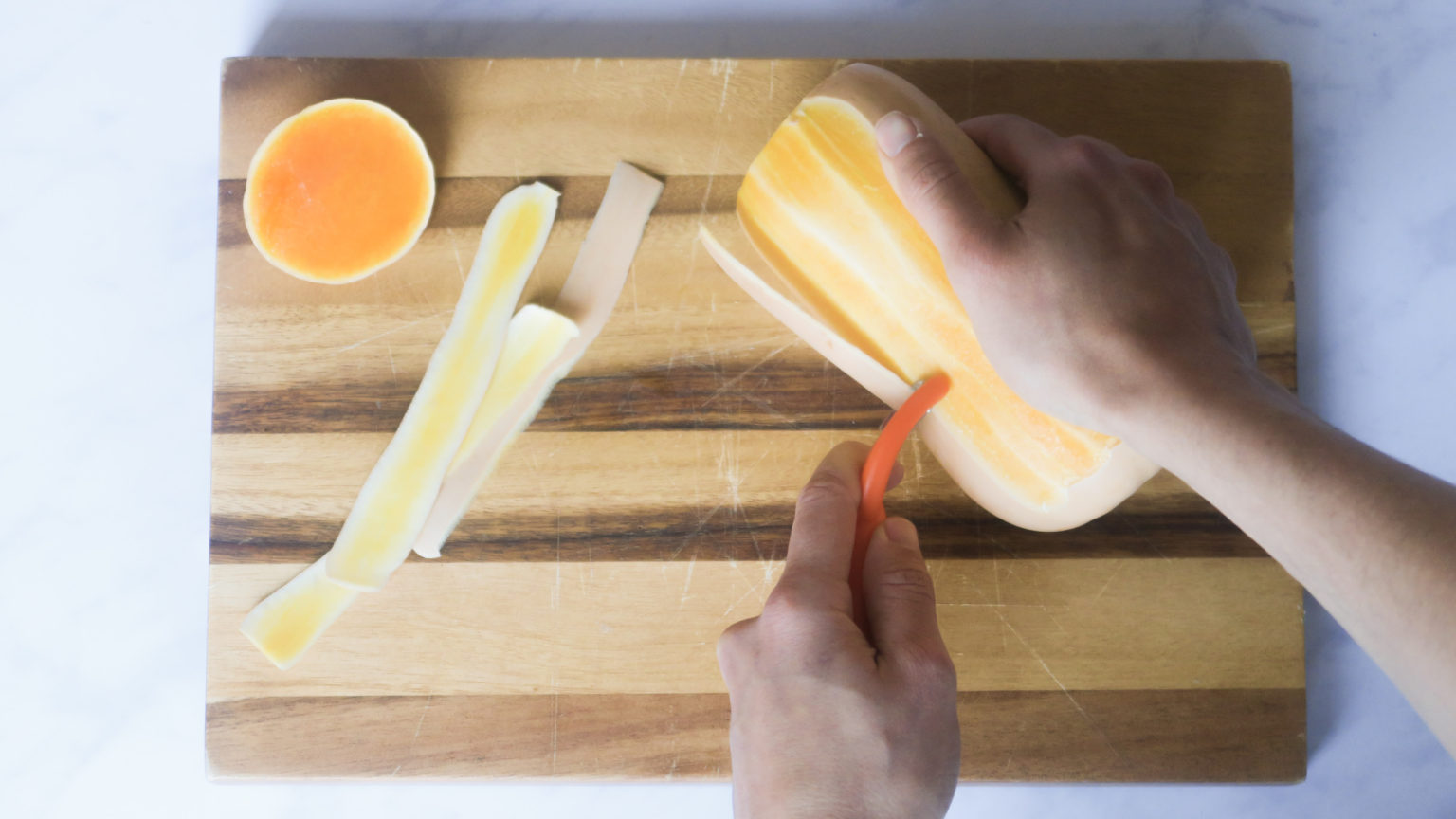 4. Chop the squash roughly in half using your chef's knife. Some force and a wiggle may be needed but it should go through quite easily.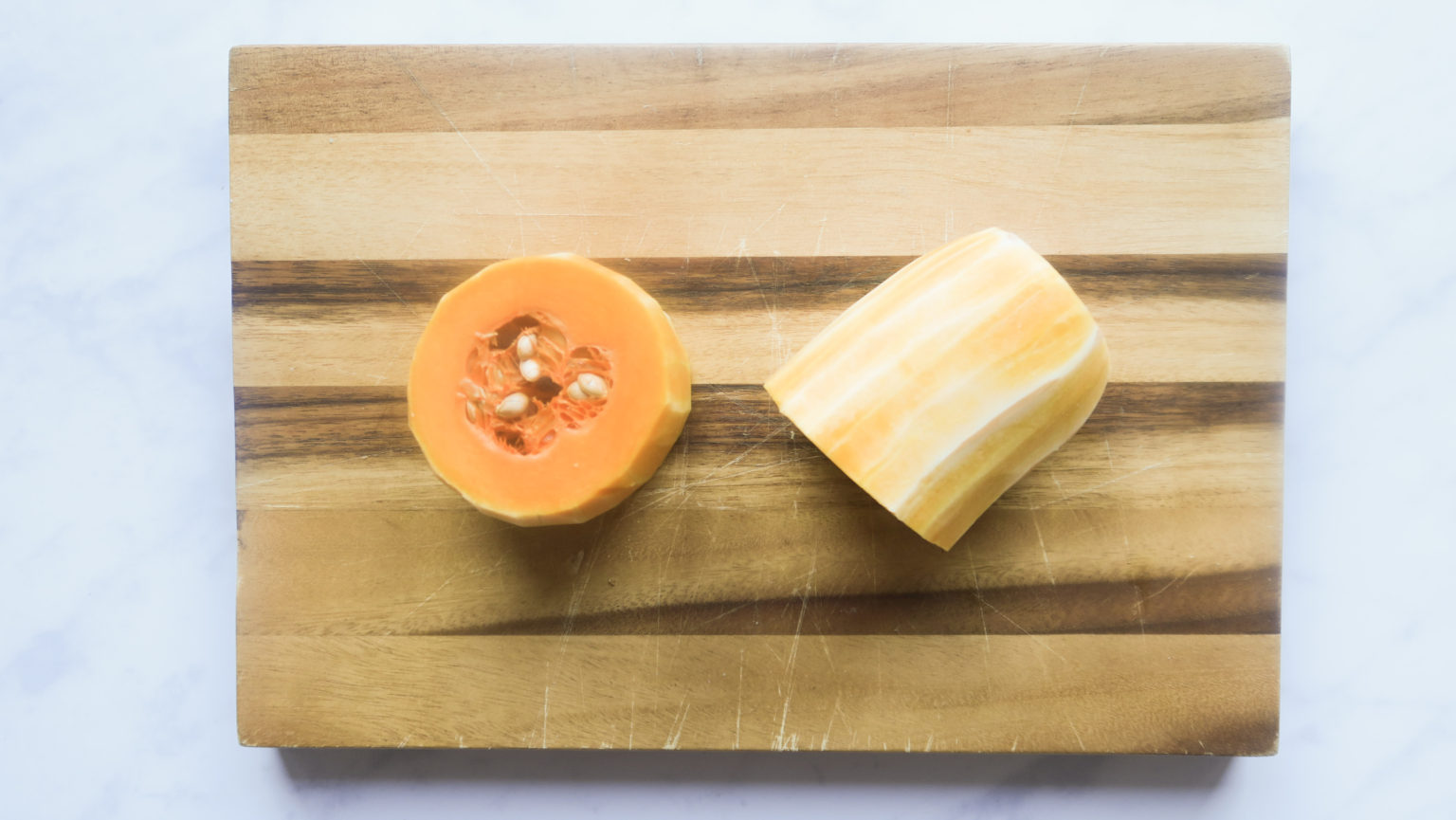 5. Scoop the seeds out of the squash using a spoon. Scrape out any stringy bits.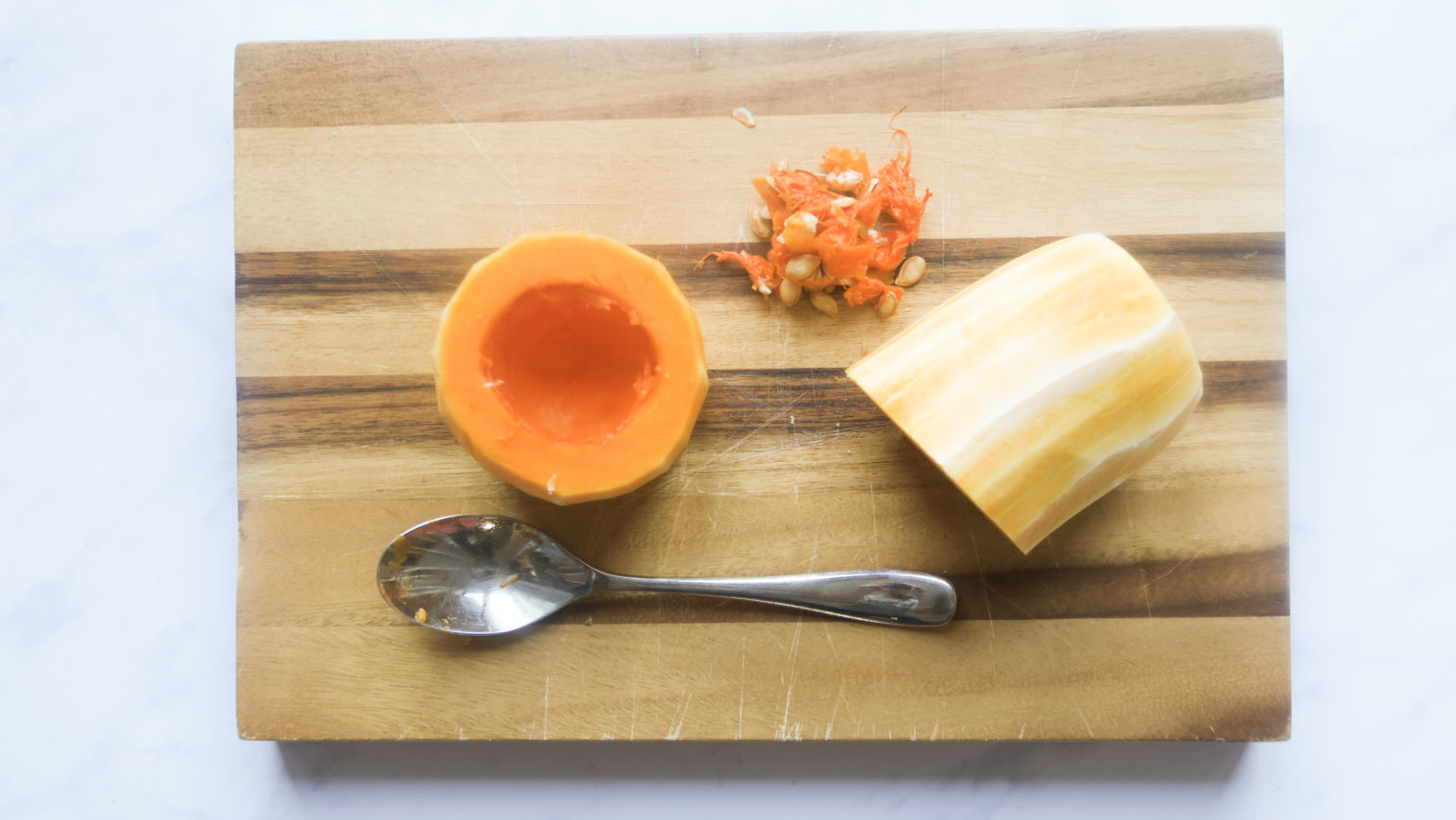 6. Cut both pieces in half and chop into strips. The smaller circle will easily cut into small chunks already.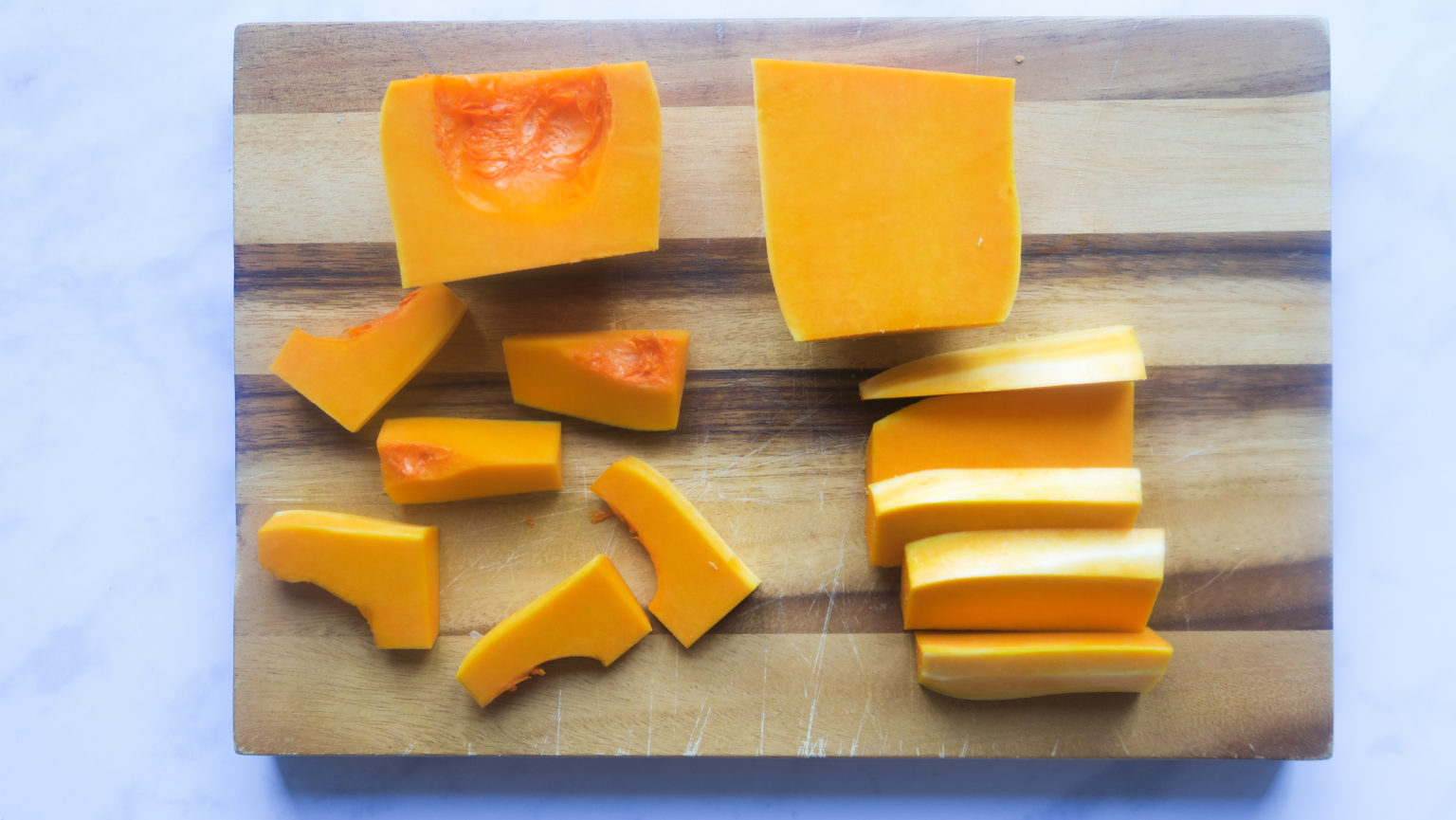 7. Dice up what you have and prepare accordingly. Store in the fridge in a sealed container if not needed straight away.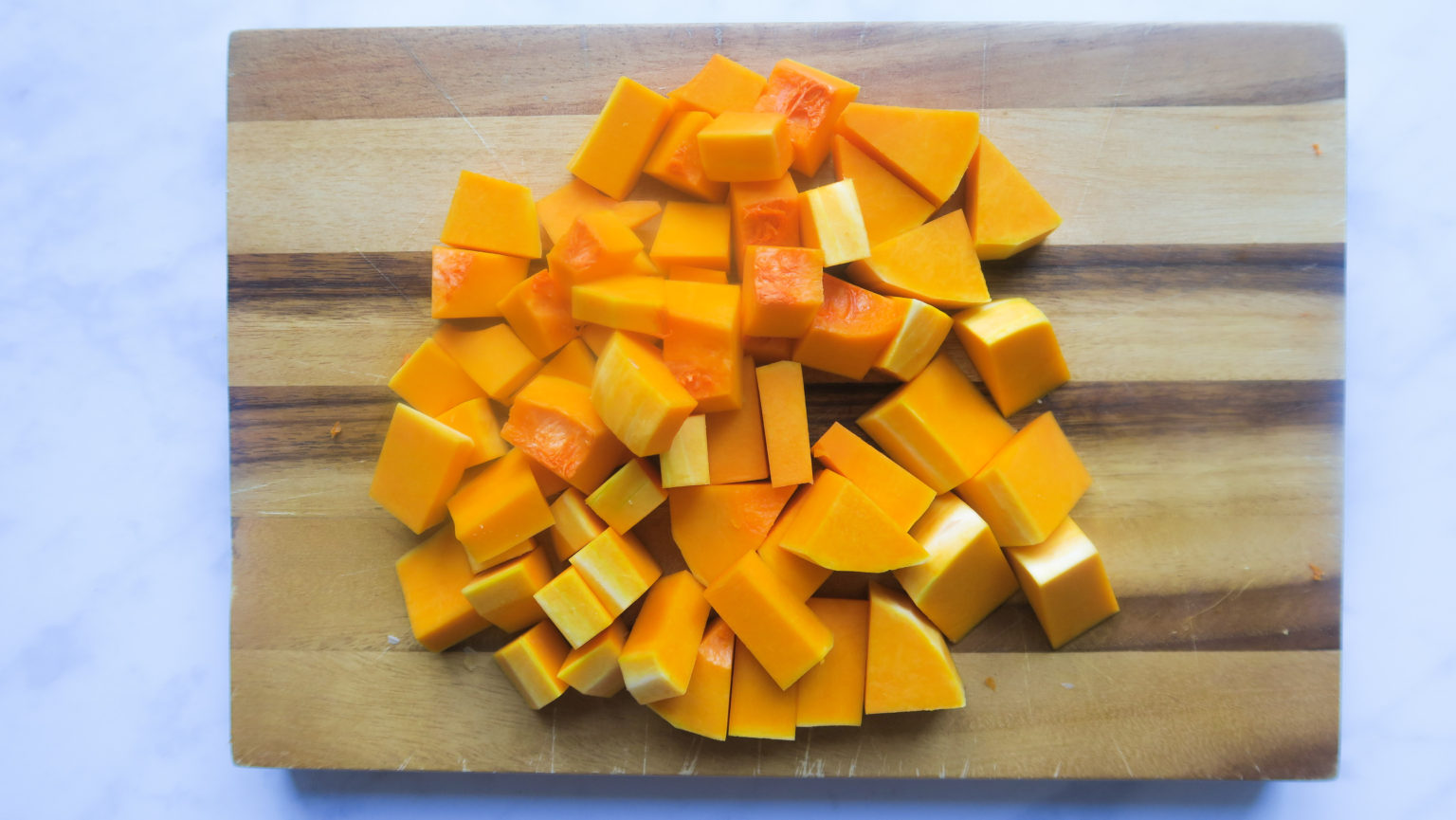 How do I store raw butternut squash?
You should store any cut butternut squash in a sealed container in the refrigerator. You can keep it for about a week but any longer and it might not be at its best.
How long can I keep an uncut butternut squash?
An uncut butternut squash keep for 3 months when stored in a cool, dry place. Be sure to keep an eye on it though, looking out for any moulding or soft patches (especially if knocked). Cut off any bad patches and cook straight away if you notice it's going off.
How do I cook butternut squash?
Butternut is very versatile when it comes to cooking. There are so many possibilities:
Roast: throw chopped squash in a baking tray, drizzle with oil and roast for 30 mins or until soft. Pimp it up a little and add some spice such as cumin, or herbs like sage.
Steamed and pureed: chop up small and steam for 20 mins or until soft. Tip into a blender with some stock and make your own soup! Add some double cream for an extra luxurious dish.
Grilled: wrap in foil and grill in the oven like they do South Africa!
BBQ: prepare your butternut hasselback-style and cook on the BBQ to bring out a squash's sweet, smoky flavours.
In a dish: butternut easily cooks itself within a dish, without any pre-cooking needed, such as in this delicious butternut squash red Thai curry.
Butternut squash recipe inspiration
Here's lots of excuses and inspiration to bring this autumn veggie to your kitchen. Explore the squash and prepare one of the following dishes from other lovely food bloggers –
Salads and appetisers
Roasted butternut squash crostini
Baby kale, honey-roast butternut, chicken, parmesan and pine nut salad
Dips and Condiments
Cumin whipped butternut squash and red pepper dip
Soups
Butternut squash and sweet potato soup
Butternut squash bisque with thyme and parmesan
Curries
Butternut squash, cauliflower and chickpea korma
Butternut squash and chickpea curry
Risotto
Incredible slow cooker butternut squash risotto
Roasted Butternut Squash and Sage Risotto
Healthy dinners
Stuffed peppers with butternut squash and quinoa
Roasted butternut squash sauce
Butternut squash noodles with red pesto
Sides
Honey roasted butternut squash
More cookery school recipes
Further your cooking skills by trying more 'cookery school' recipes:
How to cut and prepare rhubarb
How to make gnocchi without egg
How to make and freeze white chicken stock