Sweet and Sour Pork Meatballs
Super simple homemade pork meatballs and the easiest sweet and sour sauce to drench in. Sweet and sour pork meatballs has become a firm family favourite!
Sweet and Sour Pork Meatballs
This recipe for sweet and sour pork balls has very quickly become a family fave! I don't know if it's the sugar in the sauce or the novelty but my little one loves them. In the name of educating him on different food tastes, I don't mind him having sugar in his food every now and then!
We like to serve ours with rice, but also sweet potato wedges if we get bored of rice too often. When testing this recipe, we did exactly that, hence the lack of rice you often see paired with this sort of recipe. They do go really well, I must say.
Why should I make these sweet and sour balls?
Once you've made your own sweet and sour sauce, you won't go back!
Only 30 minutes in total from prep to make!
Great for using store cupboard stock – very economical.
Can be served with chips, rice or on their own – a versatile meal.
Ingredients
500g pork mince
A pinch of salt
A grind of pepper
25g dried breadcrumbs
1 tbsp honey
1 tbsp grated ginger
1 tsp garlic, crushed
1 spring onion, sliced
2 tbsp cornflour
170ml pineapple juice
50ml rice vinegar (or mirin)
60ml ketchup (tomato sauce)
70g soft light brown sugar
1 tbsp soy sauce
30 minutes and you're done!
Sweet and sour balls could become part of your weekly cooking schedule, fast! It's such a simple one to prepare, from mixing all the meatball ingredients together, whacking them in the oven and making the sauce (which is pimps squeak, honestly!) Trust me, I'm a mother!
Equipment Needed
Medium bowl
Chopping board
Small knife
Measuring spoons
Garlic crusher (or use a knife – see tip below)
Small saucepan
Weighing scales
Baking tray
Greaseproof paper
Whisk
Step-by-step method
Serve sweet and sour pork meatballs for Chinese New Year
These would be great to cook up on Chinese New Year which falls in February each year. If you're hosting a buffet, you could serve them in a dish and let people help themselves. I suggest making a triple-batch though, yeah??
They need not always be a main meal but also a starter – endless possibilities! I bet they'd also be nice dipped in sweet chilli sauce – another family fave!
Recipe Variations
Can I use beef mince?
Beef mince would be fine to use, although usually sweet and sour is usually eaten with pork.
Would fresh breadcrumbs work?
I would only use fresh if quite stale and dry. You don't want to use bread that is too fresh as it will be too moist and go a bit soggy. I'd suggest chopping it into cubes, giving it a bit of toast in the oven and then chopping finely.
What about maple syrup or agave?
Yep, both would be ok to use. A great idea if you are vegan.
Can I make sweet and sour sauce with apple juice?
A friend asked me this exact question and even though I haven't tried it, I reckon it would be ok. I'd hope this apple juice was quite dry and not too sweet, as you want a bit of tang from the sauce, like you find in pineapple. Give it a go and be sure to let me know!
What other sugars would work?
A brown sugar would work better but if really desperate, any sugar will do.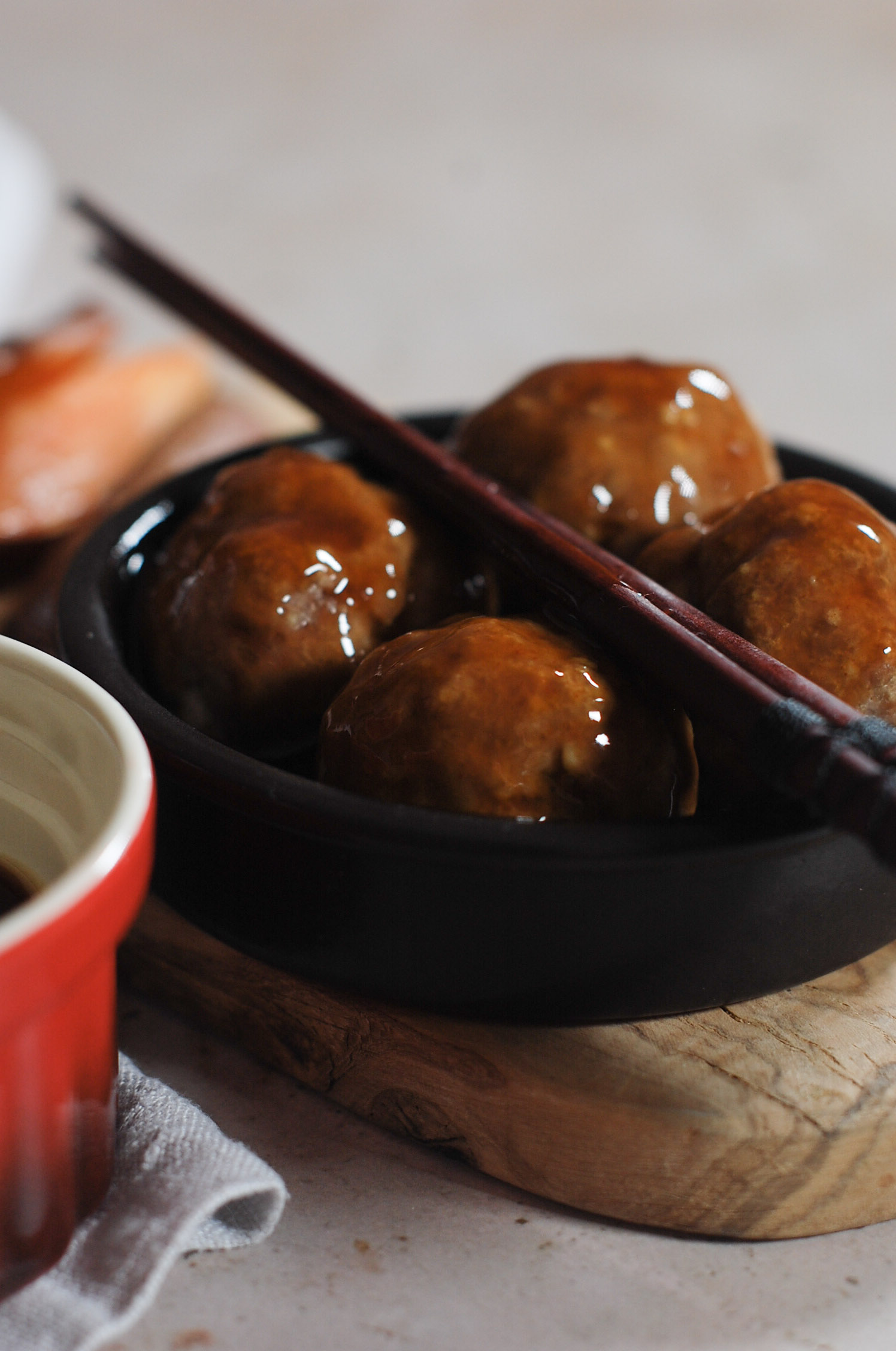 Batch-cook me!
This recipe makes around 10 balls (depending on the size you roll them). You could easily double up and freeze some before cooking, for another day. I do love a bit of batch-cooking. It saves so much time for a later date!
Tips
You can crush your garlic cloves without a crusher by using the side of your knife. Carefully place the side of a chef's knife (a big surface area) onto the garlic and push down with your hand to crush it. This will really ensure you get a lovely, strong flavour. Next, finely chop up this crushed clove, and you're done!
Sweet and Sour Pork Meatballs
Super simple homemade pork meatballs and the easiest sweet and sour sauce to drench in. Sweet and sour pork meatballs has become a firm family favourite!
Ingredients
500

g

pork mince

A pinch

salt

ground black pepper

25

g

dried breadcrumbs

1

tbsp

honey

1

tbsp

grated ginger

1

tsp

garlic clove

crushed

1

spring onion

sliced
Sweet and sour sauce
2

tbsp

cornflour

2

tbsp

water

170

ml

pineapple juice

50

ml

rice vinegar

60

ml

ketchup

70

g

Soft light brown sugar

1

tbsp

soy sauce
Instructions
Place all the ingredients for the meat balls in a bowl and scrunch together with your hands until all combined.

Line a tray with greaseproof paper and shape the mince into 10 balls (more or less, depending on the size you go for), placing them on the tray as you go. Bake in a hot oven (about 190° /170° fan) for 20 minutes or until cooked through.

Meanwhile, make the sauce. In a small bowl, mix together the water and cornflour to form a paste. Leave aside.

Pour all the ingredients for the sauce (apart from cornflour mix) into a pan and whisk to combine. Leave to simmer.

Pour in the cornflour and whisk until thickened and bubbling. Pour all over meatballs when serving or use to dip.
Notes
Rice vinegar – you can also use the rice wine called mirin if you have any lurking in your larder. This is what I have used quite a few times. Soy sauce – I went for the normal soy but feel free to use light or dark. Obviously dark will change the flavour to something a lot stronger but I'm sure the sweetness from the sugar will offset this. Leftovers – I reckon these would make a delicious meatball sub sandwich! Layer up with melted cheese and tomato sauce. *Off to kitchen to try this…* Re-heating – if you wish to reheat these, ensure they are absolutely piping hot and never reheat twice. I would do it in the microwave to be safe. The sauce is less risky to reheat. You could heat it in the pan until hot. Aga cooking – all my recipes are tested and cooked on an Aga. If you are an Aga owner like me, cook your meatballs in the roasting oven for 20 minutes. I did my sauce on the induction but equally you could use the simmering plate. Same times as the recipe above.  Storage – any leftover balls should be kept in the fridge, in a sealed container for 2 days maximum. Keep the sauce in a covered pot too. The sauce can be kept for longer, about a week.  Freezing – a great idea would be to freeze a batch of these before cooking. You can also freeze them post-cooking and defrost thoroughly before cooking again. I would only freeze for a month though as they will deteriorate after this. If the meat is raw, you can freeze for 2 months.
Serving Suggestions
I like to serve my sweet and sour balls with basmati rice. We do 1 cup of rice to 1.5 cups of water (roughly). If I'm serving 2 people, I'll do 2 cups of rice and 3 cups of water. I bring it to the boil, cover and cook in the oven at 140 for 20 minutes for the fluffiest rice (Aga simmering oven if you have one).
It's also lovely to serve these with sweet potato wedges like we did when testing this recipe. My peri-peri sweet potato wedges would go so well!
More pork recipes
For more delicious pork recipes, try my Best Pork Schnitzel, heralding from Austria. Or my British Frying Pan Toad in the Hole. They're the perfect quick and tasty mid-week meals.