Cashew chicken stir-fry is an all-round family favourite! It cooks up in less than 30 minutes. You may want to do double-batch this up because it's that yummy! A great one for Chinese New Year or as a weekend 'fakeaway'.
Chicken Cashew Stir-Fry
I've always been fond of a Chinese and would often pick it over a choice between that and Indian. Now I like them both however this recipe has very quickly become a firm favourite in our household. My little one adores it and will often ask for more! It's either that or he's addicted to soy sauce…
Why should I make cashew chicken?
Perfect for celebrating Chinese New Year
Makes for a cheap weekend fakeaway – healthier too!
Cooks in less than 30 minutes
All the family will love it – a firm family fave in our household
It's so DELICIOUS you'll want second helpings
Save yourself some pennies!
Just think how much money you could save each time you make your own 'takeaway'. If you search, you'll find takeaways for every cuisine, from Recipe Tin's homemade chicken doner and Pinch of Nom's Fried rice. Ready to get started?
What ingredients do I need?
Chicken thighs, boneless and skinless – don't worry if you have to buy skin-on and boned, it just means a little bit of extra prep from you. You'll just need to cut around the bone with a sharp knife to cut off the meat. Carefully cut off the skin too.

Chopped garlic – I used lazy garlic for quickness because anything to make my life easier is a win! Feel free to also use a crushed garlic clove too. See tips below on how to crush garlic.

Shaoxing rice wine – there's some info below on what shaoxing is and where to find it.

Cornflour – an ingredient used for thickening. Cornflour is also known as 'corn starch' in the US. It comes from the starchy part of maize. See recipe variations below for alternatives.

Sesame oil – providing a lovely, nutty flavour to the overall dish. You could also use any other nut oil such as walnut oil. Don't worry if you don't want to use a nut oil. Vegetable oil, or even coconut is fine too.

Cashew nuts – the main star of the show, providing texture with a lovely crunch! Obviously you'd want to use cashews but I know peanuts would work well here too.

Basmati rice – or any rice is fine really!

Green and red pepper – or any colour, it really doesn't matter.

White onions – preferably white but red onions or shallots would work well.

Spring onions – you'll need some for the dish but perhaps keep some aside for serving at the end.

Soy sauce – made from fermented soy beans and wheat (hence why tamari is often suggested as a gluten-free alternative). It's then treated with saltwater before fermentation begins. Proteins are broken down by enzymes in the mould which causes the glutamate levels to increase… a reason why it's so addictive!
Make it family-friendly
Okay so I know I said that this recipe is a family favourite but it won't initially appear as family-friendly due to the cashew nuts! Our little one is two (at time of writing) and actually loves nuts and we're happy to give them to him. He knows to chew them properly.
I wouldn't suggest giving this to a child under one, partly because of the cashews but also because of the amount of soy used. Soy contains a lot of sodium and isn't great for little ones. Of course a tiny dash would be fine. We give it to our son but only because we have it on occasion.
Obviously a parent would think twice about giving their child something that contains alcohol (shaoxing rice wine) but the amount is tiny and will be cooked off during the cooking process. I don't think should be a concern.
To make this completely child-friendly, you could reduce the soy to 1 tsp and leave off the cashews for their serving.
Equipment Needed
Chopping board x 2 (one for meat and one for veg)
Small and medium bowl
Small frying pan
A wok
Chef's knife
What is shaoxing rice wine and where can I find it?
'Shaoxing' or sometimes spelt as 'shaohsing' is a rice wine originating from the city of Shaoxing in the Zhejiang province. It's made from fermenting rice, water and wheat (so definitely not gluten-free).
These days it's really easy to find at your local Chinese supermarket (or try Oriental Mart if you prefer online) or even at shops like Tesco and Waitrose.
Recipe Variations
Can I use chicken breast instead of thigh?
Chicken breast would be ok to use but chicken thigh is tastier and more economical too! I would definitely opt for thigh if you can.
What are the alternatives to Shaoxing rice wine if I'm gluten-free?
If you either don't have any or are gluten-free, then Mirin would be a good substitute. Mirin is made from fermenting sweet rice.
What can I use instead of cornflour?
If you don't have any cornflour, I'd suggest using something else which thickens such as potato flour. Tapioca flour, rice starch, normal wheat flour and arrowroot are also usually used as thickeners. So pick one!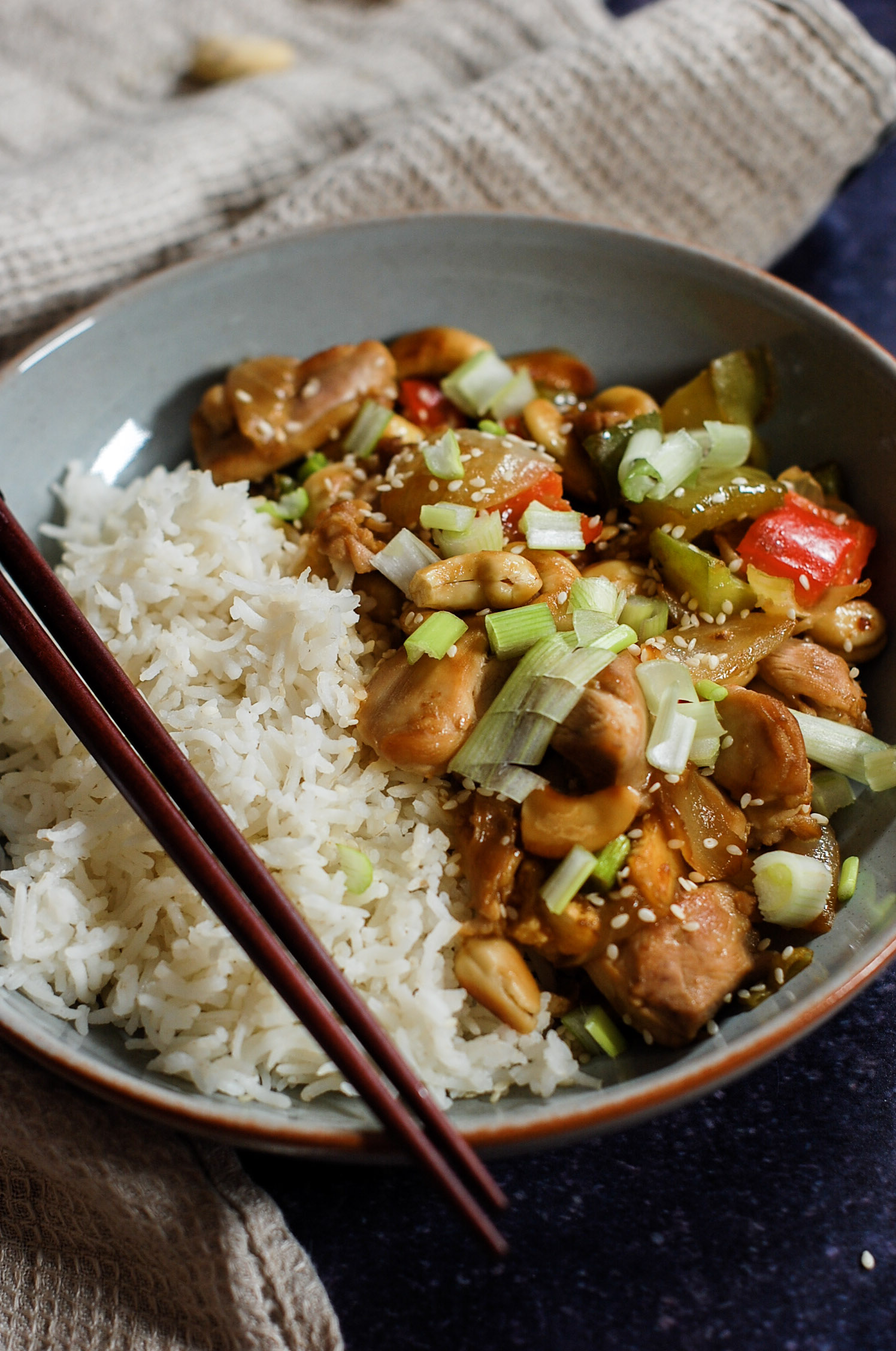 Step-by-step method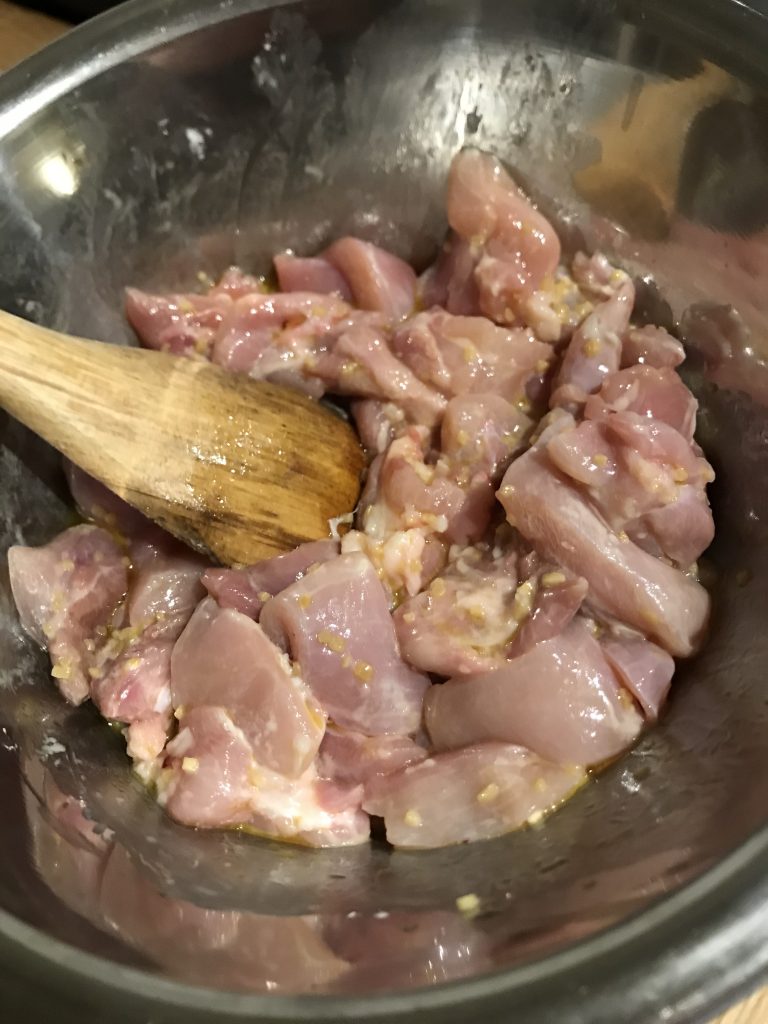 FAQ
Is cashew chicken stir-fry gluten-free?
No because it contains Shaoxing rice wine which contains wheat. I would recommend using Mirin (fermented sweet rice wine) as an alternative.
Tips
Save on oil and use the remains of the sesame oil used when frying the cashews for when you fry the onions and peppers.

How to crush garlic easily – you can either use a garlic crusher which means peeling the garlic clove, popping it in and press the juice out of the clove. OR you use a sharp knife. Press the side of the knife down on the clove, using the palm of your hand (blade facing away). Finely chop the crushed clove. Doing this helps release the garlic flavours much more than when you just cut once.
Cashew Chicken Stir-Fry
Cashew chicken stir-fry is an all-round family favourite! It cooks up in less than 30 minutes.
Ingredients
Marinade
2

tsp

garlic cloves crushed

approx 2 crushed cloves

2

tsp

shaoxing rice wine

2

tsp

cornflour

2

tbsp

Sesame oil
Stir-fry
2

handfuls

cashew nuts

6

cups

water

1

red pepper

1

green pepper

1

Onion

diced

2

spring onions

1 tbsp

soy sauce

3

cups

basmati rice
Cornflour paste
4

tsp

water

2

tsp

cornflour
Instructions
Dice your onions, peppers and chicken thighs.

Pour all the marinade ingredients into a bowl with the chicken thighs and marinade for 10 mins.

Meanwhile, heat a drizzle of sesame oil in a frying pan and toast your cashews lightly. Place aside in a bowl.

Using the remains of the oil from the cashews, fry your onions and peppers in a wok, until starting to brown. Add the chicken and cook until brown.

Prepare your rice: 3 cups of rice and 6 cups of water in a pan. Bring to the boil and either place in a low oven at 140 for 25 mins (if you using an Aga or an oven-proof pan) or simmer for the same amount of time, until the rice grains start to separate.

Add the soy, spring onions and cornflour paste (mix it together in a bowl until there are no lumps). Stir-fry for a few mins.

To finish, add the cashews and a drizzle of sesame oil. Serve with the rice.
Notes
Shaoxing rice wine – You can find Shaoxing rice wine quite easily in your local supermarket but if not, try online at places like Oriental Mart. Have a google to see if you have a local Asian mart nearby. They are usually hidden up small side roads, or even bigger ones appear on industrial units, so worth a look!
Wok – I actually use a cast-aluminium saute pan, as I'm an Aga user and it was more worth my while to buy this to use as a wok too, rather than buy both. This carbon steel one from Sous Chef (I always rate their products!) looks really authentic and will heat up quickly and evenly since it's made from carbon. 
Aga cooking – All my recipes are tested and cooked on an Aga but are adapted for conventional ovens in my recipe. If you are an Aga user too, you can make this cashew chicken stir-fry on the boiling plate the whole time as it doesn't take long. For the best Aga rice, start it off on the simmering plate and place in the simmering oven for 25 mins.
Reheating – If you are batch-cooking or have some leftovers and want to re-heat, you will need to re-heat thoroughly. Chicken needs to be heated until piping hot and above 70°c. I would heat using a microwave to guarantee this. 
Storage – You should store leftovers in the fridge in a covered container, preferably on the top shelf.
Freezing – You can definitely freeze if you are batch-cooking and/or have some leftovers. Freeze in a tight-lidded container to avoid freezer burn on the food. Defrost thoroughly and follow re-heating guidelines above.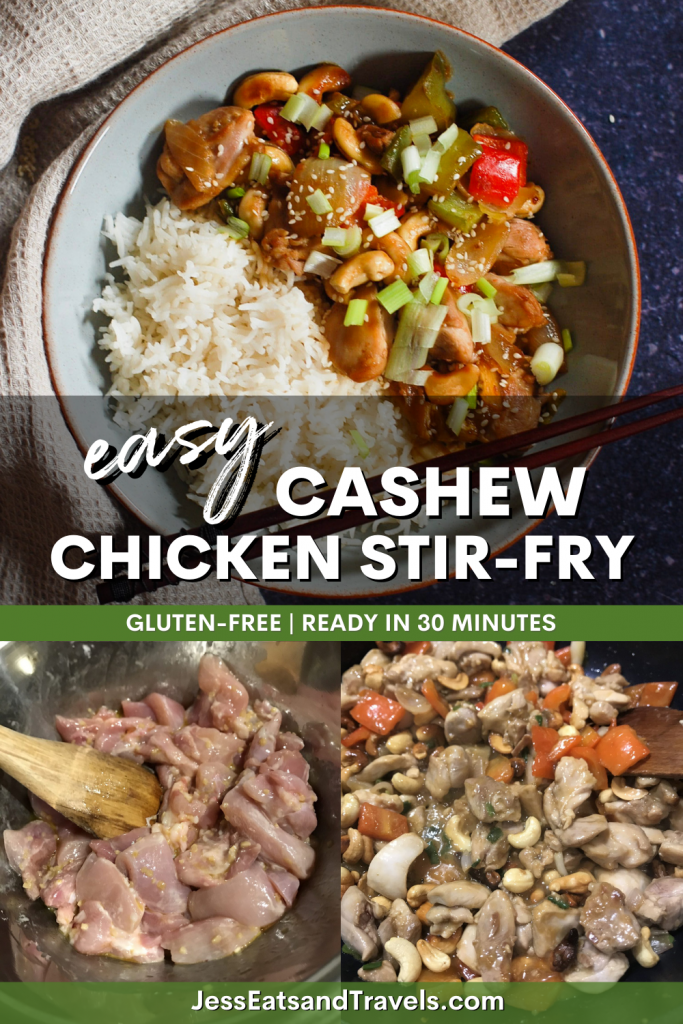 More Chinese recipes