Easy Yeast-Free Naan Bread
Easy yeast free naan bread will take you no more than 15 minutes from prep to cook. This recipe will be become your fakeaway favourite in no time.
WHY SHOULD I MAKE THIS YEAST FREE NAAN BREAD?
Takes no more than 15 minutes from prep time to cook time.
Save money on a Saturday night takeaway and make your own naan bread!
The perfect accompaniment to a curry, great for dipping.
Eat yeast free naan breads for lunch too. They go well with hummus!
Got no yeast? This recipe is the one for you!
EASY YEAST FREE NAAN BREAD
Easy yeast free naan bread will literally become the easiest bread recipe you'll ever make. They're crisp on the outside and soft on the inside and are great for soaking up the juices from a curry, such as our popular Quick Beef Caribbean Curry.
The great thing about this naan bread recipe is the fact that it uses no yeast at all (as I'm sure you can gather from the title..). The trick with this recipe is the use of baking powder to give a tiny rise, but not too much that they end up looking like mountains (this has never happened!!)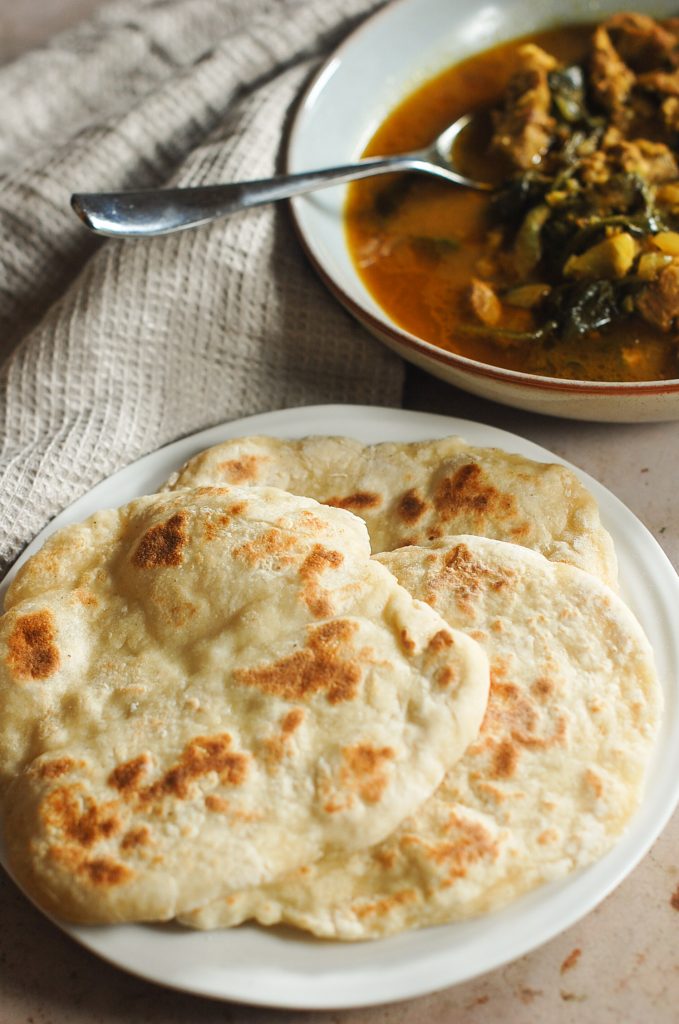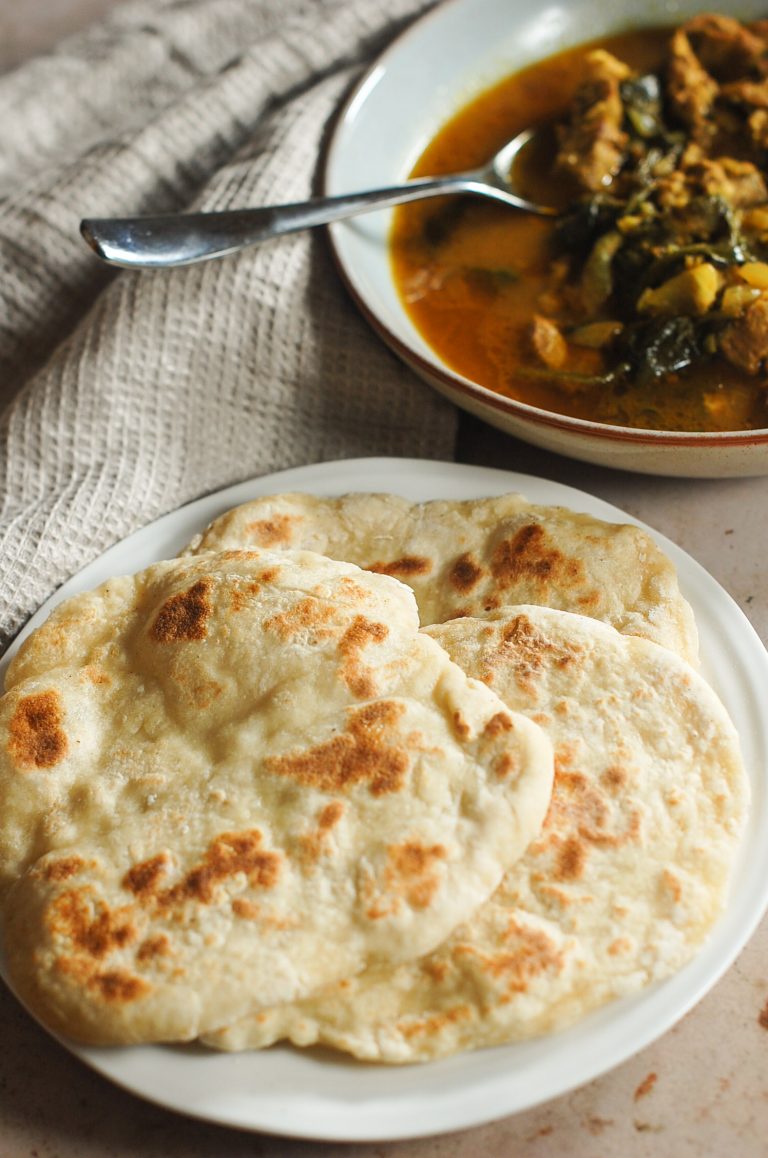 WHAT SHOULD I EAT WITH MY NAAN BREAD?
Naan bread goes well with so many dishes: stews, casseroles, soups and chilis; it's definitely not just reserved for curries! This easy naan bread recipe is perfect for dipping or becoming a little sandwich for your curry leftovers (just the way we like it here at Jess Eats!)
FOUR INGREDIENT NAAN BREAD
One thing that's amazing about this naan bread recipe is that it only contains four ingredients: white bread flour, greek yoghurt, baking powder and salt; all things you're likely to have in the cupboard/fridge anyway. Great for cooking on a whim!
SAVE YOUR PENNIES!
Also If you're trying to save the pennies, I'd recommend giving this ago on takeaway night instead of paying that extra £2 for a naan! And yours will taste better too, trust us. Your naan will be fresh and HOT (temperature, not spicy – don't worry!) Perfect for melting butter on…or go a step further with garlic butter…oh this is making us hungry…
MAKE IT A LUNCH…
Serve yeast-free naan bread with hummus for a quick and easy lunch too!
Perfect for those days when you just can't find any yeast but still want to make delicious bread.
WHAT DO I NEED TO MAKE THIS EASY NAAN BREAD?
You really don't need a lot to making this easy naan bread. Only four ingredients:
White bread flour to help give the naan breads structure and a small rise.

Greek yoghurt to give the naan breads a lovely, tangy flavour. The yoghurt also helps to combine the ingredients together.

Baking powder to further help the naan breads rise and to replace the yeast.

Salt for a bit of seasoning! This is optional though.
Feel free to experiment by adding extra ingredients such a raisins for a fruity naan bread, or brushing on garlic butter for the ultimate comfort food.
EQUIPMENT LIST
Frying pan – we used a cast-iron one as they tend to heat up quicker and give a much nicer flavour!
Spatula for flipping the naan breads.
Measuring spoons.
D-scraper for forming the dough.
Rolling pin for rolling into naan breads.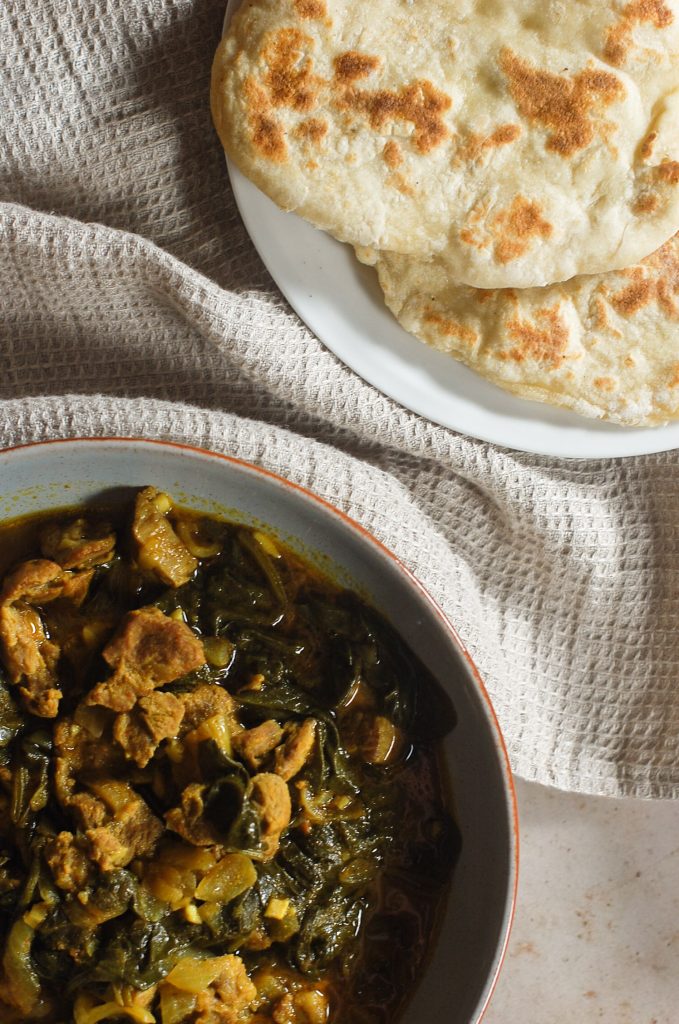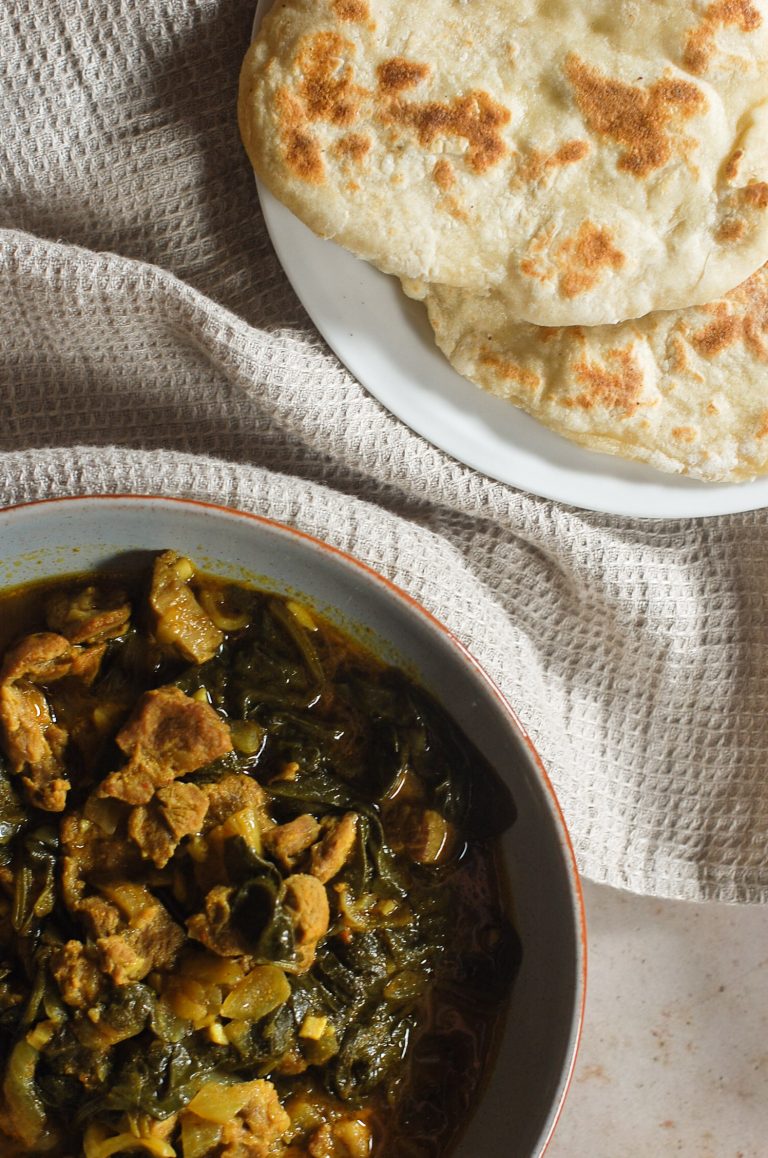 INGREDIENT ALTERNATIVES
Can I make this recipe gluten-free?
Yes certainly you can. We'd recommend using Doves Farm gluten-free white bread flour. You can follow the recipe below in the exact same way.
Is this recipe suitable for vegans?
It can be if you use a dairy-free yoghurt like this Alpro greek style plain yoghurt. Follow the recipe below in the exact same way.
HOW DO I MAKE THIS NAAN BREAD WITHOUT YEAST?
This easy naan bread is quick to make, just follow the steps below and you won't go far wrong!
The Recipe
Easy Yeast-Free Naan Bread
Serves: 4 (depending on the size)
Difficulty: Easy
This delicious naan bread recipe will easily become a fakeaway favourite!
What you will need
200g white bread flour
200g greek yoghurt
1 tsp baking powder
Salt for seasoning
Method
1

1. Combine the ingredients in a bowl and mix with a d-scraper to form a dough.

2

2. Once you'

3

ve formed a soft round ball, cut it into equal portions (about 4).

4

3. On a floured surface, flatten the balls with your hands and using a rolling pin, roll into naan bread-shaped pieces.

5

4. Heat a frying pan without oil and fry each naan bread for a few minutes each side until brown.
MORE BREAD RECIPES FOR YOU TO TRY: