Chocolate Fondants for Two
Chocolate fondants made just for two are intimate, indulgent and really easy to make. Perfect for a Valentine's Day dessert but no sharing required!
Timings
Prep Time
10 mins plus overnight chilling
Total time
22 mins plus overnight chill
Chocolate Fondants made for Two
Is anyone else like me but when out for a Valentine's meal (or any meal for that matter) – I'm not sharing my dessert!! I don't mind getting two different desserts and trying a bit of each other's but I'm not having one between us!
It's the reason entirely that I created this chocolate fondant recipe made for two people – no sharing required!
Why should I make chocolate fondants?
Only 5 ingredients are needed!
Really, really simple to make. Not much skill required
A lot of satisfaction for little effort put in
No need to share your Valentine's Day dessert again!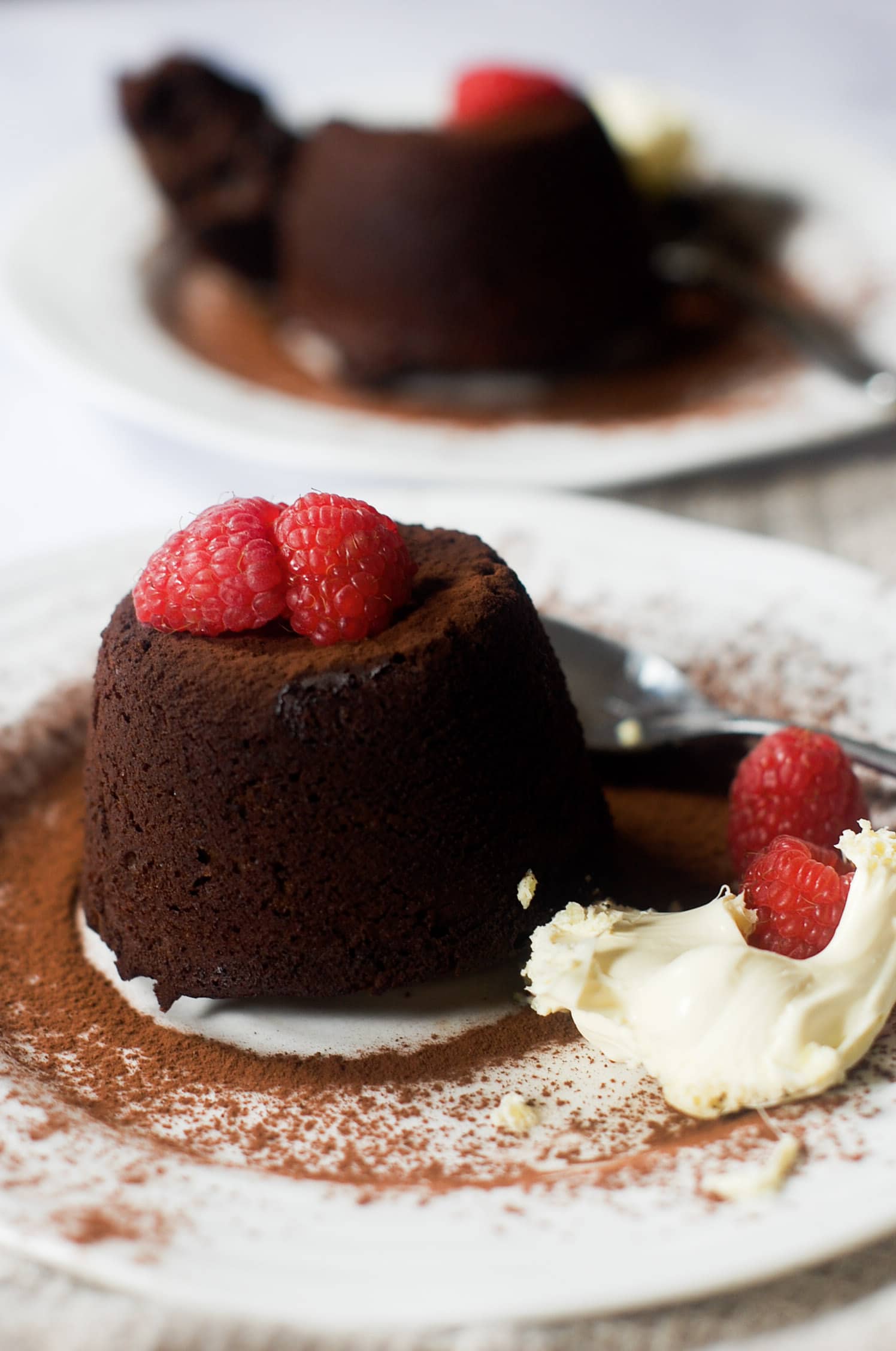 No real skill needed
These chocolate fondant puddings are really simple to create. They only take about 10 minutes to make and 12 minutes to cook, although I'd recommend overnight chilling.
The only real skill is in the buttering of the dishes. I'll explain this below. But no fear, it's SO easy to do.
What fondant moulds do I need?
To make these chocolate fondants, I used these professional stainless steel mini pudding moulds from John Lewis. They come in a set of four so you could double this recipe and make extra if you like (who ever would disagree with that crazy notion!?)
NOTE: It's a good idea to have 3 moulds for this recipe as the recipe does make slightly over two, just to allow so you have one to test (and an extra to eat!)
Ingredients
2 eggs
60g caster sugar
38g plain flour
60g unsalted butter + extra for buttering moulds
75g good quality dark chocolate
Cocoa powder for dusting
How do I butter my moulds?
Just remember this: Butter. Chill. Butter. Cocoa. Chill.
It's really that easy. Make sure your butter is soft before starting. Using upwards strokes, wipe on the butter (I always use a piece of butter wrapping to do this – anyone else?) Chill in the fridge for a few minutes. Repeat again but before chilling this time, dust on some cocoa powder. Chill again until needed.
Equipment Needed
Chocolate fondant moulds x 3
Mixing bowl
Saucepan and medium bowl for Bain Marie
Whisk
Stand mixer with whisk attachment (or an extra whisk if not)
Spatula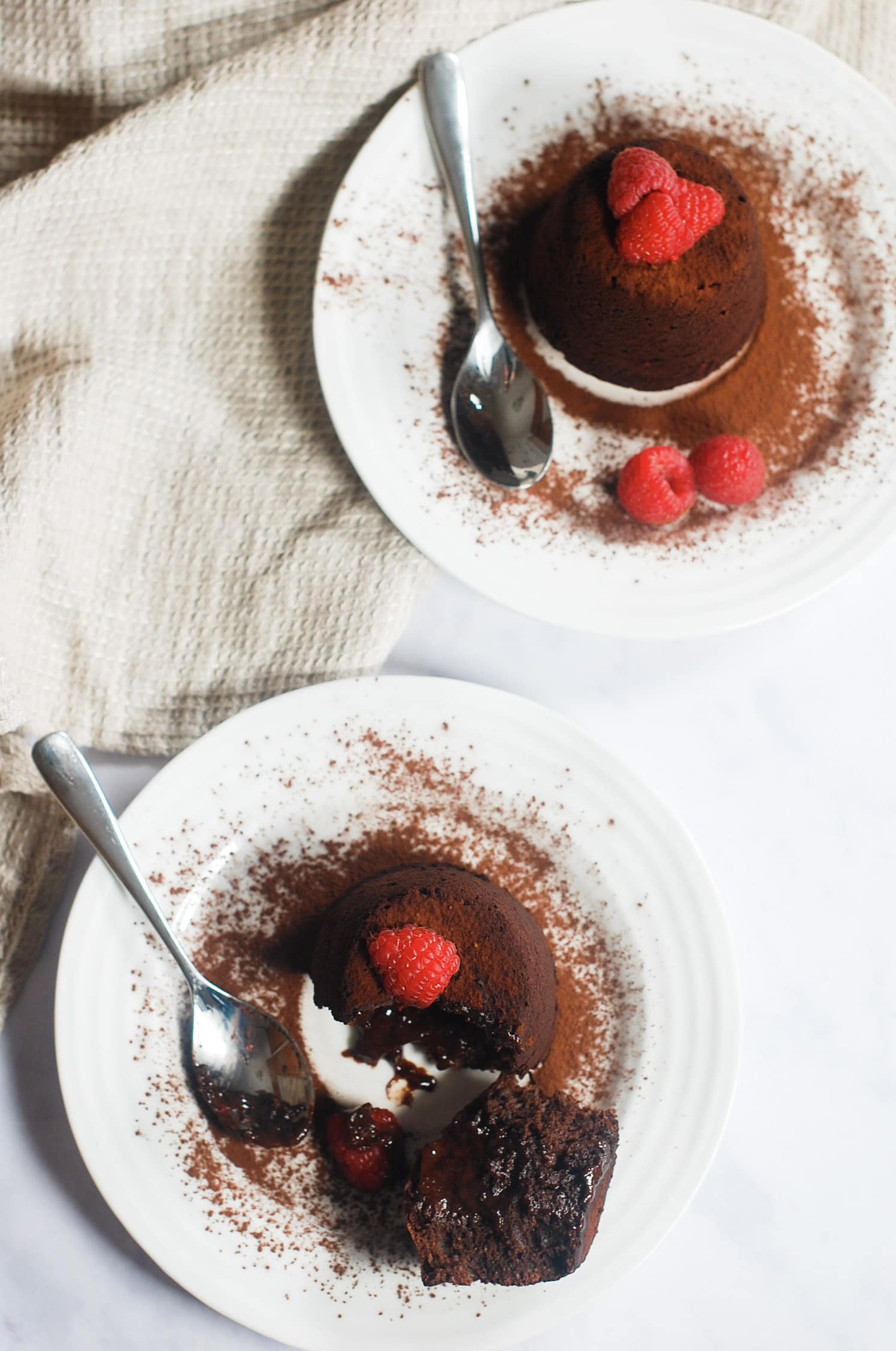 Recipe Variations
Can I use milk chocolate?
One of my first tests for this recipe was using milk chocolate. Personally I found it too sweet. However if you love the sweet stuff and would prefer milk, then go for it!
Step-by-step method
Frequently asked Questions
Is this fondant recipe suitable for vegans?
Unfortunately not as it contains eggs and butter. I'm going to pass you over to The Minimalist Baker as her recipe for Vegan Chocolate Lava Cakes looks really good. There would be too many changes to make to mine if I started suggesting alternatives.. I would may as well write a whole separate recipe!
Are chocolate fondants gluten-free?
You can easily make them gluten-free by changing the flour to gluten-free plain flour. You could also use rice flour. The only thing I can think that will happen is their structure may not be as good. Worth a try though.
Tips
Struggling to get your fondants out of their moulds? Ease a small knife around the edges of the mould and tip out on to your serving plate. You can tap the top a bit but please do be careful!
Chocolate Fondants for Two
The perfect indulgent chocolate dessert for two. No sharing required. Easy to make!
Ingredients
2

eggs

60

g

caster sugar

38

g

plain flour

60

g

unsalted butter

75

g

good quality dark chocolate

Cocoa powder

for dusting
Instructions
Start by buttering and chilling your moulds: Grease the inside of your moulds with soft butter and upward strokes. Chill in the fridge for a few mins. Remove and repeat the greasing. Dust with cocoa powder so it sticks to the butter (tipping the mould helps to distribute) and chill in the fridge until ready to use.

In a bain marie (a bowl sitting on top of a pan of simmering hot water) melt the chocolate and butter together. Ensure the water doesn't splash on the chocolate in any way or else it may seize. Leave to cool slightly.

Whisk the eggs and sugar together until light, fluffy and pale. I used a stand mixer for this.

Fold the chocolate into the eggs and whisk to combine. Sieve in the flour and fold in. Pour into your moulds carefully and chill overnight (or at least a couple of hours).

When ready to bake, pre-heat your oven to 200°c and place your fondants on a baking tray. Place in the oven and bake for 10-12 minutes or until starting to come away from the edge of the mould and appear firm but still a bit wobbly in the middle.

Remove from the oven and leave to stand for a minute. Carefully flip on to a plate. Run a knife around the edge of the moulds if you're having trouble removing them. Dust with more cocoa powder and serve!
Notes
Fondant moulds – The moulds I used were the professional stainless steel mini pudding moulds from John Lewis. Their dimensions are 2.2cm high x 8.5cm diameter. 
Re-heating – I mean, who would need to re-heat these as I'm sure they'd be gone pretty fast, however if for whatever reason you need to, you can of course put it back in the oven, on a tray and heat for a minute or so. The microwave is also a good option – a minute will do. The only thing is that the melted part of the fondant, will start to cook. This is what will happen if you leave them in the oven too long when baking.
Aga cooking – All of my recipes are cooked and tested on an Aga however the recipes are then adapted for a conventional oven. If you are an Aga user like me, then bake them in the roasting oven for the same time of 10-12 mins. I baked mine on the middle set of rungs. 
Storage – You can make these ahead of time (about 2 days) and bake them when needed. Store in the fridge with some cling film covering the top. 
Freezing – Yes you can freeze these in the moulds, defrost and bake when needed. You can even cook from frozen! You will just need to increase the cooking time by about 5 minutes +
More Dessert Recipes
Easy Strawberry Millefeuille
Chilli Chocolate Pavlova
No-Bake M&M Cheesecake