Crunchy Peanut Butter Cookies
Delicious and crisp, these crunchy peanut butter cookies with dark chocolate chips, topped with a Nutella frosting are perfect for dunking in a tall glass of cold milk! Ahhhhh.
Crunchy Peanut Butter Cookies
I LOVE PEANUT BUTTER!
We mostly all love peanut butter in this house (bar my husband) but EVERYONE loves these crisp peanut butter cookies! I already had my basic (yet far from it!) chocolate chip cookie recipe and I thought, "how can I improve on this?"
Well it seems to me that adding peanut butter to most recipes seems to always give great flavour (and not to mention that I'm a little obsessed!) There's my vegan peanut butter sweet potato curry, African chicken peanut stew to my peanut butter energy balls and peanut butter cake with caramel butter cream… I just love peanut butter, so this was inevitable!
Why should I make crunchy peanut butter cookies?
Deliciously crunchy without breaking your teeth!
Indulgently chocolate-y without being too much
Easy to make with only an hour chill time
10 minutes to bake!
Double-batch, freeze and have cookies on standby!
What ingredients do I need?
Smooth peanut butter – you want to get the most peanut-y flavours in your cookies so use processed peanut butter if you can, like Tesco smooth peanut butter or Skippy smooth peanut butter. This will work better than any other.
Unsalted butter – melting the butter is what helps the cookies become crisp! It also adds lots of flavour too.
Plain flour – Flour is what gives the cookies structure. A combination of plain flour and bread flour is the secret to a super crisp crunchy cookie.
Bread flour – see above! Bread flour, combined with plain flour can also add a touch of chewiness to a cookie.
Bicarbonate of soda – bicarbonate of soda is what is known as a leavening agent to help give the cookies rise. Bicarbonate gives cookies a craggy, dense texture, rather than smooth.
Golden granulated sugar – granulated sugar gives a much crisper texture to a cookie than caster. I used golden granulated to also give more of a 'toffee' flavour.
Light brown soft sugar – the combination of brown and granulated sugars will also guarantee a crispier texture.
Egg – eggs provide structure to a cookie. Eggs can also give cookies a slight rise as well as a more golden appearance and fudge-like texture.
Vanilla extract – providing hints of vanilla flavour to your cookie!
Salt – a bit of salt always goes well with something that is sweet. They sort of balance each other out.
Dark chocolate chips – I thought bitter dark chocolate chips would go well with the sweetness of the peanut butter.
Nutella – I love Nutella and like my cookies sweet. Adding melted Nutella to the top makes them extra indulgent!
Equipment Needed
Small saucepan
A spatula or spoon
1 medium mixing bowl
1 small mixing bowl
Stand mixer and whisk attachment (can also use an electric hand whisk or hand whisk with plenty of elbow grease!)
Spatula
Cling film
Small Tupperware box
Greaseproof paper
Large baking tray
Cooling rack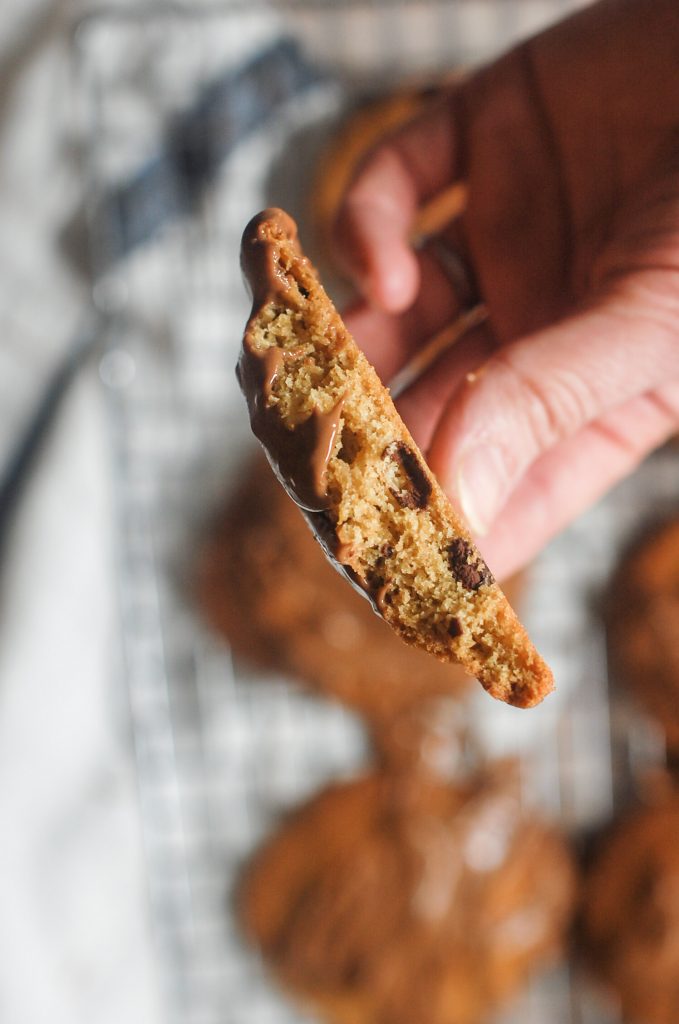 Double-batch me!
How to freeze cookie dough
This peanut butter cookie recipe is perfect for double-batching and freezing for another day! Imagine being able to just 'fancy' some cookies and be able to grab them ready-to-bake from your freezer!
Just simply double this recipe, cut the prepared dough in half and roll the you don't need yet, into the required amount of balls. Freeze the balls on a baking sheet. Once frozen, remove and pop into a freezer bag. There'll all ready to cook from frozen! You'll just need to bake for a few minutes longer (about 12 minutes) when they are frozen. You can thank me later!
Can I use crunchy peanut butter?
Crunchy peanut butter would work as much as smooth but of course you'll have the extra peanut crunch too (which I guess isn't a bad thing!)
Could I use pIain flour only?
Yes you could but it would alter the cookie outcome slightly. The cookies may not be as crunchy and crisp. You'll still get awesome tasting cookies though!
Would normal granulated sugar be ok?
Yes granulated as apposed to golden granulated would work but the cookies will taste slightly different. They may not be as toffee-like in flavour. It won't affect the cookie recipe drastically though.
What type of peanut butter should I use?
The type of peanut butter you use will affect the outcome of this crisp peanut butter cookie recipe. There are so many peanut butter types out there, from processed to whole '100%' peanut types. Then you've got crunchy or smooth?
I found that for this recipe, the processed, smooth peanut butter worked well. You want the peanut butter to contain the least amount of lumps and grains to create a smooth, creamy dough and a lovely cookie texture. Smooth peanut butter is well…smooth! I love the idea of whole peanut butter and eat it myself on toast, however for this recipe, processed wins!
Peanut butter cookie recipe step-by-step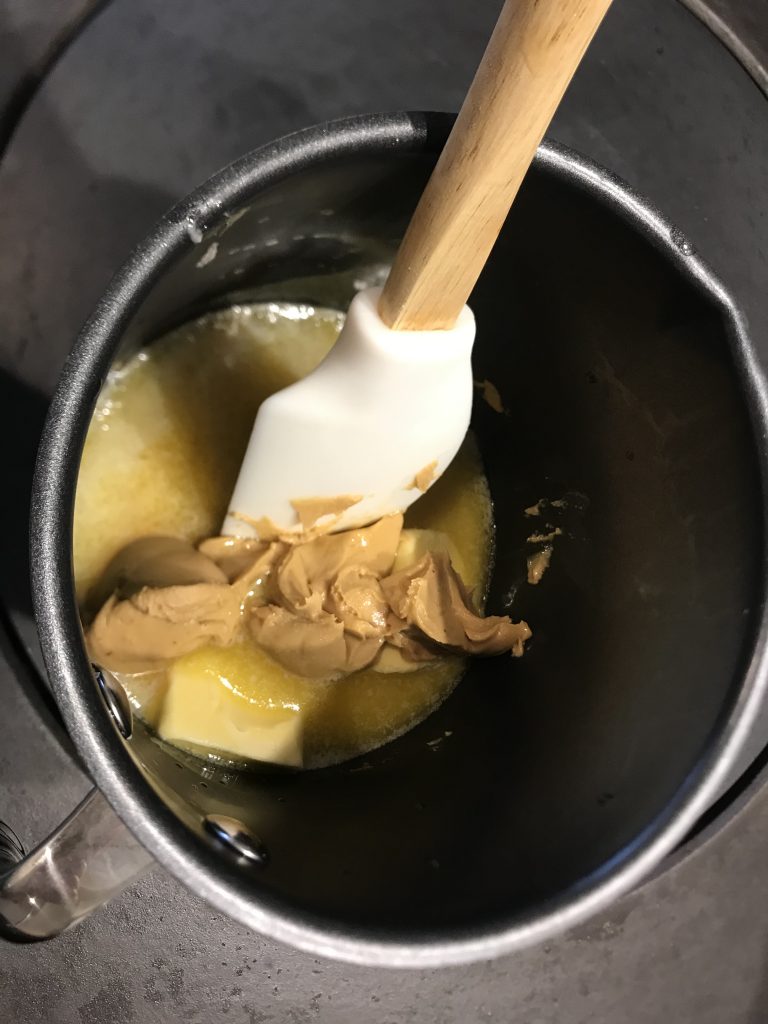 Frequently asked Questions
Are crisp peanut butter cookies gluten-free?
No unfortunately not as they contain plain flour and bread flour which both contain gluten. You could try with gluten-free plain flour or how about trying Jamie Oliver's recipe for gluten free peanut butter and chocolate chip cookies. His recipe will be more reliable than changing mine!
Tips
Save time cutting out baking paper (and save the trees!) by using reusable non-stick cooking liners. I've used them in this bake and they are just great at helping the cookie come of the tray easily. The non-stick part works wonders!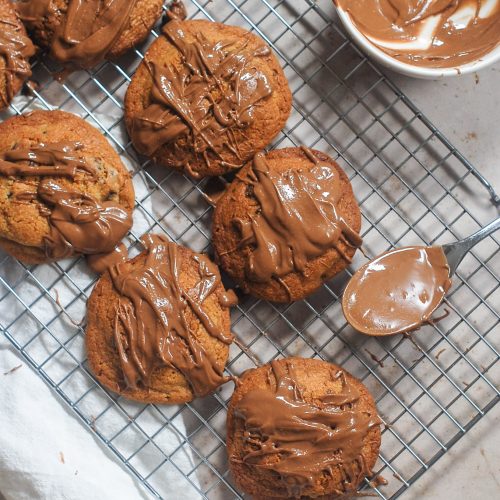 Crunchy Peanut Butter Cookies
Delicious and crisp, these crunchy peanut butter cookies with dark chocolate chips, topped with a Nutella frosting are perfect for dunking in a tall glass of cold milk! Ahhhhh.
Ingredients
100

g

smooth peanut butter

113

g

unsalted butter

90

g

plain flour

50

g

bread flour

1/2

tsp

bicarbonate of soda

1

g

salt

sea salt / kosher

70

g

golden granulated sugar

70

g

light brown soft sugar

1

egg

1

tsp

vanilla extract

100

g

dark chocolate chips

100

g

Nutella
Instructions
Pre-heat the oven to 160° C / 140 fan. Melt the peanut butter and butter together in a saucepan.

Mix together the flours, bicarb and salt in a small bowl.

Whisk the sugars, egg and vanilla in a mixer (or hand whisk) until ribbons form.

Add the peaut butter mix to the egg mix and whisk to combine.

Fold in the flour and chocolate chips.

Wrap in cling film and place in a tupperware. Refrigerate for an hour.

Roll the dough into 14 equal sized balls and bake on a lined baking sheet for 10 minutes until golden. Cool on a rack.

Once cool, melt the Nutella in a saucepan and drizzle over the cookies roughly with a spoon. Enjoy!
Nutrition
Calories:
257
kcal
Carbohydrates:
27
g
Protein:
4
g
Fat:
15
g
Saturated Fat:
9
g
Trans Fat:
1
g
Cholesterol:
29
mg
Sodium:
117
mg
Potassium:
145
mg
Fiber:
1
g
Sugar:
17
g
Vitamin A:
220
IU
Vitamin C:
1
mg
Calcium:
42
mg
Iron:
1
mg
More biscuit recipes
Brown butter chocolate chip cookies
Chocolate peppermint candy cane cookies
Lemon and poppy seed biscuits