Vanilla Fudge (Russian Fudge from New Zealand)
This vanilla fudge recipe will leave you with a really soft fudge with yummy hints of vanilla. Known as Russian fudge in New Zealand.
Timings
Servings
17 squares (approx)
Really Easy Vanilla Fudge
Making fudge is always a fun activity. From the boiling of the sugar to beating until its thick – I love it! Of course, using a sugar thermometer always makes it a lot more predictable and consistent in the results. I can guarantee you that this recipe will do just that (it was tested 3 times after all!)
In New Zealand, vanilla fudge is also known as Russian fudge. It sounds a lot fancier doesn't it? Although did you know that the recipe actually comes from Scotland! The Kiwis named it Russian fudge (for reasons unknown).
Fudge is a lovely treat to make as gifts for friends on birthdays or Christmas. It keeps for a long while if stored properly in a sealed container in a cool, dry place.
Why should I make Russian Fudge?
More predictable for setting as condensed milk is used
Really simple to make – a great first fudge recipe!
ADDICTIVE!!
Lovely to give as a homemade gift, in little bags tied with string
Ingredients for Russian Fudge
Caster sugar – sugar is the most essential ingredient to making fudge! Without it, it wouldn't be fudge!
Whole milk – milk gives the fudge its creamy texture and is the base ingredient for the sugar to melt into.
Condensed milk – condensed milk is lower in moisture than standard milk, so it helps the fudge set quicker. It also has its own caramel-like flavour.
Unsalted butter – butter will give the fudge a soft, creamy texture and adds those buttery notes we all love!
Golden syrup – is what makes this recipe Russian fudge-style! The added golden syrup gives that extra sweetness and silky texture.
Vanilla extract – to give the taste of vanilla to the fudge.
Why is my fudge not setting?
You shouldn't have any problems setting this easy fudge recipe as it contains condensed milk. However, if you do, or you're making a more traditional recipe like my Caribbean Rum Fudge, you might need these tips.
The most common reason for fudge not setting is not bringing it up to the correct temperature. You may go to the fridge to find that your fudge is still really gloopy! This means that you didn't get your fudge up to 116°c. Anything below and you're risking it! This is why a sugar thermometer is crucial!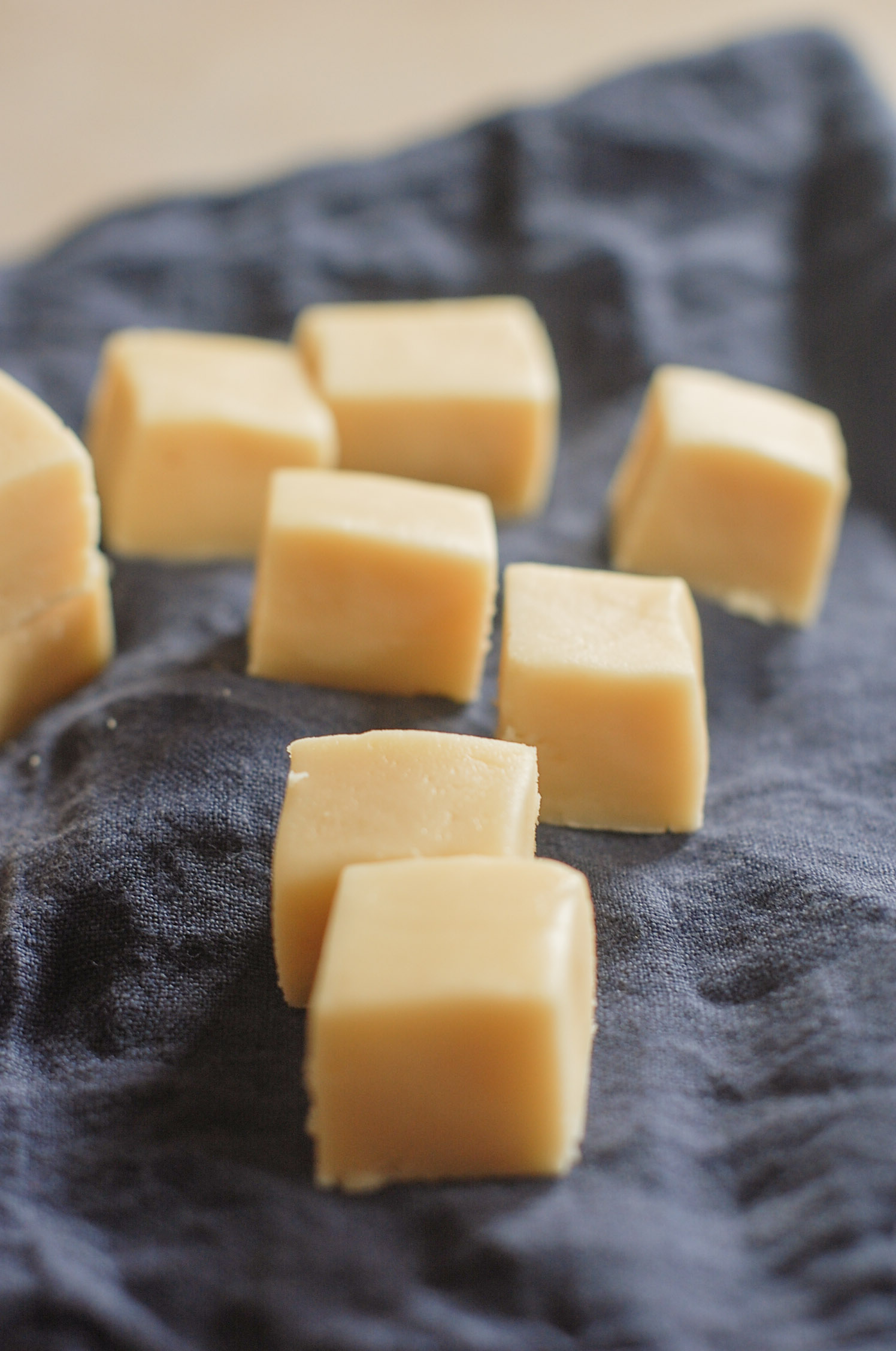 Equipment Needed
Small saucepan
Sugar thermometer – You'll benefit from one with a probe on a long wire, like the one I've linked, as you'll be able to hang it over the pot and not end up having to leave your hand above the molten hot fudge!
A wooden spoon
23 x 23 cm square tin – this is the one I used
How long should I beat my fudge?
When you first begin beating your fudge, it'll be glossy and still quite runny. You want to beat your fudge until it appears dull in colour and it starts to thicken. This should take around 5-10 minutes. To achieve the best results (no graininess) cool your fudge slightly before beating.
Fudge-making tips
Stirring the fudge too much whilst it's boiling will making the sugar crystallise too much – try not to!
The use of a sugar thermometer will ensure you don't go over 116 degrees and end up with a hard fudge/or under and end up with a fudge that doesn't set!
Beat the fudge using a wooden spoon – it's easier and the traditional way.
Pour the fudge immediately after you've beaten it, or else it will cool in the pan and you won't get it back out!
Vanilla Fudge (Russian Fudge from New Zealand)
This vanilla fudge recipe will leave you with a really soft fudge with yummy hints of vanilla. Known as Russian fudge in New Zealand.
Ingredients
330

g

caster sugar

50

ml

whole milk

50

ml

condensed milk

50

g

unsalted butter

1

tbsp

golden syrup

1

tsp

vanilla extract
Instructions
Butter and line your 23cm x 23cm square tin.

Pour the sugar and milk into the pan. Heat until the sugar has dissolved. Add the condensed milk, butter, golden syrup and vanilla. On a low heat, stir until butter has melted and all combined.

Turn up the heat to medium and boil the mixture until it reaches 116°c (soft ball).

Remove from the heat and cool slightly (about 15 mins). Using a wooden spoon, beat the mixture until it thickens and appears dull in colour. This takes about 5-10 mins.

Pour into your tin and cool until it sets. Once it has set, carefully remove and cut into squares.
Notes
Storage – You can store your fudge in the fridge for 2-3 weeks. You can also store your fudge in a cool, dry place, in a sealed container. 
Freezing – I haven't personally frozen my fudge but according to Nigella, you can freeze your fudge in a large block wrapped in cling film and foil, for around 6 weeks.
Nutrition
Calories:
112
kcal
Carbohydrates:
22
g
Protein:
1
g
Fat:
3
g
Saturated Fat:
2
g
Trans Fat:
1
g
Cholesterol:
8
mg
Sodium:
6
mg
Potassium:
16
mg
Sugar:
22
g
Vitamin A:
86
IU
Vitamin C:
1
mg
Calcium:
13
mg
Iron:
1
mg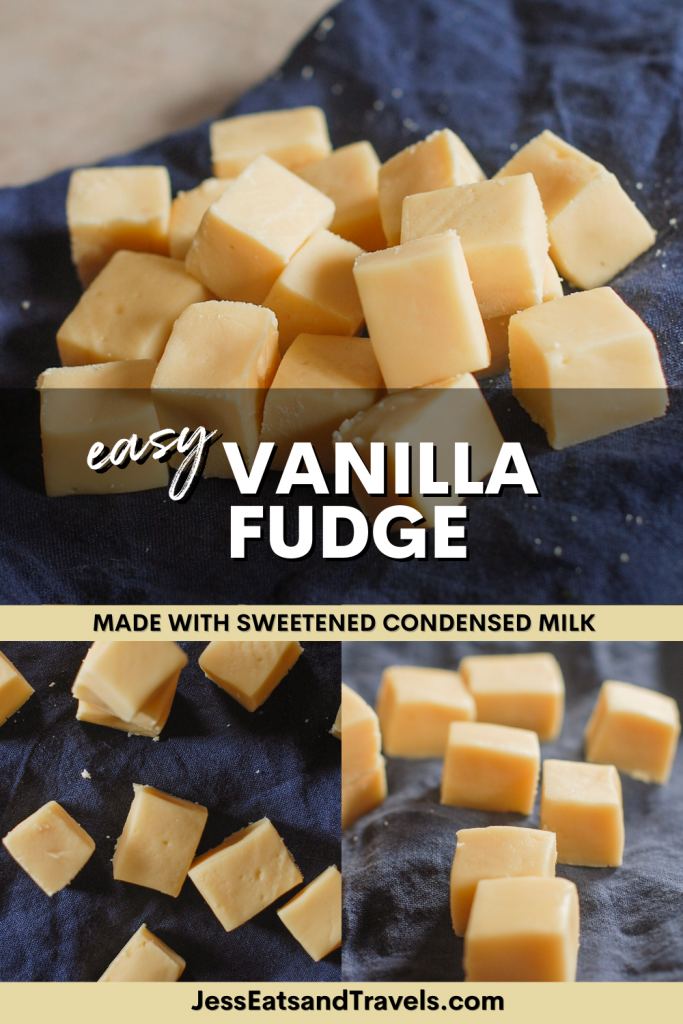 More homemade confectionary recipes –
Buttery, Rum Fudge from the Caribbean
Chocolate Honeycomb from New Zealand