Aubergine and Sweet Potato Casserole
Aubergine and Sweet Potato Casserole is perfect if you're looking for something easy to cook but also full of sweet jerk spices reminiscent of the Caribbean. Gluten-free and vegan too.
Why should I make this casserole?
Makes for an easy, one-pot dinner
The spices.. the sugar.. the pineapple… need I say more?
Transport yourself to the Caribbean with one bite!
It's really healthy!
Food for when you crave island life
I found i've become a bit obsessed with the Caribbean as of late. Not just the food but also the culture. Island life, and yes, I know the U.K is an island but tropical island life in particular, seems idyllic. Imagine waking up to calm, blue waters and being able to saunter down to the beach and enjoy rum cocktails whenever you want! It's the dream!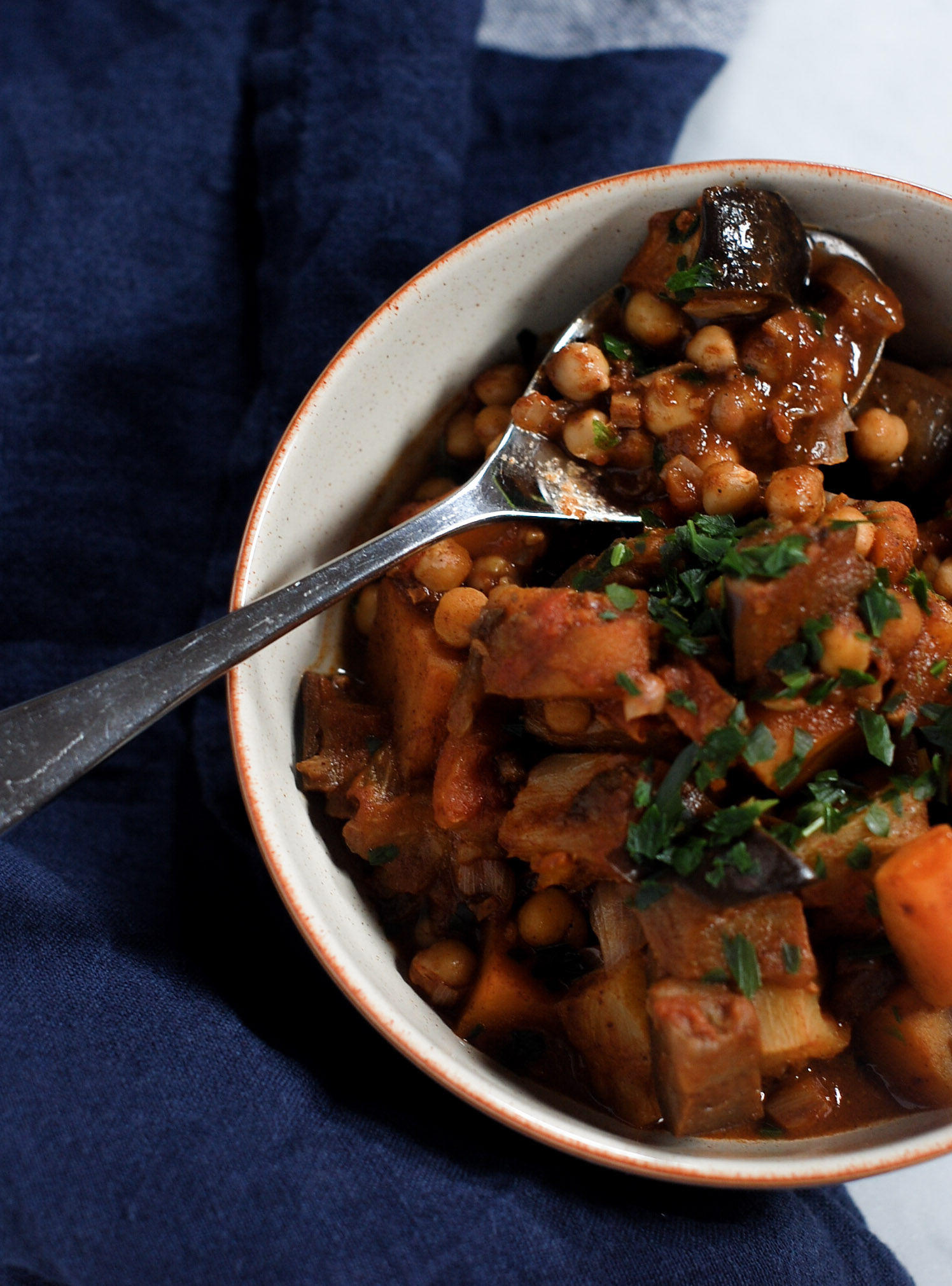 Ingredients
1 onion
1 tsp chopped garlic (I use a jar of lazy garlic for quickness)
1 tsp grated ginger (I use frozen chopped ginger for ease)
1 aubergine, chopped into small cubes
1 sweet potato, chopped into small cubes
1 tsp all-spice
1 tsp cinnamon
1 tsp ground nutmeg
1 tsp cumin powder
1 tbsp soft light brown sugar
400g tin of chopped tomatoes
400g tin of chickpeas
Handful of chopped pineapple
Handful of chopped parsley
Throw it all in one pot!
This aubergine casserole makes for an easy, family-friendly dish as well. You can throw it all in one pot and get on with your day. My little one loves it, so yours might too.
Equipment Needed
Medium casserole pot
A wooden spoon
A chef's knife for chopping
Measuring spoon
Chopping board
Tinned or fresh is fine
I used an already chopped, pineapple in juice for this recipe as it saved me a HUGE amount of time. You can use tinned pineapple or fresh, it really doesn't matter. Just make sure you drain the juice if using tinned.
Step-by-step method
Inspired by Antigua and Barbuda
This recipe was, like I said above, inspired by the fruits and vegetables eaten frequently on the island of Antigua & Barbuda: sweet potatoes, sweet corn and of course pineapple, as well as jerk spices renowned for being from the Caribbean.
Recipe Variations
Can I use any sugar in the casserole?
Yes you can use any sugar however brown sugar will give a more caramelised flavour.
What other vegetables can I add in?
As this is a rather sweet casserole, I think root vegetables may go nicely. Try adding parsnip or carrots if you have any.
Can I use mixed spice instead of all-spice?
yes as they are pretty much the same.
Could I add beans instead of chickpeas?
Oh yes, I think butter beans would go really well with this casserole. However yes, any beans would go well as a replacement to the chickpeas.
When is aubergine in
season in the UK?
You'll find that aubergines will be at their best from around July to September. It's quite a short window! Thankfully they are usually found throughout the year in supermarkets. Why not try and grow your own with this helpful guide from the RHS?
Tips
This recipe works really well in the slow-cooker as it was previously as slow-cooker recipe before the website got updated. I've now updated it for cooking in an oven, however slow-cooking will produce lovely flavours. It's a good idea if you want to use dried beans as a replacement to the chickpeas.
Aubergine and Sweet Potato Casserole
Aubergine and Sweet Potato Casserole is perfect if you're looking for something easy to cook but also full of sweet jerk spices reminiscent of the Caribbean. Gluten-free and Vegan too.
Ingredients
1

tbsp

olive oil

1

onion

1

tsp

garlic

crushed (or lazy garlic)

1

tsp

ginger

grated (or frozen chopped ginger)

1

tsp

all-spice

1

tsp

cinnamon

1

tsp

ground nutmeg

1

tsp

cumin

1

tbsp

light soft brown sugar

1

aubergine

chopped into small squares

200

g

sweet potato

chopped into small squares

400

g

tin of chopped tomatoes

400

g

tin of chickpeas

or dried but soaked and cooked beforehand

pineapple chunks

a handful

1

handful

parsley

chopped
Instructions
Fry the onion and garlic in oil in a casserole pot until starting to brown.

Add the spices and sugar and stir.

Add the aubergine and sweet potato and combine. Stir in the chickpeas and tin of tomatoes. Leave to simmer.

Add the pineapple chunks and cover with a lid. Cook in an oven at 200°/180 fan for 1 hour. Stir in the parsley and serve with rice.
Notes
Pineapple – you can use fresh or tinned! I used this one from Nature's Finest as they are already in chunks, saving me lots of time.
Parsley – again, fresh or even frozen is fine. I used the Waitrose frozen parsley as it's just as good and saves time chopping, as well as a waste of a plant when it dies and you have to throw it! Anyone else??
Aga cooking – all my recipes are tested and made on an Aga however I always adapt the method for a conventional oven. If you're an Aga owner however, you can follow the recipe as is, using a suitable casserole pot on the boiling plate (not the portmerian one like I did, which ended up smashing!!) Cook in the roasting oven for one hour. 
Slow-cooker – this recipe is suitable for the slow-cooker as it used to be a recipe for that method! It's recently been updated, you see! Cook as above, 7 hours on low or 4 hours on high. 
Reheating – you should ensure you reheat this dish until piping hot!
Storage – you can store leftovers in a well-sealed container in a fridge for 3 days. 
Freezing – I'd recommend only freezing for up to 3 months. Ensure the container is well-sealed so you don't risk freezer burn on the food.
Serving Suggestions
It would also be nice to serve this dish with couscous, bulgar wheat or quinoa. A dollop of yoghurt with a squeeze of lemon to offset the sweetness, or sour cream would go well too.
Why not serve your Caribbean casserole with some Algerian semolina flatbread known as Kesra. The pair are a match made in heaven. So good!
If you'd like to know more about Antiguan food, see my post on How To Eat Like An Antiguan.
More one-pot recipes –