Vegetable Casserole with Chimichurri
A 'throw everything in one pot' sort of meal! Inspired by Argentinian cuisine, this vegetable casserole is family-friendly and easy to make!
Argentinian-Inspired Vegetable Casserole
Vegetable casserole is Argentinian?
We all know that Argentinians like beef. I like beef but I didn't really feel like cooking a steak would be representing Argentina's delicious flavours as well as this casserole would. Plus, most people know how to cook a steak, (if you don't, here's some tips from Nagi from RTE) or at least know how they like their steak cooked!
With vegetarian cooking becoming so popular, I thought i'd turn an Argentinian chilli recipe I found into a veggie casserole, perfect for these cosy winter days. Although when the weather gets a tiny bit warmer and we finally get BBQ season rolling, i'm definitely going to come back to my research and cook up some lovely Argentinian steaks; stove top just won't do it justice!
I'm a family friendly recipe as I don't contain any chilli (apart from in the chimichurri which is optional). I'm quick and easy to prepare as you can throw me in one pot. It's all in the veg chopping with this one! I do it whilst my little one is happily engrossed in his favourite TV programme…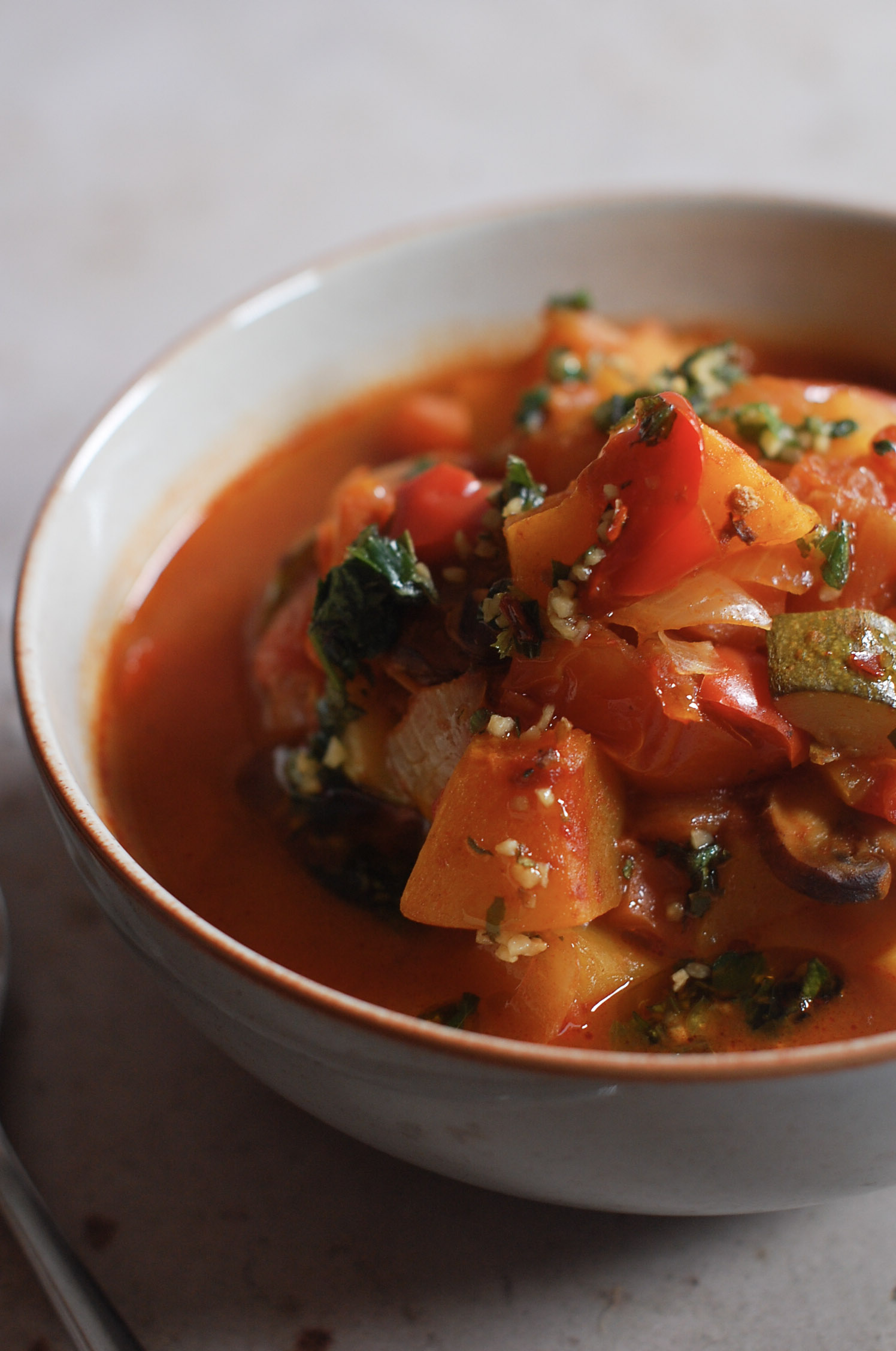 Why should I make this vegetable casserole?
Really useful for using up a glut of summer vegetables.
For ease of making: everything is thrown in one pot!
Pack your meal with plenty of healthy veggies.
Add chimichurri to your sauce repertoire and eat it with everything!
1 Onion
2 tsp chopped garlic (I use this easy chopped garlic from Waitrose)
1.5 tsp of smoked paprika
Half a chopped butternut squash
3 carrots, diced
3 tomatoes, chopped
1 courgette, diced
6 medium mushrooms, sliced
1 green and 1 red pepper, diced
400g tin of chopped tomatoes
650ml of vegetable stock
Handful of chopped oregano leaves
2 tsp chopped garlic
1 tsp chilli flakes
100ml extra virgin olive oil
1 tbsp red wine vinegar
2 tbsp chopped parsley (I use already chopped frozen parsley from Waitrose)
There's plenty of debate on where chimichurri came from, especially the name. Argentine food critic, Miguel Brasco explains that it could even have come from when the British failed their invasion of Rio de la Planta, were taken prisoner and decided to mix their dinner condiments… wouldn't surprise me! Read more chimichurri history over on Culture Trip.
Equipment needed
A large casserole pot, big enough to hold at least a litre of liquid.
A spoon for stirring!
A knife for chopping your veggies.
A measuring spoon.
A small bowl for your sauce.
Chopping board.
The chimichurri sauce
Argentinians just loveeee chimichurri, which they tend to use as a condiment to barbecued meat. I couldn't not make it with this recipe!
My chimichurri recipe has a bit of zing from the red wine vinegar and also only uses oregano and parsley. A lot of recipes use coriander too but I'm not really a fan. Who else is with me?
What a day in food looks
like in Argentina –
Thanks so much to Caitlin from @caitlinfox94 for providing the following info! I'm very jealous of all the yummy food you grew up with.
An Argentinian breakfast
According to Caitlin, Argentinians like to stay up late and then wake up late, so breakfast might be rare! If breakfast is eaten, a media luna might be consumed, which Caitlin describes as translating to 'half moon' and basically a croissant. Jamon y queso (ham and cheese) might also be eaten in the croissant or as a toasty. YUM! In Argentinian, pastries are known as 'facturas'.
A coffee would also knocked back since Argentinians are big coffee drinkers (my sort of people!). Cafe con leche (milk) is common or un cortado (an espresso).
Speaking of leche, Argentinians are also massive fans of dulce de leche, a sweet sauce made from boiled milk. They like to dip churros into it! I have a great recipe for a cake using this, if you fancy it…
An Argentinian lunch
For lunch, Argentinians seem to eat like us British with their 'sandwiches de miga', a very thin cucumber sandwich. Milanesa is also popular, which is breaded chicken or beef (breaded pork also makes a great, quick dinner!) I guess this comes from the Italian influence. And also empanadas (similar to a pasty) filled with cheese and ham, chorizo or chicken. I do like the sound of these!
An Argentinian dinner
Caitlin explains that a typical dinner in Argentina is a BBQ (asado) due to them being BIG meat-eaters! I'd love to be invited to one of those! It could include:
Bife de lomo (similar to sirloin steak)
Bife de chorizo (sausage)
Morcilla (like black pudding)
Choripan with chimichurri (chorizo on bread with chimichurri)
Cordero (lamb)
Provoleta (melted cheese with herbs) – now this reminds me of Italian 'provolone' cheese. Definitely another Italian influence!
Recipe Variations
Can I use different vegetables in this casserole?
Of course, you can switch it up however you like. Keep In mind that the recipe was created with mediterranean flavours in mind but if you want to use sweet potato instead of squash or a broccoli in instead of courgette, don't let me stop you!
In the chimichurri, can I use any type of vinegar?
Yes as some recipe use malt vinegar or rice wine vinegar. It's all trial and error and what you prefer.
Can I use any herbs for the chimichurri sauce?
Traditionally chimichurri contains parsley, oregano and coriander. I don't like coriander hence why I haven't used it. You could try basil or thyme but the flavour will be different. Give it a go though and please let me know what it's like!
What do Argentinians drink?
Argentinians are big wine drinkers, producing some of the best wine in the world, Caitlin explains, which of course is Malbec!
Argentinian sweets
Argentinians are big fans of ice cream (helado). Caitlin tell me that it's not uncommon to see families out in parlours at 2am in the morning! Apparently you can order ice cream by the kilo to your house! I think we need that here!
Is there anything that takes your fancy from that list? I'm having the ice cream!
Frequently asked Questions
How long does this recipe keep for?
This casserole will keep in a sealed container in the fridge for 3-4 days. You can keep it frozen for around 2-3 months.
Is this recipe gluten-free?
Yes this recipe is gluten-free!
Can I re-heat the casserole the next day?
The casserole will taste even better the next day, so definitely yes! Reheat either on the hob in a saucepan or in the microwave/oven. I wouldn't suggest heating the chimichurri though as it's always served cold.
Vegetable Casserole with Chimichurri
An easy vegetable casserole inspired by Argentinian flavours topped with a traditional chimichurri sauce.
Ingredients
1

onion

2

tsp

garlic

chopped finely

1.5

tsp

smoked paprika

1/2

butternut squash

diced

3

carrots

diced

3

tomatoes

quartered

1

courgette

diced

6

chestnut mushrooms

sliced

1

green pepper

diced

1

red pepper

diced

400

g

tin of chopped tomatoes

650

ml

vegetable stock
The Chimichurri Sauce
Handful

oregano leaves

chopped finely

2

tbsp

parsley

chopped finely

2

tsp

garlic

chopped finely

1

tsp

chilli flakes

100

ml

extra-virgin olive oil

1

tbsp

red wine vinegar
Instructions
Pre-heat oven to 200. Fry the onions and garlic in the casserole pot with the oil for 1 minute.

Add the mushrooms and fry for 1 minute.

Sprinkle in the smoked paprika and stir in to incorporate.

Add the rest of the chopped vegetables and stir to mix in with the paprika.

Pour in the tin of chopped tomatoes and vegetable stock. Stir and cover with a lid. Cook in the oven for 1 hour. Prepare the chimichurri whilst you wait. Serve with a drizzle of the sauce and with rice/couscous.
The Chimichurri Sauce
Add all the ingredients to a bowl and stir.
Notes
Vinegar for the chimichurri – you don't have to use a red wine vinegar. If you happen to have malt or white wine vinegar, you can use those as an alternative. 
Casserole pot – the casserole pot I always use is this 3L Aga stacking casserole pot. It's great if you are an Aga owner and need to stack another one on top. Maybe if you're making some rice too? You don't need one so big though. Even a 1.5 litre is ok for this recipe. 
Aga cooking – cooking with an Aga is so simple. Everything was done on the boiling plate and then it was in the roasting oven for the hour. 
Slow-cooker – you can easily do this one in a slow-cooker. If you use the Morphy Richards Sear and Stew, you can follow the recipe exactly as it is but place it all in the slow-cooker instead of the oven and cook for 7 hours on low/4 hours on high.
Storage – It's best if you store this casserole, well-sealed and in the fridge. It'll keep for 3 days, roughly. 
Freezing – I froze mine in glass Tupperware. It will keep for 3 – 4 months.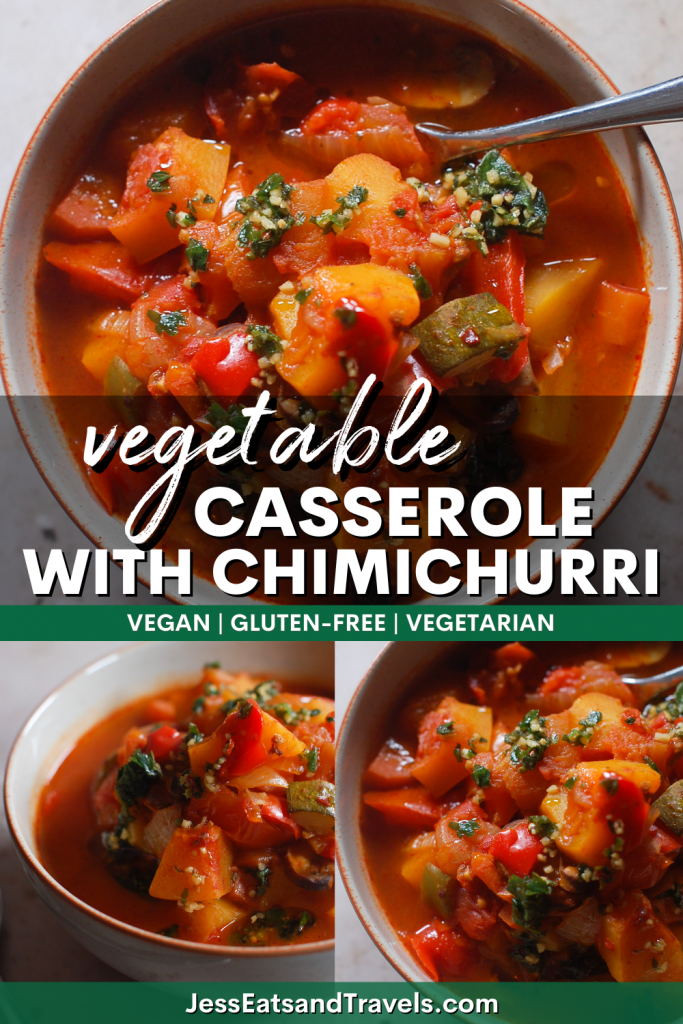 More one-pot dishes
Aubergine and sweet potato casserole
Lamb and spinach stew
Meaty rigatoni stew
Lamb and chickpea chilli
Aubergine and kidney bean pasta
Slow-cook beef chilli